Memorial for people with eating disorders in UK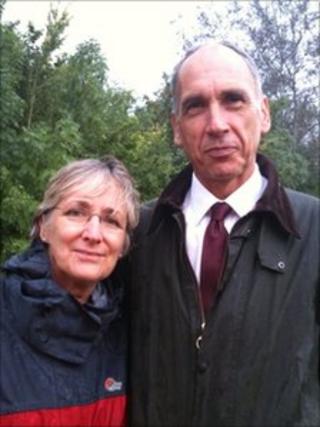 The first national Service of Dedication for lives lost to eating disorders has taken place in London's Southwark Cathedral.
The charity Beat estimates that eating disorders affect 1.6 million people in the UK. A fifth will die from associated health problems.
About 300 guests were at the service, including those with disorders and families of those who have died.
100 candles were lit in memory of lives lost.
Beat is hoping that the event will raise awareness of mortality rates.
People with eating disorders are more likely to die than people with any other mental illness.
The brother of Sareh Perry who died in 2004 of anorexia gave this tribute to his sister.
"A european diving champion, artist, teacher, alcoholic, anorexic. Sareh we will always miss you and we will never truly understand an illness that took you from us.
"But we will do everything we can to make a positive stance on your memory."
His speech was given an applause and from a few, a standing ovation.
There was also music and hymns including Lord of all Hopefulness and Praise Him.
Andrew and Gillian Lee, from Harrow-on-the-Hill, Middlesex, also attended the service.
Their daughter, Helen, died in 2003 aged 18. She experienced multiple organ failure following a five-year battle with anorexia.
"Helen was a very very happy youngster," says Mr Lee, who is a senior master at a secondary school.
"She was talented, open and a good athlete. Unfortunately that was all destroyed by the illness.
"It's a terrible disease which sets up great battles within the minds of the sufferers and that's very destructive."
"Anorexia kills people," adds Mrs Lee, a matron at an NHS maternity unit.
"It isn't just a fad. It isn't about boys and girls trying to be thinner and look like supermodels. It is a psychiatric illness," she says.
The service was led by Canon Ian Ainsworth-Smith, who is a psychotherapist with experience of working with people with eating disorders.
Anorexia survivor Lizzie Pollard, 18, was amongst the speakers. She read an extract from the poem Mirror by the author Sylvia Plath, who herself admitted to struggling with an eating disorder and depression.
Lizzie says: "I realised I wanted to live. I didn't want to spend my life in and out of hospital. But I know that there are many [people] that didn't survive and aren't as lucky."
"I really want to take part in this service to raise more awareness and to help other people suffering," she adds.
The coalition government insists that it is committed to tackling eating disorders in England.
A Department of Health spokeswoman said: "The service of dedication shines a spotlight on the devastating effects of eating disorders on sufferers and their families.
"It is very important that people with an eating disorder get the help and support that they need from the NHS.
"GPs are expected to use NICE guidance on choosing the most appropriate treatments, from physical and psychological treatments to medicines."
She said that patients should be able to access joined-up care, including emergency and intensive inpatient treatment for the most serious cases.
The departments responsible for healthcare in Wales and Northern Ireland say that they expect similar high standards. The Scottish government says it is focusing on early diagnosis of eating disorders.
Advice for parents
But Beat believes that high mortality rates demonstrate a failure to tackle eating disorders across the UK.
"Too many people don't get the right treatment quickly enough," according to the charity's Chief Executive Susan Ringwood.
"It can take a long course of treatment and for some people that can mean moving from one service to another. We need to co-ordinate those services better so that people don't fall between the gaps. That's often when a fatality can occur."
Gillian Lee believes that better education in schools could also help other teenagers to avoid her daughter's fate. She would also like to see more advice made available for parents.
"Parents who are even slightly suspicious that they have got a child with an eating disorder, they need to seek help very very quickly, because things can go downhill very fast," she says.
Helen's family have planted three trees in memory of their daughter in a field where she used to go running.
"Trees are something which link past, present and future," says Andrew Lee.
"[Helen] is still with us - very much indeed - but we need help to hang on to our memories."