Workers 'avoid sweaty exercise'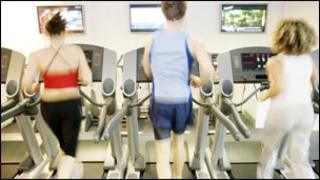 Many workers dislike exercising during the day because they do not want to get hot and sweaty in front of colleagues, a survey suggests.
The British Heart Foundation survey of over 2,000 adults found 55% spent their working day sitting or standing still.
From its findings, the BHF estimates 81% of UK workers fail to get the exercise they need throughout the week - 30 minutes on at least five days.
But it said even simple measures, like a lunchtime walk, can help.
A recent government report estimates that at the current rate of waistline expansion, 36% of men and 28% of women in England will be obese in just five years.
This would pave the way for a surge in heart disease, high blood pressure and type 2 diabetes.
The BHF says people should forget their embarrassment and try to exercise during their working day.
But a third of respondents to the survey said they had avoided exercise during their working day because of not wanting to be observed by those they work with.
And 48% said they ate lunch at their desks.
One in six added that they felt under pressure to take shorter breaks.
Speaking in advance of World Heart Day on Sunday, Lisa Purcell, of the BHF's health at work programme said: "Embarrassment shouldn't prevent people from being healthy at work.
"You don't have to don a lycra leotard to get fit and healthy. The payoffs from even simple changes like taking a walk at lunchtime are too great to ignore.
"Getting healthy during the working day means you are less stressed and better motivated."
Ms Purcell said employers should do more to help workers exercise, and introduce measures such as swapping tea-break biscuits for fruit, or getting staff together for a lunchtime game of football.