Children 'miss cues' that a dog may be dangerous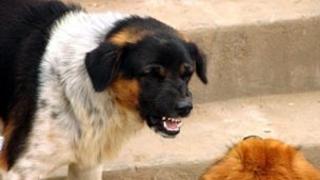 Young children are being taught to interpret dog body language in a bid to cut the number of attacks.
Surveys suggest nearly half of all children will be bitten by a dog at some point, with the under-7s at greatest risk.
Researchers have discovered a common mistake children make is to interpret bared teeth as a doggy smile.
Lincoln University is developing an interactive DVD to teach children as young as three how to read dog cues.
Figures suggest that each year, approximately 4,000 people in the UK attend A&E after being bitten by a dog.
Although severe dog attacks, particularly those involving children, are well publicised, they remain relatively rare. However, even a single bite can cause scarring.
Research which examines how children "scan" a dog's face shows that younger children focus on the mouth and teeth, and that under-fives are far more likely to "lean in" to have a closer look.
This increases the risk of being bitten in the face or neck.
Dr Kerstin Meints, from Lincoln University, is helping to assess the bite prevention interactive DVD called "Blue Dog".
The DVD shows typical scenes in which a dog may feel threatened and react aggressively, such as a child approaching its food or pushing it off the sofa.
The child playing the DVD is given choices, and shown the difference between unsafe and safe behaviour.
Dr Meints said that even very young children could learn to avoid unsafe choices, such as startling a dog by kissing it while asleep.
She said: "Even two weeks later when they are re-tested they still know how to choose the safe option."
She said that nurseries and primary schools should consider using the DVD.
"The child may not have a dog at home, but most youngsters will come into contact with one. While it can't guarantee the child will never get bitten, it will hopefully help reduce the chances."
Fellow researcher Dr Tiny de Keuster added: "We hope the Blue Dog Programme will make a difference immediately by teaching parents and children about living with a dog, from the dog's perspective."
Tracy Genever, an education development manager at the Blue Cross charity, said it was important that children could recognise the "warning signs".
She said: "It's really important for children to learn to appreciate things from a dog's point of view, to help them understand better what a dog is feeling and know when it is safe to approach.
"Just because a dog looks sad, it doesn't necessarily mean it wants a hug."
Their research will be presented at the World Safety Conference in London.