Vulnerable pregnant women 'miss out on antenatal care'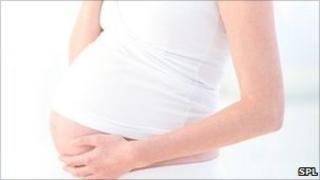 Many of the most vulnerable pregnant women are missing out on vital care in England and Wales, experts say.
NHS watchdog NICE said teenage mothers, domestic abuse victims, drug users and non-English speakers were the least likely to use antenatal services despite being the most in need.
The body said the health service needed to become more flexible and welcoming.
But there has been criticism over its suggestion for schools and colleges to start hosting antenatal classes.
NICE, the National Institute for Health and Clinical Excellence which acts as the official advisory body to the health service, said antenatal classes played an essential role in improving the health of mothers and babies.
They offer lifestyle advice about drinking and smoking, as well as helping to spot medical problems such as pre-eclampsia and a form of diabetes linked to pregnancy.
But NICE said that despite teenage mothers, domestic abuse victims, drug users and non-English speakers being the most likely to encounter problems, antenatal attendance among these groups remained low - although it was unable to supply figures, and instead based its report on anecdotal evidence.
NICE said not using antenatal services was a factor in the high rates of complications.
Fourteen in 100,000 women die during pregnancy or after childbirth on average, but in deprived communities that figure rises five-fold. Stillbirths and infant mortality rates are also higher, according to official figures.
Interpreters
The guidance said the NHS should take a range of steps to ensure more women from difficult backgrounds accessed antenatal care.
As well as providing classes in schools and colleges where appropriate, the body called for more interpreters for those with difficulty speaking English, out-of-hours contacts, a text-messaging service to remind women of appointments and one-on-one sessions to allow sensitive subjects to be discussed.
NICE said antenatal services could also help refer women in difficult situations on to other services, such as social care.
Its experts said many of their suggestions were already being used in some of the best-performing places - the sure start scheme for deprived areas offers antenatal support in some places - but said the majority of the NHS could still make improvements.
They also highlighted that some women from these groups had complained that staff had been judgemental about their situations.
There are more than 600,000 pregnancies a year, of which 30,000 are to substance abusers, 40,000 to under 20-year-olds, 47,000 to domestic abuse victims and 70,000 to non-English speakers.
Dr Gillian Leng, NICE's deputy chief executive, said: "Although these women represent a small proportion of those having babies in the UK each year, they and their unborn children deserve the same level of care as anyone else."
She told the BBC that some schools which had a high number of pregnant students would perhaps be able to help them access antenatal care by hosting classes.
"What we might be talking about really is a midwife going into the school or the college taking direct care of the women concerned," she said.
She said NICE was also looking at how to tackle the UK's teenage pregnancy rate and would be announcing proposals around this in the future.
'Not in schools'
But Norman Wells, the director of the Family Education Trust, an organisation which researches family breakdowns, told the Daily Mail it would be a bad idea for schools to host the classes.
"Bringing antenatal classes on to school premises runs the risk of normalising teenage pregnancy and of increasing the very problem it was intended to address," he said.
"Schools exist to assist and support parents in the education of their children, not to be the panacea for every social ill.
"The more that schools are called on to shoulder the burden of problems created by a permissive society, the more they will lose their focus on imparting knowledge and teaching children to think in a rational and logical way."
Louise Silverton, from the Royal College of Midwives, said the proposals would help improve care.
But she added midwives were often hampered in providing the best services because of a lack of resources.
"Implementing the recommendations will require additional resourcing and staffing at a level that it is not clearly available in the current context of cutbacks in NHS spending," she said.
Mary Newburn, from the National Childbirth Trust parenting charity, said the proposals would make the NHS "more accessible and responsive to the complex needs of vulnerable women who can often slip through the net".