New insight into breast cancer risk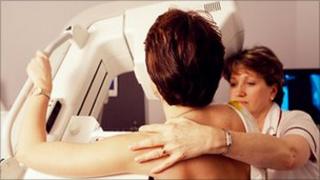 Women with a "high risk" breast cancer gene may find out more about their chances of developing the disease by having other parts of their DNA checked, say researchers.
Differences in a separate genetic "region" were found to raise or lower the risk for women with the BRCA1 gene.
In future, such results could help women decide on preventative treatment.
The DNA region, reports the journal Nature Genetics, could also have an impact on ovarian cancer risk.
Scientists have known for some time that certain genetic mutations are linked to a substantially higher risk of developing breast or ovarian cancer at some point in a woman's lifetime.
Carrying a mutated BRCA1 gene, for example, means at least a 65% risk of breast cancer by the age of 70, and a 40% risk of ovarian cancer.
However, the remaining uncertainty can be damaging and distressing for women - some even elect to have their breasts or ovaries removed to reduce the chances of falling ill.
The latest find offers the prospect of "fine-tuning" genetic testing to offer a more personalised view of the likely risk.
Three groups of scientists at the University of Cambridge and University College London simultaneously published their research into DNA regions and cancer risk in the journal.
The first group searched the entire genetic code of 2,300 women with faulty BRCA1 genes. Some had developed breast cancer under the age of 40, and some were cancer-free.
They found a region of the 19th chromosome which, depending on its configuration, appeared to either slightly reduce or to increase the risk of developing cancer.
Volume control
Dr Antonis Antoniou, who led this study, said: "We've found a DNA region that acts like a volume control - to turn up or turn down the risk of developing breast cancer from faults in the BRCA1 gene.
"Our discovery is the first step in a much larger study to identify genetic factors that modify breast cancer risk in women carrying BRCA1 mutations, and ultimately could help assess the risk for each woman and monitor for the disease."
Only one in 20 breast cancer cases involve a faulty BRCA1 gene, but the researchers believe that the DNA region they've found may have wider significance.
They found some evidence that, for one form of breast cancer, the risk was raised and lowered by changes in the DNA region, even though the person did not have mutated BRCA1.
Another of the three studies found that the newly-identified region may play a role in ovarian cancer risk in women without the BRCA1 fault.
Scientists are hopeful that analysis of this DNA region and others yet to be identified will eventually offer the chance for a more accurate prediction of cancer risk for individual people.
Although the change in risk attributed to the single DNA region is modest, it is hoped that it can be combined with other regions to produce a clearer picture.
The third study revealed four other separate genetic regions which appeared to be linked with cancer risk in the general population.
Dr Lesley Walker, from Cancer Research UK, which part-funded the studies, said: "We're dedicated to unravelling cancer risk so we can provide doctors with better tools to identify who is at risk and help select the best treatment."
A spokesperson for Breakthrough Breast Cancer said the results were "very exciting".
She said: "These findings show how another area of DNA can influence the BRCA1 gene and alter the risk of developing breast cancer.
"It adds another piece to the puzzle of understanding why some women are at higher risk of breast cancer."