Hospital parking charges to stay, government says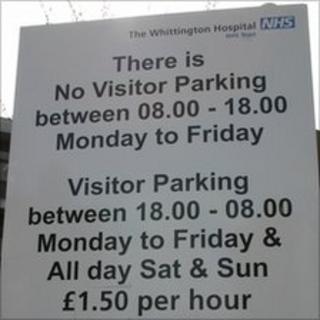 Car parking charges for hospitals in England are to remain in place, the coalition government has announced.
The previous Labour administration had said it wanted to make parking free for in-patients and regular out-patients.
But the coalition says there are better uses of public money than scrapping car parking charges.
Parking is already free at most hospitals in Scotland and Wales and for certain priority groups in Northern Ireland.
'Hospitals need to be fair'
Health minister Simon Burns said: "Hospitals need to take responsibility for their own car parking arrangements.
"The requirement to provide concessions is clear, guidance is available, and local concerns where they exist need to be addressed. Hospitals need to make sure that they are behaving fairly."
In 2009 Labour Health Secretary Andy Burnham promised to scrap the fees, which raise about £110m a year.
At that time, he announced removing the parking charges for all in-patients and for outpatients who have to make regular appointments - like cancer patients with regular chemotherapy sessions.
The Labour plan had been to phase out charges over three years.
Simon Burns said: "Labour cynically announced their policy with the general election in mind, without ever properly identifying the funding for it.
"Even if funding was available, the costs associated with investing this money in car parking rather than in healthcare are estimated at £200 million in lost benefits to patients.
"Even if funding was available, the policy is unworkable. It would require costly policing to ensure there was no abuse of free parking, and there would be even more of a scramble for limited parking spaces. There are better uses of public money," the health minister added.
The average charge per hour for hospital car parks in England in 2008/9 was £1.09.
Responding to the government's announcement, Ciaran Devane, chief executive at Macmillan Cancer Support said: "The government has failed cancer patients today. It's simply not good enough to pass the buck on to local hospitals and wash their hands of the impact of such a disjointed policy.
"Hospitals should give free or fair parking to cancer patients, and the government should show leadership," he said.
Joe Farrington-Douglas, senior policy manager at the NHS Confederation, said: "There is little doubt that getting hospital car parking right is an essential part of reducing the hassle for NHS patients, visitors and staff and that is why we have argued for local decision making to ensure parking can be fair for everyone.
"It is important the hospitals which charge for car parking are transparent about how and why they are charging and explain what any surplus is spent on," he continued.