'One-off' prostate cancer tests backed for 60-year-olds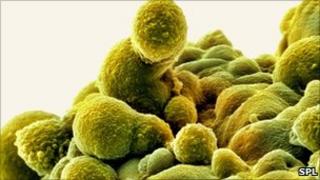 A single blood test for all 60-year-old men could pick out the vast majority of those likely to die from prostate cancer, say scientists
Some doctors oppose regular screening, saying it leads to too many men having unnecessary treatment.
However, testing just once at 60 could reveal men who need no further checks, claims the study published in the British Medical Journal.
Other experts welcomed the findings - but called for more research.
Cancer of the prostate - a walnut-sized gland located next to the bladder - is the most common cancer in UK men, with more than 35,000 new cases a year.
Few obvious symptoms
It usually emerges after the age of 60, and there are frequently few obvious symptoms until it is well-advanced, making treatment more difficult.
Doctors can offer a blood test looking for raised levels of "prostate specific antigen (PSA)", which may be a tell-tale sign of the body's response to the tumour.
However, PSA levels can be raised naturally, or could represent a slow-growing tumour which offers no threat to the patient in their lifetime.
This can mean that men who would never become ill from prostate cancer undergo distressing further investigations, or even potentially damaging radiotherapy or surgery.
One piece of research published in the journal appears to confirm this, finding that routine prostate cancer screening did not greatly reduce deaths from the disease, while boosting the risk of "over-treatment".
However, the second study, led by Professor Hans Lilja from the Memorial Sloan Kettering Medical Center in New York, offers an alternative approach.
They carried out a single test on all 60-year-old men, and split them into two groups depending on PSA levels.
They found that nine out of 10 prostate cancer deaths occurred in the men with the highest levels, while those with average or low levels had negligible rates of disease or death.
Screened regularly
This would mean that more than half of men could be told at that point that, even if they had a prostate tumour, it was unlikely to ever threaten their life or make them ill.
The other group could then continue to be screened regularly.
Professor Gerard Andriole, from the Washington University School of Medicine, said that while the findings needed to be tested again in other groups of men, particularly those from different ethnic groups, in the future much older men, and those at lower risk of disease could be spared further testing.
He said: "Approaches such as these will hopefully make the next 20 years of PSA based screening better than the first 20."
Dr Sarah Cant, from the Prostate Cancer Charity, said that the idea of a single test at 60 was an "interesting proposition", but agreed that more work would be needed to confirm the results of this early study.
"We believe that investment needs to be made in research for a new generation of screening and diagnostic tests - critically, ones capable of distinguishing between aggressive and slow-growing forms of the disease, the so-called 'tigers' and 'pussycats'."
She added that men needed to be made fully aware of the pros and cons of PSA testing before being asked for their consent.