Restaurant dishcloths 'full of bacteria'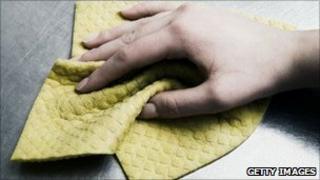 Dishcloths used in restaurants and takeaways harbour unsavoury and possibly dangerous bacteria, the Health Protection Agency (HPA) has said.
The HPA visited 120 kitchens in north-east England.
The researchers found 56% of cloths tested were unacceptable, carrying faecal bacteria or in some cases dangerous bugs such as Listeria.
An environmental health expert said it was "pure luck" that spared more customers from illness.
Dishcloths may be a good way to remove food from surfaces, but they tend to hang on to some of it, even when rinsed out afterwards, making them the ideal breeding ground for all sorts of bacteria.
These are then dispersed onto whatever surface is wiped next.
'Unacceptable'
The recommended advice for restaurants is to use disposable cloths and change them regularly, as well as using separate cloths for areas where raw meat is processed.
The HPA team took a total of 133 cloths, and found that 86 carried faecal bacteria, 21 carried E. coli, six were host to Staphylococcus aureus, and five carried Listeria.
Although it is not clear whether the E.coli strains found would make a diner ill, the S. aureus and Listeria definitely fell into the "potentially harmful" category, with the strain of Listeria found on three of the cloths considered particularly dangerous in vulnerable groups such as the elderly and very young.
Many of the restaurants surveyed also fell down on basic good hygiene practice, with 24 of the cloths used on both raw meat and ready-to-eat food preparation areas.
Only a third of the premises used disposable cloths - the remainder had "reusable cloths" and 15% were unsure how often they were changed.
Problems
Dr John Piggott, from the HPA laboratory in Leeds which led the survey, which is being presented to the HPA's annual conference, said that all the premises visited had been issued with advice and would be revisited to see if things had improved.
He said: "Although many disinfected their cloths with bleach or other disinfectants, soaking does not remove the food on which the bacteria grow."
Dr Paul Cosford, also from the HPA, added: "The findings indicate problems with poor hygiene practices.
"Exposure to these harmful bacteria can cause food poisoning which is unpleasant for most people but for some - particularly the very young, very old, and pregnant women - it can have serious consequences."
Jenny Morris, the principal policy officer at the Chartered Institute for Environmental Health, said that many restaurants and takeaways were good at following "more complicated" requirements for good hygiene, but fell down on simple things such as dishcloths.
She said: "The problem is, that if you fail on the basics, you are relying on good luck to prevent something bad happening to the people eating at your establishment."