The 'night riders' who help the NHS
By Jane Elliott
Health reporter, BBC News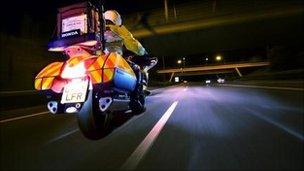 Steve Parker-James spends his days as a policeman in Berkshire.
But at night and at weekends he pounds a very different beat - as a volunteer motorbike rider for the medical courier firm Serv (Service by Emergency Rider Volunteers).
The volunteer service, which is available in the south-east of England, offers a free out-of-hours service to a number of NHS hospitals and can be asked to carry anything urgently needed from baby milk to blood products and X-ray results.
Steve admits that in the four years he has helped at Serv, he has become an expert in all things medical.
"I can be asked to take anything," he said.
"It started off originally with us being asked to take blood. That was a steep learning curve for me. I thought blood was blood, but it is not - there are blood cells, plasma.
"Now we carry baby milk as well, which is donated to babies in the intensive care unit."
Steve said his two most unusual jobs had been getting a rabies vaccine for a hospital in Milton Keynes and getting frozen urine to a London ward for next-day testing.
All Serv volunteers are unpaid, receive no expenses whatsoever and give up a few nights throughout a month to be on call to respond to requests from hospitals.
Prior to Serv, the only way hospitals, doctors and other medical establishments could transport supplies at night were by taxi, ambulance, police, courier or transfusion services vehicle, which were costly or a waste of resources.
"We will also carry X-rays, and medical discs as well as medical equipment - quite a broad spectrum, but not emergency deliveries such as organs," said Steve.
The service has 90 volunteers, who deal with around 3,000 calls per year, and it saves the NHS between £150,000 and £300,000 per year.
"I get a real sense of satisfaction from my work," says Steve.
"When I took the frozen urine to nuclear medicine at Great Ormond Street, it was the first time I had seen the hospital. It was a very humbling experience to see the children that were there and to think what we are doing is very important.
"We know we are getting the things there properly and they are not just being thrown in the back of a car. We take care and pride.
"I have a sense of achievement and that I am giving something back. I know it is corny but we do it because we care and want to help.
Steve said the service could be very busy - with a number of call-outs each shift.
Although the service has been running for three decades, supporters say new hospitals are always coming on board.
The group is said to have begun after a motorcyclist had a serious accident and needed a transfusion. A friend volunteered to fetch the blood from the nearest hospital that held his blood type and Serv was born.
Jack Morgan, a senior biochemist at Stoke Mandeville Hospital, agreed the service is vital.
"For many of our patients, time is of the essence and with Serv we are confident that these samples will get to where they need to be on time."
SERV is supported by the firm Isotrak, who put free tracking devices into their vehicles to make sure they plan the safest, quickest and most efficient route to deliver blood product to help save lives.
Related Internet Links
The BBC is not responsible for the content of external sites.