Prostate cancer screening backed for 'at risk' men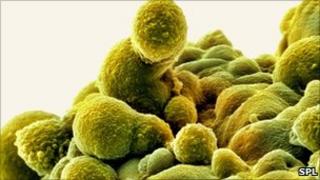 Screening men with a family history of breast and ovarian cancer can lead to early diagnosis of prostate cancer, a UK study says.
More cancers were found in carriers of BRCA gene mutations, and they were twice as likely to require treatment.
Scientists from the Institute of Cancer Research and the Royal Marsden Hospital screened 300 men aged between 40 and 69.
The study aims to screen a total of 1,700 men over five years.
Preliminary results from the first group of men are published in the British Journal of Urology International.
This is the first large international prostate cancer screening study targeted at men with a known genetic predisposition to the disease.
Called IMPACT (Identification of Men with a genetic predisposition to ProstAte Cancer), the study is gathering data in 32 centres in 11 different countries.
Gene mutations
Scientists already know that a number of genetic factors can put men at a higher risk of prostate cancer.
These include mutations in the genes BRCA1 and BRCA2.
A BRCA2 mutation can increase risk by up to seven-fold, while a BRACA1 mutation is thought to double risk in men under 65 years old, says the study.
In the group studied, 205 men had confirmed gene mutations and 95 tested negative for BRCA1 and BRCA2 mutations.
All were given a PSA test, a blood test for prostate specific antigen.
Twenty-four men had an elevated PSA result and they were then offered a prostate biopsy.
The biopsies revealed that nine mutation carriers had prostate cancer, compared to two in the non-carrying control group.
PSA screening has been contentious in the past because of concerns about over-diagnosis. How effective it was at reducing mortality also remained unclear.
But scientists in this study found that the number of cancers detected relative to the number of biopsies conducted was 48%, compared to 24% in the general population.
Targeted screening
Professor Ros Eeles from the ICR and Royal Marsden, who led the study, said: "Although these are early results, it appears that PSA screening is reasonably accurate at predicting potentially aggressive prostate cancer among men at higher risk of the disease due to a genetic predisposition."
"This study provides support for continued screening in men with genetic mutations," she said.
Figures show that more than 36,000 men are diagnosed with prostate cancer each year in the UK.
Professor Eeles says targeted screening of men at high risk of prostate cancer, "could help us find more cancers, the sort of the cancers you can treat."
But she stresses that the BRCA gene mutation is not common in men. Only men with a strong family history of breast and ovarian cancer should ask for a genetic test.
While the test is not routinely offered in the UK, men over 45 can request one.
John Neate, chief executive of The Prostate Cancer Charity, said: "These results are early, initial results from a study which will take many years to complete.
"We await with interest the full results of this study and we urge the UK National Screening Committee, the body responsible for assessing the validity of the PSA blood test as a screening tool, to consider the research findings once the study is complete.
"In the meantime, it is imperative that we move quickly to a position of 'universal informed choice' where all men - particularly those over 50 or at increased risk of the disease - have the opportunity to make an informed decision about whether to have the PSA test," he said.