'No evidence' implants are toxic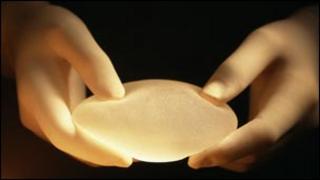 Tests on a type of breast implant filled with an unapproved gel have shown no evidence they are unsafe, UK experts say.
Concerns had been raised about Poly Implant Prostheses - or PIPs - after a French inquiry identified problems.
About 50,000 British women may have the implants, which are currently undergoing further tests in France.
UK plastic surgeons said the findings should reassure women - but said any ruptured implants should be removed.
In March, The Medicines and Healthcare products Regulatory Agency (MHRA) said no more PIPs should be implanted and that any remaining should be returned to the manufacturer.
The French company which produced PIPs has gone into administration. All the devices were recalled in France earlier this year.
The inquiry by the French association of plastic surgeons reported that the company had from 2005 dispensed with the protective barrier and was also using a gel with a composition different from that approved.
To determine how the altered version might react with the human body, the UK plastic surgeons organisation BAAPS (British Association of Aesthetic Plastic Surgeons) says French colleagues contacted the gel manufacturers for any studies.
There were none, as they had understood the substance to be intended for use in mattresses.
'Reassuring'
The MHRA has now received what it described as "encouraging" results from UK tests of the implants, which found no evidence of chemical toxicity or cancer risk from the gel.
Dr Susanne Ludgate, director of clinical devices for the agency, said: "It's reassuring that our test results have shown no evidence of any associated risks with the filler material.
"We are however waiting for the results of the French tests which are more extensive and include mechanical testing of the implant shell because there maybe a suggestion of an increased rupture rate compared with other breast implants.
"We will update clinicians and women once these test results are available and provide further advice on patient management as necessary."
BAAPS said it was pleased the MHRA's findings had come out so quickly.
Nigel Mercer, president of BAAPS, said: "Hopefully this will reduce the anxiety of patients whilst further studies are expected from France.
"Our advice remains that women with suspected rupture contact their surgeon and undergo an ultrasound and removal, as they should with any ruptured implant."
He said earlier that surgeons who had fitted PIPs should not be held accountable for doing so because there was "no way of knowing" that the gel was untested or that the protective envelope had been dispensed with.
PIPs were among the cheaper brands of breast implants available. French experts started investigating after surgeons reported they were rupturing more quickly than other brands.