Half of Britons get sunburnt, a survey shows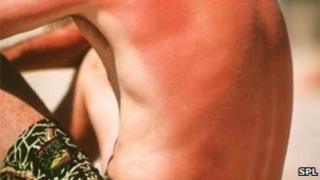 Nearly half of Britons got sunburnt this summer and many would be willing to do so again to get a tan, a survey reveals.
The poll of 2,000 people found 46% had sunburn this year, and a third of these were tan-seekers.
Of these tanners, more than a third said they did the same each year and a third said they would again, the Cancer Research UK and Superdrug study found.
Experts warn sunburn is a sign of damage and raises skin cancer risk.
Over the last 25 years, rates of malignant melanoma in Britain have risen faster than any other common cancer and now totals more than 10,300 new cases a year.
Getting too much sun can also make the skin age prematurely.
Despite this, a third of the people surveyed in August said they didn't take any steps to protect their skin.
Sun damage
The most common place that people got burnt this year was on their face, with 40% saying they were left red-faced after spending too long in the sun.
The next most common was the arms (39%), followed by the shoulders (37%) and neck (36%).
Four in every 10 people said they had not realised the sun would be strong enough to burn.
Ed Yong of Cancer Research UK, said the results show that people are not taking the risks of sun exposure seriously enough.
"Getting painful sunburn just once every two years can triple the risk of melanoma, the most serious type of skin cancer. Whether at home or abroad, use shade, clothing and plenty of sunscreen to protect yourself," he said.
People with fair skin are at higher risk of burning as are those with lots of moles or freckles, a history of sunburn or a family history of skin cancer.
Using shade, clothing and at least factor 15 sunscreen applied generously and regularly will help protect the skin.