Burnham presses Lib Dems on NHS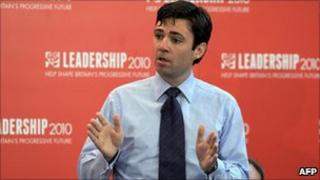 Shadow health secretary Andy Burnham is urging Lib Dems to unite with Labour against the Government's plan for a radical overhaul of the NHS.
The Labour leadership contender will warn that plans to hand GPs purchasing powers risk postcode lotteries and that changing hospitals' status will create an "unstable free market".
He says he has written to Lib Dems.
A Whitehall source said Mr Burnham should do his homework on current Lib Dem thinking.
The coalition Government's White Paper envisages giving GPs much more responsibility for spending and setting hospitals free from central control - Labour itself had pledged to turn every hospital in England into a foundation trust by 2015.
A board independent of government will oversee services.
Health Secretary Andrew Lansley sees it as the key to making the NHS more responsive to patients, believing that GPs know what is in the best interest of those requiring services.
Board divisions
But Mr Burnham will argue at a meeting in Liverpool that introducing massive structural reform at a time of financial retrenchment will "throw the NHS into chaos" when it is most in need of stability.
He will also claim that the new system will open the door for conflicts of interest with a "real risk" that GPs will enter partnerships with private sector providers and then feel themselves pressured into referring patients to them.
The dismantling of primary care trusts and creation of an independent board will remove public accountability, he will say. In their election manifesto, the Lib Dems had wanted to establish publicly elected health boards to oversee local services.
Lib Dem MPs, he will say, hold the "key to the future of our NHS".
Just weeks ahead of the Lib Dems' annual conference in the city, Mr Burnham will say: "There are former Lib Dem councillors here in Liverpool who don't know what their party stands for anymore".
Labour party and trade union members are receiving ballot papers this week for the Labour leadership contest, in which Mr Burnham is standing.
The Miliband brothers, Ed and David, have emerged as the frontrunners.
A Whitehall source said: "Andy Burnham needs to do his homework before issuing invitations to the Liberal Democrats. Had he done so, he would know that the Liberal Democrats set out their thinking on public service reform along the lines of the White Paper a long time ago.
"Many will find it surprising that Mr Burnham claims he wants to defend the NHS. He has spoken out against the coalition commitment to increase health spending and also he allowed waste, bureaucracy and management consultancy costs to blossom when he was health secretary.
"It is disappointing but unsurprising to learn that this has more to do with Mr Burnham's leadership campaign than anything else. For in reality, the coalition's plans give the NHS a clear and stable framework for the next five years and beyond. Our plans will sustain the NHS, not break it down, improving accountability and local democracy - unlike Mr Burnham's regressive policies".