Hospitals 'still failing' on elderly patients' nutrition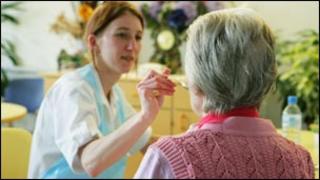 Many hospitals across the UK are not doing enough to spot elderly people at risk from malnutrition, says a charity.
A poll of 1,000 nurses for Age UK found just under a third did not feel confident that malnutrition would be noticed by staff.
Fewer than half said their hospital screened patients on arrival, as guidelines recommend.
The Department of Health said local hospitals set their own policies on "nutritional care".
A report published in 2005 said malnutrition costs the NHS £7.3 billion every year, partly through prolonging hospital stays, contributing to infections and increasing the need for drugs.
The National Institute of health and Clinical Excellence (NICE) recommended in 2006 that malnutrition tests should be standard practice for all patients entering hospital, and that specialised help should be available to malnourished patients.
Screening at admission is also backed as a standard by the Care Quality Commission, which monitors hospital performance.
However only 436 of the nurses polled, who were from around the UK, said that their trust screened on admission, and 294 said they were "not confident" that malnutrition would be spotted at this point.
Michelle Mitchell, from Age UK, said the poll results were "extremely worrying".
She said: "Not enough is being done to ensure that words are transferring into action on the wards.
"It is vital that the government, Care Quality Commission and NHS trusts fulfil their role in tackling this serious issue.
"The government must introduce compulsory monitoring so that this issue can be tackled effectively."
Red trays
The charity wants all trusts to train staff to spot malnutrition, and to operate systems such as "protected mealtimes", during which patients are left to eat without interruption from doctors and nurses.
It also calls for simple techniques such as giving those who may need more help a red tray with their meal, which makes it easier for ward staff to step in if not enough food is taken.
Some trusts have taken other steps to improve the way they identify and then help malnourished patients.
Norfolk and Norwich University Hospitals Trust has recruited extra volunteers to come into the ward at mealtimes to help patients eat, with even the Chief Executive taking the training and helping.
A spokesman for the Department of Health said that local hospitals were responsible for producing their own policies on "nutritional care", and pointed to standards set by the Care Quality Commission - which say that patients should be screened on admission.
He said: "Malnutrition can be a consequence of serious illness or medication or as a result of treatment.
"All patients should be individually assessed when admitted to hospital and provided with nutritious, properly prepared food at times that are appropriate to their individual needs.
"There are a number of systems in place, such as the use of identifiable trays, to ensure that patients who require assistance are recognised and given the help they need."