'Palliative care not surgery' for the most obese
VIEWPOINT By Dr David Haslam
A GP specialising in obesity care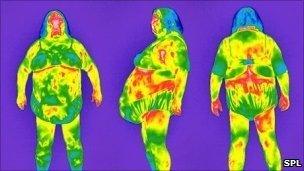 Britain is in the grip of an obesity epidemic, with more than a million severely and morbidly obese.
Surgery is available. But in this week's Scrubbing Up, Dr David Haslam, from the group Experts in Severe and Complex Obesity (ESCO), warns the wrong people are getting it and says some of those who are biggest should just be offered "palliative care" for their obesity.
Weight-loss - bariatric - surgery is a rare and precious resource that has the capacity to permanently induce major weight loss, and 'cure' diabetes in 90% of cases, sometimes within days.
It is cost-effective, with gastric bypass paying for itself within three-and-a-half years due to reduced drug costs and hospital admissions, and this is before we take into account the individual's renewed productivity, and benefit - rather than burden - to the economy.
Even the most cynical, fat-phobic taxpayer should rejoice in the benefits of bariatric surgery.
According to the National Institute of health and Clinical Excellence (NICE), of the 1,010,000 severely and morbidly obese population in the UK, there are currently 230,000 people both eligible and willing to have surgery.
However, this year fewer than 2% of these patients will actually receive treatment.
The availability of surgery is limited, as relatively few surgeons perform laparoscopic techniques within a limited number of designated centres, with a substantial initial financial outlay, so it should be used carefully and offered only for those who will benefit most.
Like anything precious, bariatric surgery should be rationed. But the wrong people are currently benefiting.
NICE guidelines are well-considered and based on clinical-effectiveness and cost-effectiveness, deeming surgery appropriate in anyone with a BMI (Body Mass Index) of 40+, or 35+ if they have other illnesses.
However current barriers, set out by administrators rather than clinicians, ration access to surgery and are discriminating against deserving patients and reducing the number who benefit - and promoting surgery for the wrong people.
Here are a couple of examples of the kind of cases that occur.
Doris is 62, with a BMI of 72. She has been housebound for 10 years in her fourth floor flat and has complaints including heart disease and chronic leg ulcers.
She smokes 40 cigarettes a day and sleeps in front of the television, as severe osteoarthritis prevents her from moving. She lives just one street from the sea, but can't get there.
Sean is 38, married with two young children and has suffered from type 2 diabetes for 10 years.
He is insulin resistant, on 300 units of insulin, has retinopathy (damage to the retina), burning feet and erectile dysfunction as a result of diabetes. He has depression and is gaining weight rapidly due to insulin, with a BMI of 35.
His prognosis is dreadful. He can look forward to a future of weight gain, blindness, heart disease and the prospect of an early death, leaving his wife to support their children alone.
Doris will be granted surgery because she has sleep apnoea and weighs enough to fulfil local guidelines, despite the risk, and has limited potential gain in health, longevity and productivity.
Sean will be denied surgery, and will resort to gaining weight for a few more years before becoming eligible.
If both could have surgery, all well and good, but if only one can, clearly Sean is the more deserving.
What then should become of Doris? Physical activity is out of the question, dietary interventions won't scratch the surface, and most anti-obesity drugs have been removed from pharmacies.
Like anyone else with incurable, terminal diseases, she can be offered palliative care. The concept is a shocking one, and recognises that some people are just too big for any constructive cure to be countenanced. There are times when palliative care is appropriate for obesity: enough is enough when there is no chance of effective treatment.
Doris will then fulfil her ambition to see the ocean, by moving into warden-controlled accommodation by the beach, receiving pain management for arthritis, smoking cessation advice from the district nurse, psychotherapy from the community mental health team, while remaining irreparably obese.
Sean, having undergone surgery, will return to work as a security guard, feed his family and pay his taxes.
It's inevitable that bariatric surgery is rationed, but the current route to treatment means that the most needy and deserving individuals often go without.
Related Internet Links
The BBC is not responsible for the content of external sites.