Oak moth pest 'health threat' warning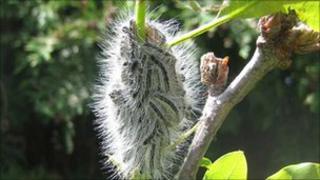 An invasive moth which damages oak trees could pose a significant health risk to people, experts are warning.
The oak processionary moth, found mostly in trees in west London, is covered in sharp hairs containing toxins during its caterpillar stage.
These can be blown into contact with people, causing skin rashes, itchy eyes and triggering asthma attacks.
The Forestry Commission is trying to get rid of the pest which has been in the UK since 2006.
This year, ten trees have been affected at the Royal Botanic Gardens at Kew in south west London.
Last year the situation was much worse when 800 nests had to be destroyed in 400-500 oak trees at Kew.
People who have had contact with these caterpillars have developed skin rashes characterised by an intense itch.
Varied symptoms
This is due to the toxin present in the hairs on the caterpillar, which releases histamine in humans, causing symptoms similar to allergies.
Dr Brian McCloskey, director of the Health Protection Agency in London, said: "The symptoms can vary and some people may experience itchy patches of puffy skin, persistent itchy raised spots, irritant dermatitis and itchy eyes."
Symptoms can be treated with antihistamines or skin treatments available from local pharmacies.
Dr Elaine Vickers, research relations manager at Asthma UK, detailed the dangers for asthma sufferers.
"The caterpillars pose a significant threat to people with asthma, as the toxin-containing bristles of the caterpillars can become airborne and trigger severe asthma attacks.
"People with asthma should also always remember to carry a reliever inhaler with them in case of unexpected asthma attacks," she added.
'No-go areas'
Experts at Kew have discovered that spraying the caterpillars with insecticide before they produce their poisonous hairs is the best way to tackle the problem.
This means spraying the affected trees early in May.
Nigel Taylor, head of horticulture at Kew Gardens, said: "If we allow the pest to spread without intervening then there would eventually be no-go areas in some parks and gardens."
As a caterpillar, each oak processionary moth has around 62,000 hairs, which they can eject at will.
Hairs that fall to the ground can be active for up to five years.
The moths only live for two to three days in July or August.
It is thought that the moths were brought into the UK on trees imported from Europe for a landscape project.
A population of oak processionary moths then established itself in the west London area.
Stopping the spread
The government is already taking action to eradicate the moths through the Forestry Commission, which says it is doing all it can to stop the moth spreading beyond this area.
"The figures available so far indicate that the total number of nests dealt with this year is likely to be fewer than last year's," the Commission said.
"Our surveyors are, however, following up on reports that this year some nests are still being formed, some weeks later in the season than previous years."
Experts are concerned that the oak processionary moth could take hold in Richmond Park, which is home to 40,000 oak trees over 2,500 acres.
But a spokesperson for the Royal Parks said that this year all 278 caterpillar nests identified had been removed from the trees before the adult caterpillars could emerge.