Women 'should not have right to home birth if at risk'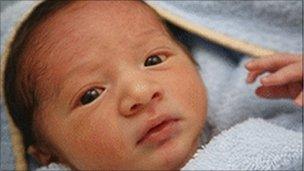 The right of women to choose whether they have home births is being questioned by a top medical journal.
The Lancet said mothers-to-be should not be able to opt for them if they put their babies at risk - under UK law women can override medical advice.
It comes after research suggested home births were more risky than hospital delivery.
But doctors said it was rare for women to ignore their wishes in high-risk, complicated cases.
The editorial was written following the publication of a study in the American Journal of Obstetrics and Gynaecology.
The review of 500,000 births across the world found the death rate for home births at 0.2% was twice as high as in hospitals.
In the UK, a total of 3% of births take place at home - three times more than in the US but far fewer than in the Netherlands, where home births make up a third of the total.
The relevance of the US study to the UK was questioned by medical bodies as midwives in the NHS are said to have better training in resuscitating babies in home birth situations.
The Lancet said: "Women have the right to chose how and where to give birth, but they do not have the right to put their baby at risk."
The journal went on to say that in high-risk, complicated pregnancies hospital delivery should be favoured.
This chimes with guidance in the UK, but women still have the right to insist on giving birth where they want to as court cases have established the baby only gets equal rights to the mother after birth.
Pat O'Brien, of the Royal College of Obstetrics and Gynaecologists, said: "It is very rare for women to choose to put their babies at risk, if anything it is the opposite and they will often put themselves at risk for their baby.
"But we would always support women in whatever they decide."
Mary Newburn, of the National Childbirth Trust, said: "Comments like these are concerning to read. All adults with the mental capacity to make decisions have the right to decide which treatment options they accept or decline.
"Pregnant women have the same rights as other adults."
Related Internet Links
The BBC is not responsible for the content of external sites.