Private clinic proves cheaper for NHS patients
By Simon Cox
BBC Radio 4, The Report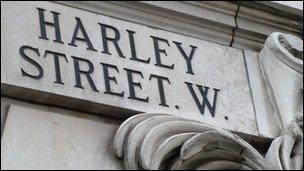 When Peter Aylott, 67, needed a scan for a heart condition he expected it would mean a trip to his local hospital in Kent, not in an exclusive private clinic in London.
But Peter and half a dozen other patients were picked up from their homes in Bexley and taken to the home of private medicine, Harley Street.
"We were transported to and from our doorstep to Harley Street, taken into this salubrious place and really treated as if we were a paying patient."
With its varnished wooden floors and plush sofas the European Scanning Centre looks more like a boutique hotel than somewhere to scan your heart. But it is the first in the country to have a CT scanner that can produce a three-dimensional picture of a patient's heart with a very low radiation dose.
Dr Chris Harvey, consultant radiologist at the European Scanning Centre is proud of the £1.5m machine: "I think this is the way forward, more GP referrals to specialist centres."
The bill for this bespoke service is picked up by Peter Aylott's local primary care trust in Bexley. In the past eight months it has sent more than 80 patients to Harley Street for these scans.
The alternative for Peter was yet another invasive angiogram at the NHS hospital in Sidcup, Kent.
"You go in for full surgery, they are putting tubes up your leg - there's always a risk, I'd much sooner have the CT scan, no argument."
Having a CT scan is much safer than an angiogram, where one in every 500 patients suffers a heart attack or stroke.
The scan is also cheaper, says Dr Kostas Manis, a GP in Bexley. "The angiogram is £1,300 in the NHS, and the private clinic scanner is £900 and we're negotiating to bring the figure down to £600."
Dr Manis has helped to develop the new scheme, which has saved the NHS in Bexley £300,000 in the past eight months.
Faced with a £20m deficit in 2007, the primary care trust decided to hand over the bulk of commissioning power to GPs. They now control 70% of the £150m budget for Bexley.
Dr Manis was convinced they could improve the service for patients and cut costs. "The cardiology bill we were receiving from hospitals was astronomical," he says.
So he helped to introduce a community cardiology scheme. Every week David Brennand-Roper, emeritus consultant cardiologist at Guys and St Thomas' hospital, London, sees patients at GP surgeries in Bexley.
Before he arrived 95% of patients with cardiovascular problems were referred for tests at the local hospital: "The PCT was seeing a lot of money spent at hospital on patients who turned out to be remarkably normal."
The solution was longer consultations. Rather than the normal five or 10 minutes, patients see Dr Brennand-Roper for half an hour. "It does seem to work remarkably well and the referral rates have come down to probably around 10%."
That means the GPs get to keep more of the money but the big loser is the local Queen Mary's hospital in Sidcup.
David Brennand-Roper is aware that schemes like the one in Bexley, which use specialist hospitals and the private sector, could pose problems for small district hospitals.
He says: "If we see patients in the community there will be a problem for hospitals. The difficulty for the hospital in the long term is the shortfall in income."
The South London Healthcare Trust, which is responsible for the Queen Mary's hospital, did not have anyone available to comment.
Dr Kostas Manis says his experience from Bexley is that the introduction of GP commissioning will mean hospitals and consultants have to radically change.
"District hospitals have too many managers and too many consultants. GPs are in the driving seat and GPs will decide where patients go."
Related Internet Links
The BBC is not responsible for the content of external sites.