'Keeping my son out of trouble'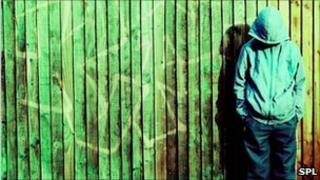 Denise was "at the end of her tether". Her teenage son was in and out of trouble, stealing mopeds, refusing to go to school and hanging out with gangs.
Today Joshua is taking part in a bricklaying course and has not been involved in crime for three years.
Denise says a family-based therapy known as Multisystemic Therapy (MST), gave them a much needed second chance.
The system, which has been trialled by the NHS at 10 sites across the UK, has just produced promising initial results which show a reduction in reoffending.
Research leaders Dr Stephen Butler, from University College London, and Dr Geoffrey Baruch, director of the Brandon Centre in Camden, north London, said boys in particular had been shown to respond well.
"The findings from our trial so far show that, for the group of young people who received MST, re-offending is reduced by almost a conviction per year compared to young people who only received the usual youth offending services," he said.
The system, which was first developed in the US and is approved by the National Institute for Health and Clinical Excellence (NICE), offers family-based interventions for 11 to 16-year-olds to address their problem behaviour. There are then follow-ups a year and two years later.
Multisystemic Therapy revolves around improving parenting, increasing education and training, reducing offending behaviour, and tackling underlying health or mental health problems including substance misuse.
Statistics show that one in 10 children aged five to 16 has a mental health disorder. Conduct disorder, which Joshua has, is the most common disorder in boys.
'A transformation'
Denise said the scheme had transformed her son.
"I was having real problems," she said.
"He would not go to school, but it was not playing truant and going on the streets. He just would not leave the home.
"He was a very sensitive boy who got caught up with gangs, low-level crime like smashing windows, going on building sites, taking and driving away mopeds. They were low-level, but there were a lot of them.
"MST gave me strategies to cope," she added.
"The intervention was a life-changing experience, not only in making me see but focusing on the link between me and my son.
"I really saw the link between my own actions and how that dictated the way I treated my son and those around me."
Therapists advised Denise to enforce boundaries by taking away things such as his television if he did not conform, but she admitted she found this hard.
"But we dealt with the easiest things first so by the time I needed to address the larger things I had the successes.
"I tried to change the way I interacted with him, such as not shouting. I kept logs.
"I remember one of my goals at the very beginning was to have Christmas dinner with him because he would not eat with us. He did and that was a major achievement.
"It is still quite difficult because he is 18, still a teenager. But he will engage and talk to me. We have been on holiday together.
"He does not eat with us every day, but he does eat with us sometimes."