Parents-to-be 'should stop filming ultrasounds'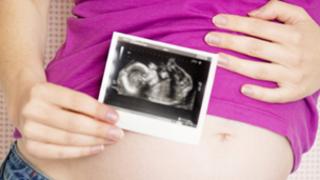 Parents-to-be should not be allowed to record ultrasounds on mobile phones or video cameras, pregnancy scans experts say.
The Society and College of Radiographers says there are an increasing number of reports of patients trying to make recordings.
But it warns sonographers could be distracted, and miss vital signs of problems in the developing baby.
It is down to individual hospitals to decide if recordings should be allowed.
The college, which says that developments in technology mean the ways in which such recordings could be made are bound to increase, has now issued guidance to its members on how to deal with patients' requests to film scans.
It says that, as well as the risk of diverting the sonographer's attention at the point when they most need to concentrate, there could be legal complications if an abnormality is recorded by the scan, but not reported or acted upon.
Many hospital trusts allow parents-to-be to take away stills from the scan, usually for a charge.
Hospital's decision
Richard Evans, chief executive of the society, said: "This is an environment where you expect the sonographer to be able to act professionally and be able to detect problems, so the potential for distraction is a serious thing."
The SCoR's Nigel Thompson added: "People taking home videos can also unnecessarily extend the time of the ultrasound examination."
The society said that whilst the decision as to whether recording should be permitted is a matter of policy for individual hospitals, their recommendation is that it should not be allowed.