Death rates at lowest ever levels in England and Wales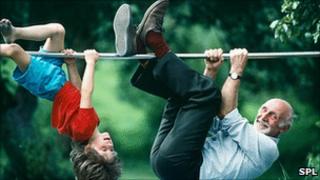 Death rates in England and Wales are at their lowest-ever recorded levels, official figures show.
Despite health concerns surrounding rising levels of obesity and alcohol use, death rates for both men and women fell by about 5% in 2009 from 2008.
There were under half a million deaths registered - the last time the figure fell this low was in the mid-1950s, when the population was 10m smaller.
Deaths from heart disease and cancer have fallen sharply in the last decade.
Between 1999 and 2009, death rates fell by more than a quarter for men and over a fifth for women, according to the figures from the Office of National Statistics, which said they were now at their lowest since records began in 1841.
Circulatory conditions like heart disease remain the most common cause of death, contributing to a third of the deaths registered. But over the decade, mortality from these diseases fell by 40% for both men and women.
Cancer accounted for over a quarter of deaths in 2009, but death rates from the disease have also fallen since 1999, by 15% for men and 12% for women.
Baby boon
Infant mortality has also fallen to its lowest-ever rate, with a rate of under 5 per 1,000 births. This compares with more than 150 per 1,000 a century ago.
Separate research released last year predicted that babies born today in the UK and other wealthy nations could expect to live to 100.
But there have been caveats. Living longer may well mean spending longer in ill health, while there are significant differences in the longevity enjoyed in different parts of the country.
A recent report from the National Audit Office found in fact the life expectancy gap between rich and poor areas has widened in the last decade.
The British Heart Foundation welcomed such a steep fall in heart-related deaths, but warned against complacency.
The charity's chief executive, Peter Hollins, said: "This is great news for heart patients. It is evidence of the huge advances in the diagnosis, treatment and care available to people with heart and circulatory conditions over the last decade.
"Whilst we are clearly heading in the right direction, it's important we don't put the brakes on now.
"The fact fewer people are dying and more of us are living with heart disease and heart failure, means it's crucial we stay focused and make sure people get the treatment and care they deserve."