'No complacency' over stillbirths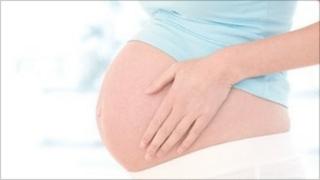 The percentage of babies who are stillborn has fallen but still remains higher than it was in the late 1990s, a report has found.
The Centre for Maternal and Child Enquiries (CMACE) found little difference between the UK nations but significant local variations.
Deprivation, ethnicity and age all appeared to influence whether a baby is stillborn or dies shortly after birth.
Some 6,500 babies died in 2008, when the latest data was gathered.
A quarter of these mothers were obese, and one in five smoked during pregnancy.
The 2008 figures work out at a rate of 7.5 stillbirths or deaths in the first month of life per 1,000 births, down from 8.3 in 2000.
But campaigners and health professionals say there is no room for complacency.
The stillbirth rate remains higher than it was more than a decade ago: in 1999, it was five per 1,000 - in 2008 it was 5.1.
Finding out why
Areas of London and the Midlands saw some of the highest levels of stillbirth and neonatal death, with mothers living in the country's poorest areas more than twice as likely to suffer a loss than mothers in the richest.
Black mothers were more than twice as likely to lose their baby as white mothers, while age was also a factor. The youngest women - those aged under 25, and the oldest - those aged over 40 - were more likely to have a stillbirth or neonatal death.
But researchers say they are now collecting better data to help doctors understand why stillbirths happen.
In previous reports, half of the deaths were unexplained. This new report suggests a significant number of these are in fact associated with failure to grow properly in the womb.
Intrauterine growth restriction may not be the cause of death per se, the CMACE report notes, "but its recognition can lead to alternative management and outcome".
The number of postmortems has also started to increase again. The figure fell after the scandal at Alder Hey hospital in Liverpool 10 years ago, in which organs taken from dead children were held without the parents' consent.
Unequal lives
"This year's report shows conclusive evidence of improving stillbirth and neonatal mortality rates," said Dr Jon Dorling, lead author of the report.
"The new classification of cause of death now gives us more information especially for intrapartum deaths. However, there remains the need to explore in more detail variations in death rates and risk factors with the hope of continuing these improvements in stillbirths and neonatal deaths."
The stillbirth charity Sands welcomed the fall, but noted that as the birth rate is rising the number of babies who die remains the same.
"Maternity services must be designed to meet needs without compromising on safety, yet Sands is already hearing alarming stories of cuts to maternity services, when the numbers of babies dying is still not being properly addressed," said research manager Janet Scott.
"It is therefore more important than ever to ensure the deaths of babies are not sidelined but treated with the same priority as any other death."
The Royal College of Midwives said it was particularly concerned about regional variations.
"We need to pin down what is causing this," said Louise Silverton, its deputy general secretary.
"The report also highlights one of the real tragedies of health inequalities, that those in the most deprived areas are adversely affected. There is a pressing need to focus on this and bridge the gap between the best and worst off in our society."