Locked-in man seeks right to die
By Fergus Walsh
Medical correspondent, BBC News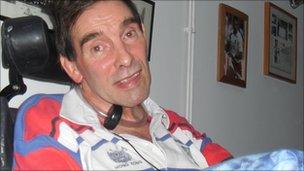 A man with "locked-in syndrome" has begun legal action, asking the director of public prosecutions to clarify the law on so-called mercy killing.
Tony Nicklinson, 56, wants his wife to be allowed to help him die without the risk of being prosecuted for murder.
Mr Nicklinson, of Melksham, Wiltshire, communicates by blinking or nodding his head at letters on a board.
His lawyers say he is "fed up with life" and does not wish to spend the next 20 years in this condition.
According to his legal team, his only lawful means of ending his life is by starvation - refusing food and liquids. His wife Jane says she is prepared to inject him with a lethal dose of drugs, but this would leave her liable to be charged with murder.
Lawyers for the family have issued legal proceedings asking the DPP to clarify whether he would authorise proceedings against Mrs Nicklinson if she were to end her husband's life.
If this was the case then the lawyers would argue that the current murder law infringes Mr Nicklinson's rights to respect for his private life under article 8 of the European Convention on Human Rights.
Jane Nicklinson said her husband had been full of energy and life before he had a stroke in 2005. She said he had thought long and hard about his decision and it was his settled wish to die.
"He wants to be able to take his own life at a time that he chooses," she told the BBC.
"He just wants the same rights as everyone else. I mean, you or I can go out and commit suicide. He can't. That right was taken away from him the day he had his stroke."
In a witness statement, Mr Nicklinson said: "I am a 56-year-old man who suffered a catastrophic stroke in June 2005 whilst on a business trip to Athens, Greece.
"It left me paralysed below the neck and unable to speak. I need help in almost every aspect of my life.
"I cannot scratch if I itch. I cannot pick my nose if it is blocked and I can only eat if I am fed like a baby - only I won't grow out of it, unlike a baby.
"I have no privacy or dignity left. I am washed, dressed and put to bed by carers who are, after all, still strangers.
"I am fed up with my life and don't want to spend the next 20 years or so like this. Am I grateful that the Athens doctors saved my life?
"No, I am not. If I had my time again, and knew then what I know now, I would have not called the ambulance but let nature take its course."
In February the DPP issued guidance covering England, Wales and Northern Ireland regarding assisted suicide.
Whilst aiding a suicide remains an offence, the guidelines set out factors which might mitigate against prosecution.
They include circumstances where the victim had a clear and settled intention to die, and those helping them were wholly motivated by compassion.
But the guidance does not extend to so-called mercy killing or euthanasia. Even if it was with consent it would lead to charges of murder or manslaughter in England, Wales and Northern Ireland and homicide in Scotland.
Such cases end up before a jury. In January Kay Gilderdale was cleared of attempted murder after she admitted helping her disabled daughter to die. In that case her daughter Lynn had attempted suicide.
Related Internet Links
The BBC is not responsible for the content of external sites.