Commons clash over NHS shake-up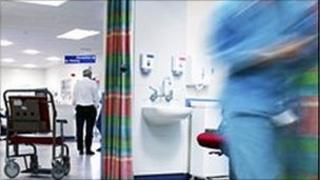 Prime Minister David Cameron and opposition leader Harriet Harman have clashed over the costs of the proposed overhaul of the NHS.
On Monday, Health Secretary Andrew Lansley announced two whole tiers of management would be abolished with GPs given more responsibility for spending.
Ms Harman said the government should be upfront about the cost of the reorganisation.
Mr Cameron did not give a figure, but said the plans were about saving money.
Under the proposals, unveiled in a White Paper, all 10 strategic health authorities and the 152 local management bodies, known as primary care trusts, in England are being axed.
This will be phased in over the next three years.
During prime minister's questions on Wednesday, Ms Harman said: "The White Paper admits there will be extra cost because of loss of productivity, staff relocation and redundancies.
"Does he (David Cameron) stand by what he said just a few months ago about about NHS reorganisation? He said the disruption is terrible, the demoralisation worse, the waste of money inexcusable."
But Mr Cameron hit back, saying Labour was "left defending the bureaucracy" of the NHS.
He said the plans would reduce management costs by more than 45% over the coming years.
"We are not reorganising the bureaucracy, we are scrapping the bureaucracy."
The pair also clashed over cancer waiting times.
Ms Harman, the acting Labour leader, suggested the government was preparing to abolish the two-week target for cancer patients to see a specialist.
The prime minister said no decision had been taken, adding: "We all want to see the highest cancer survival rates."
But he said that was about good follow-up care as well as quick access to treatment.
Health Minister Simon Burns later told BBC Radio 4's World at One they would not axe the cancer guarantee.
"The decision on targets was taken on which ones were clinically justified," he said. "It was quite clear that the cancer one was clinically justified and is being kept. There is no question."