The boat that disappeared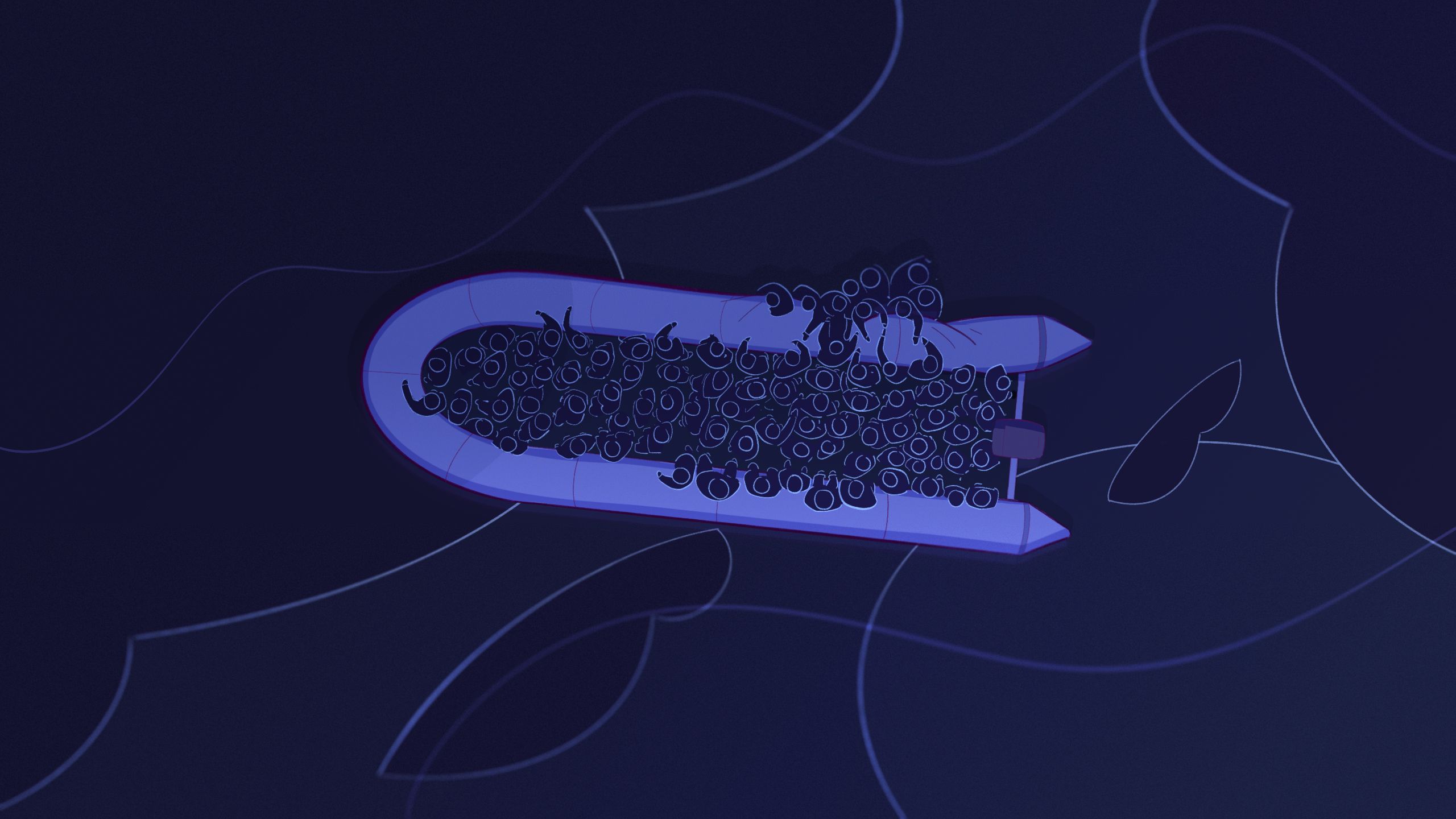 02:30
It was dark, in the early hours of a Sunday morning, when he called.
A stormy wet wind was spitting at the kitchen window. The table was a mess of phones and laptops, wires and mugs. 
Carlos and Jacinta had been answering calls all night. It had gone quiet for a short while - and then the phone rang again. 
On the other end of a crackling line a man spoke in broken English.
"I can remember his voice quite clearly," Jacinta says. He was strangely calm.
Carlos: Hello?
Man on boat: Hello, how are you?
Carlos: I'm good, I'm good. How are you? You are calling from a boat?
Man on boat: Yeah we are fine, we are fine. Please we are in danger.
Carlos: OK. 
Man on boat: We are middle of sea. Yes, we are in Mediterranean sea. Please, we need rescue.
The line dropped but the man called back almost immediately. He, Carlos and Jacinta spoke intermittently for hours.
Jacinta wanted to find out who they were.
"Because I was really worried for them and I didn't want them to be anonymous people," she says. "I wanted to know a bit more about them." 
But she didn't get the man's name.
Three nights earlier, on 6 February in the town of Garabulli on Libya's Mediterranean coast, Maher was shouting down the phone. 
"Give me my son," he said. "Give me Muzammil."
Maher was looking for his nephew. Over the two years they'd spent together in Libya, he had come to regard him as a son.
He had been worried this would happen, that the 18-year-old would "try the sea". 
The man he was shouting at was in a forest - a place they called the "campo" - on the outskirts of town. 
It's a place where criminal groups who organise the crossing take migrants while they wait for the right conditions to send them across the Mediterranean. 
Maher says he wanted his nephew to go, but not now. He knew this smuggler and he didn't trust him. The boats he provided were too flimsy, the engines were small. They wouldn't make the 500km (311 mile) crossing to Italy. 
He knew this because he had been on one of these boats before, and had needed to be rescued and brought back to Libya.
He convinced the man in the campo to put Muzammil on the phone and tried to plead with him.
"I said, 'Muzammil, don't go.'"
Getting to Europe had become an obsession for Muzammil.
"He couldn't sleep," Maher says. "Because all our friends had gone and he didn't get to go."
"It was all he could think about."
He had already tried twice before and both times the boat was blocked by the Libyan coastguard.
The EU border agency Frontex runs air operations in the Mediterranean that alert the Libyan coastguard when it spots migrant boats. Muzammil had seen a plane close to the boat. Two hours later they were intercepted.
He was brought back to Libya and taken to a detention centre in Tajoura, east of the capital Tripoli. It has a reputation among migrants as a dangerous place – many incidents of neglect, sexual violence and abuse have been reported there. He was held there for two months.
The second time he managed to run away once they reached the port. He got ready to try again.
Muzammil wanted to be a doctor. He talked about it all the time, his uncle says, while he carried shopping to the car at his job in a supermarket.
He was originally from Sudan - he and his family lived in Zamzam, a refugee camp for people displaced during the war in Darfur.
Even though he was good at school he dropped out at 15 because he wanted to go abroad to learn.
There was nothing for him in Zamzam, he said. He'd watched his older brother, aunt, and uncle graduate and then just sit around and do nothing because they couldn't find a job.
After working as a doctor he would go back to Sudan to build a hospital, and find a girl to marry, he told his uncle.
He thought if he could get to the UK before he was 18 he would have the chance to go to school. As he got older he felt that chance slipping away.
"He was always dreaming," Maher says. "He was just a child. He didn't know anything." 
Like a lot of young Sudanese who want to travel he thought getting to Europe would be easy.
But it is not just the crossing that is treacherous. Libya is a much more brutal experience than they can imagine. 
Ali Ibrahim, a Sudanese man who spent three years in Libya trying to cross the Mediterranean, describes it as a place of utter lawlessness.
The country is in the middle of a civil war and run by rag-tag groups of militia who treat migrants like prey.
Young men like Ali live in constant fear of being attacked or mugged.
"There are guns everywhere," he explains. "Maybe [someone] might take your shoes. If you wear Nike, Adidas or something good like this he'll take them."
Ali worked in a market, pushing a wheelbarrow for customers. But he says though the women would always pay him, the men often wouldn't.
Muzammil was taken advantage of too, his uncle says. Once he was forced into a car by three armed men who took him to a building and told him to clean it but never paid him. 
Sometimes it all works out though. Ali is now settled in France after successfully crossing to Malta on his second attempt.
"The sea is like a drug," he says. "Like an addiction."
03:13
The boat kept calling
Carlos: Hello? 
Man on boat: Yes.
Carlos: Now we are trying… We are trying to contact the coastguard. 
Man on boat: Yes now, because water, because our boat is full of water. 
Carlos: Is full of water? 
Man on boat: Yes. Yes. 
Carlos: We are doing our best. We are doing our best. Have you got life jackets? 
Man on boat: OK.
Carlos and Jacinta volunteer for Alarm Phone, an emergency helpline for migrants in trouble at sea.
"The process is simple," Carlos says. "We get the call in. And then we ask their position and then we contact the coastguards. That is our role. We don't do anything else."
They had established that there were 91 people on board - 79 men, five women and seven children.
Usually when they hear from a boat it is not in immediate danger and they might have hours or even days to get help. But this was moving fast.
"Our boat is destroyed now, we are in emergency," the man on the boat said. "Please we need rescue soon." 
From the co-ordinates he gave, they could see that the boat was in international waters, in Libya's search-and-rescue zone.
So they tried to contact the Libyan authorities - first by email, then by phone. There is an official number for Libya's rescue centre but from experience they knew no-one would answer that, so they tried six other numbers that they had. 
Then they called the head of the Libyan coastguard, Colonel Masoud Abdul Samad. His number rang out. 
"We'd copied in the Maltese and the Italians into the emails that we'd sent," Jacinta says. "But we weren't getting any response really, from anyone."
Up to 2014, the Italian and Maltese coastguards, supported by the EU, ran extensive rescue operations in the Mediterranean. Libya's search and rescue zone was small and its coastguard ineffectual. 
But after a political backlash in Europe to the arrival of hundreds of thousands of migrants by sea, the EU has invested €91m ($100m) in building up Libya's capacity to patrol its waters, and in 2018 Libya's search and rescue zone was expanded.
04:07
Jacinta and Carlos were getting desperate. They called the Maritime Rescue Co-ordination Centre in Rome, hoping Italy could put pressure on Libya to respond. 
When they answered they said they had received the email but couldn't disclose if a rescue was on the way.
04:13
The boat kept calling. 
They asked the man on the phone if he could see any other lights in the darkness around them.
Man on board: We are alone here. 
Jacinta: OK. And can you tell me your position again? 
Man on board: We need to rescue, we need to rescue to help us.
05:15
Jacinta and Carlos spoke to the boat again. This time it was different. 
The man was shouting, there were people in the water, he said. Some of them were already dead. In the background they could hear other people shouting too. 
Then the call dropped. 
They tried to call them back but the line was dead.
At 08:55 Libya time, Colonel Abdul Samad answered his phone. What we know from this conversation is from Alarm Phone's records only.
The colonel said he had to talk to his superiors, to discuss whether the Libyan coastguard could send a rescue. 
According to Alarm Phone's account, he said he needed to check because there was no space in Libya's detention centres and told them to call back in two hours. 
Alarm Phone say they couldn't reach him again until six hours later. 
When they did speak to him, he said two rescue boats had been sent out but hadn't found anything in the area.
The BBC tried to confirm this account with Colonel Abdul Samad but he didn't respond to attempts to reach him. 
From the moment the line dropped, this boat all but disappeared. 
There is no way to be absolutely sure that Muzammil was on the boat Carlos and Jacinta were talking to, but its profile and alarm call timing match Maher's understanding of who his nephew left with and when. 
There were three other boats rescued that night - one by the Maltese authorities, one by the NGO ship Aita Mari, and one by the Libyan coastguard. But the description of those on board and their GPS location don't match the details Carlos and Jacinta collected. And it doesn't appear Muzammil was among them.
According to EU border agency Frontex it was Italy co-ordinating rescues that night. When the BBC contacted Italy's rescue co-ordination centre in Rome for clarification it simply replied that they had "exchanged information with other rescue centres, as required by current international legislation". 
The International Organisation of Migration (IOM) says that the number of departures from Libya is increasing as a result of the deteriorating security situation there - up more than four times on the first quarter of last year. 
But at the same time port closures in Italy and Malta as a result of the coronavirus pandemic have made it more difficult for NGO rescue boats to take to the sea.
The IOM has recorded 258 people dead or missing in the Mediterranean since the beginning of this year. This is actually a decrease on the figures recorded over the same period last year, but Marta Sanchez Dionis from the IOM's Missing Migrants Project worries this year's records don't reflect the full picture.
"It has become increasingly difficult to know what's happening at sea," says Sanchez Dionis. "This intensifies the risk that boats go missing without a trace."
At the same time the UN Office of Human Rights is calling for a moratorium on all returns to Libya, arguing this is putting migrants in danger.
Maher believes his nephew was on that boat but he refuses to believe he is dead. He's ashamed to tell his sister what happened. 
Tradition in Sudan dictates that someone who is lost can't be declared dead for at least a year. 
"If we find one body of the lost people we can say they have died but we didn't find anything."
He is still planning to cross to Europe because Libya is getting more and more dangerous - just a few weeks ago a rocket fell near his house.
But he's worried because he knows there are fewer rescue boats in the Mediterranean now.
"When you go to the sea," he says, "you are between life and death."
CREDITS
Author: Stephanie Hegarty
Illustrations: Charlie Newland
Online Producer: James Percy
Editor: Sarah Buckley