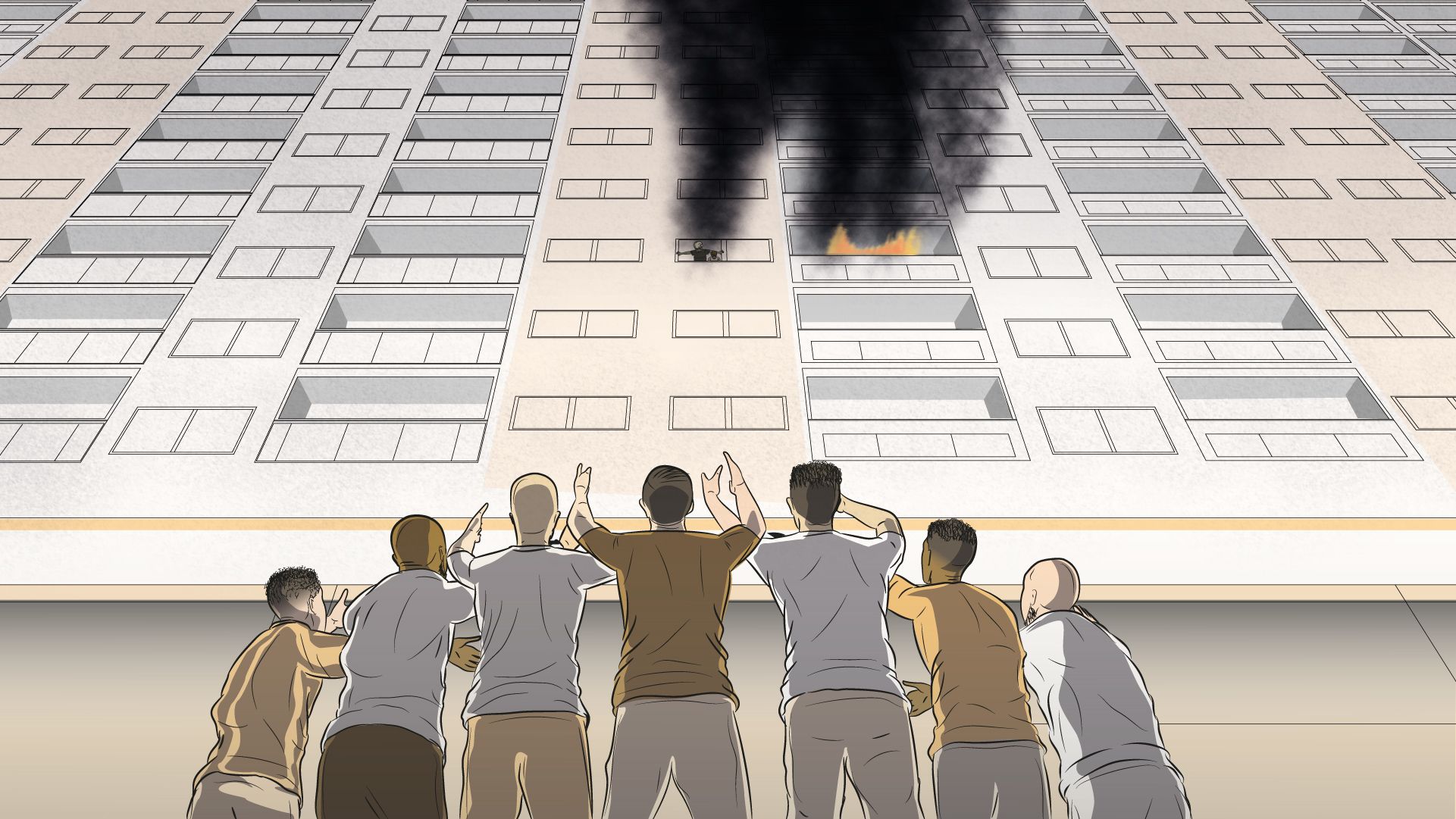 By Myriam Lahouari
They are strangers, arms outstretched, waiting for the boy to fall. 
Minutes earlier, three of them had tried to wrench open the apartment door. But it was too swollen by the heat of the fire.
So the brothers, three and 10 years old, are trapped. 
They are crying at a window, 15m (49 feet) up, choking on thick black smoke billowing behind them. To their left, flames rage from a carpet draped over a balcony railing.
Their apartment is in La Villeneuve, a French modernist suburb once heralded as a social utopia, but which has since suffered decades of stigma and neglect. 
Hechmi, Walid, and Lucas - the men who tried to force the boys' door - have run back down the tower block stairs to join four others outside. They are Elyasse, Guelord, Mouhsine and Bilal. 
None of the men knows each other. The suburb in Grenoble, south-eastern France, is home to several thousand people - a town within a town.
A crowd is looking on, panicked by the scene unfolding before them. Mouhsine asks if anyone knows the name of the eldest boy. 
"Sofiane," someone replies.
The men call up to Sofiane, telling him that he and his brother have to jump. Guelord shouts that the younger boy needs to go first. Sofiane should throw him down. 
The 10-year-old hesitates. He looks at the ground. Behind him the smoke has thickened; the balcony is burning even more fiercely.
"It's better to break an arm or a hand than to burn at home," Hechmi shouts up.
Sofiane grabs his brother, Soleiman, and dangles him by his T-shirt out of the window. But he doesn't immediately let go. He's looking down, seeing if the men are ready. 
"He held him for a few seconds in the air - he wanted to make sure that his brother would land in our arms," recounts Elyasse.
Sofiane drops Soleiman. The onlookers scream.
The three-year-old, crashing through the air like "a cannonball", according to Elyasse, bangs his foot against a windowsill which flips him, so that he is now plummeting head first.
Mouhsine manages to catch him with the help of his chest, Hechmi with his shoulders. Behind, Bilal helps Mouhsine brace against the impact. The three men collapse to the ground.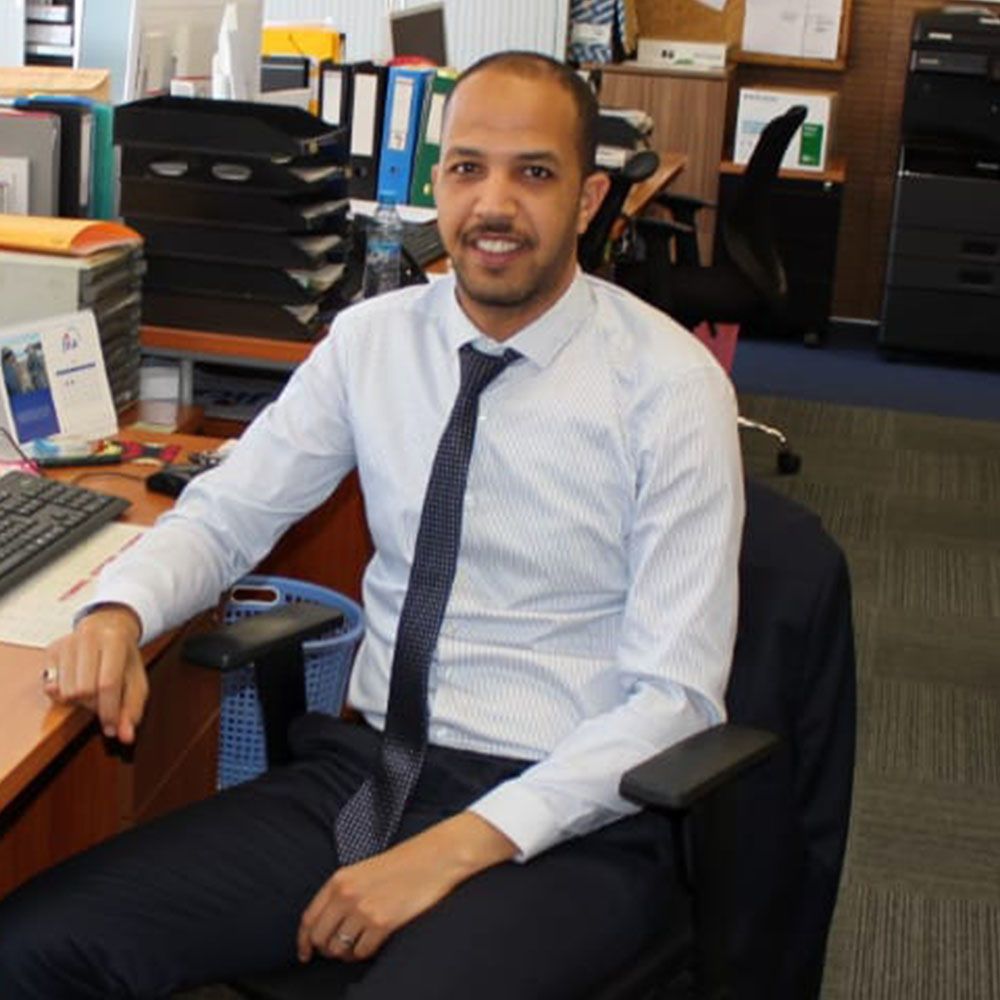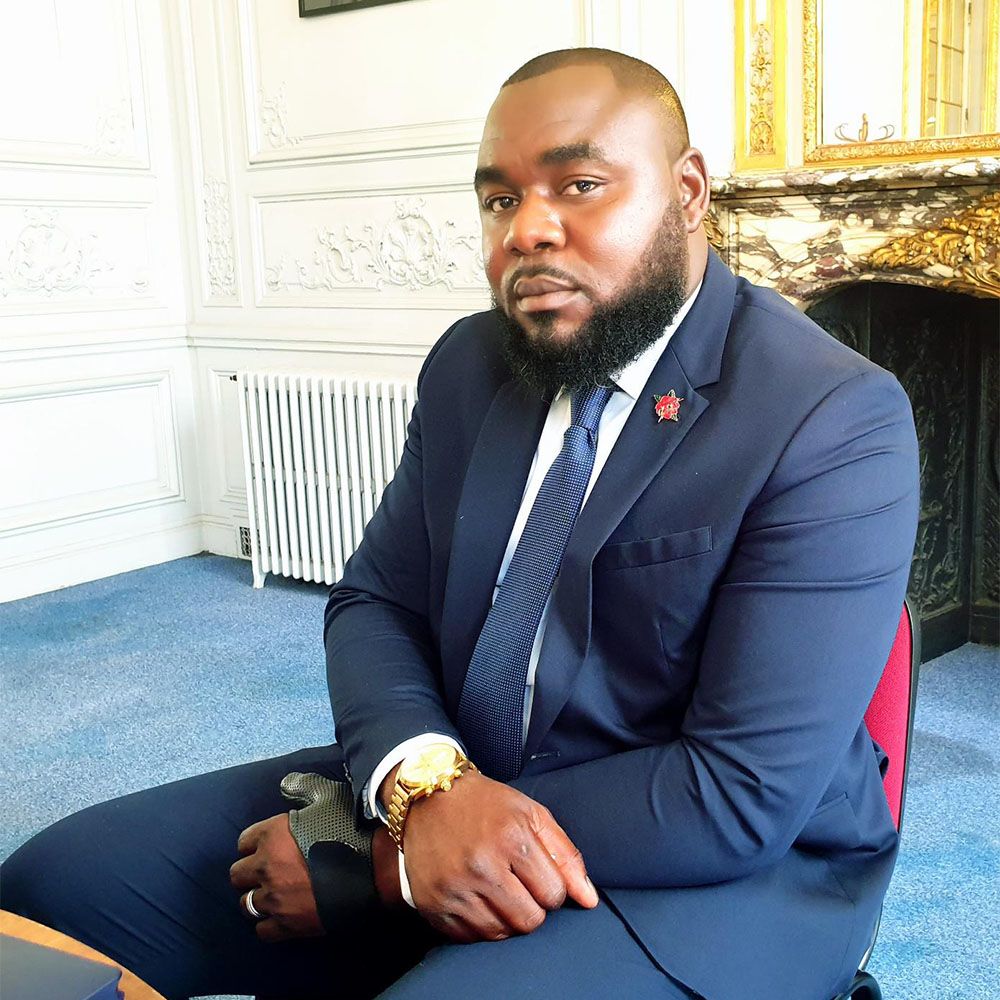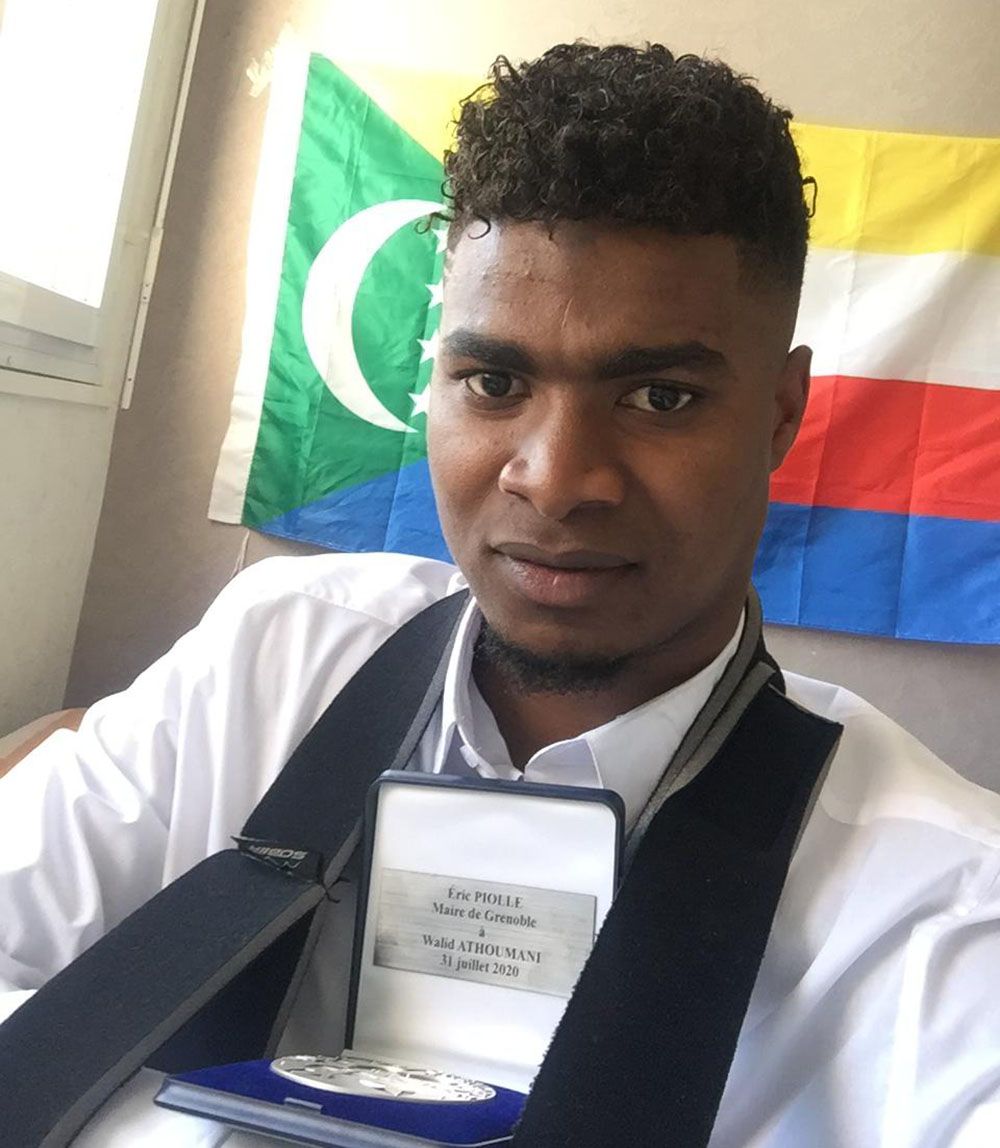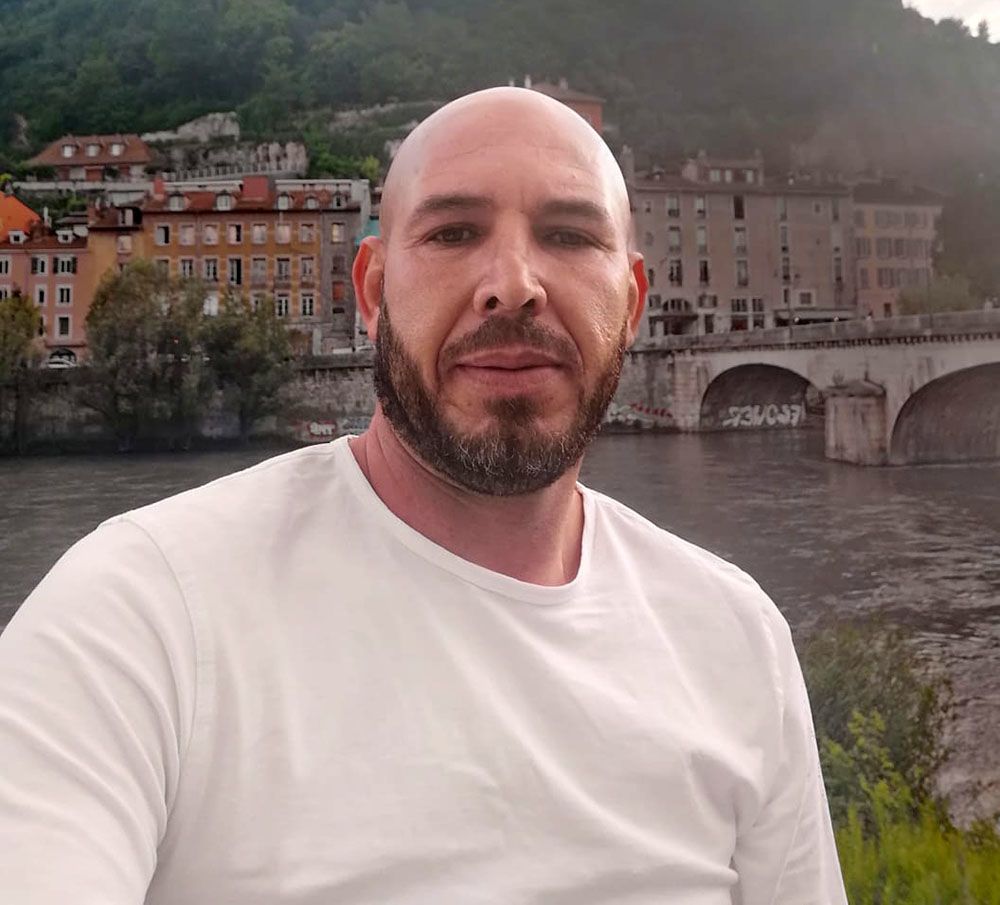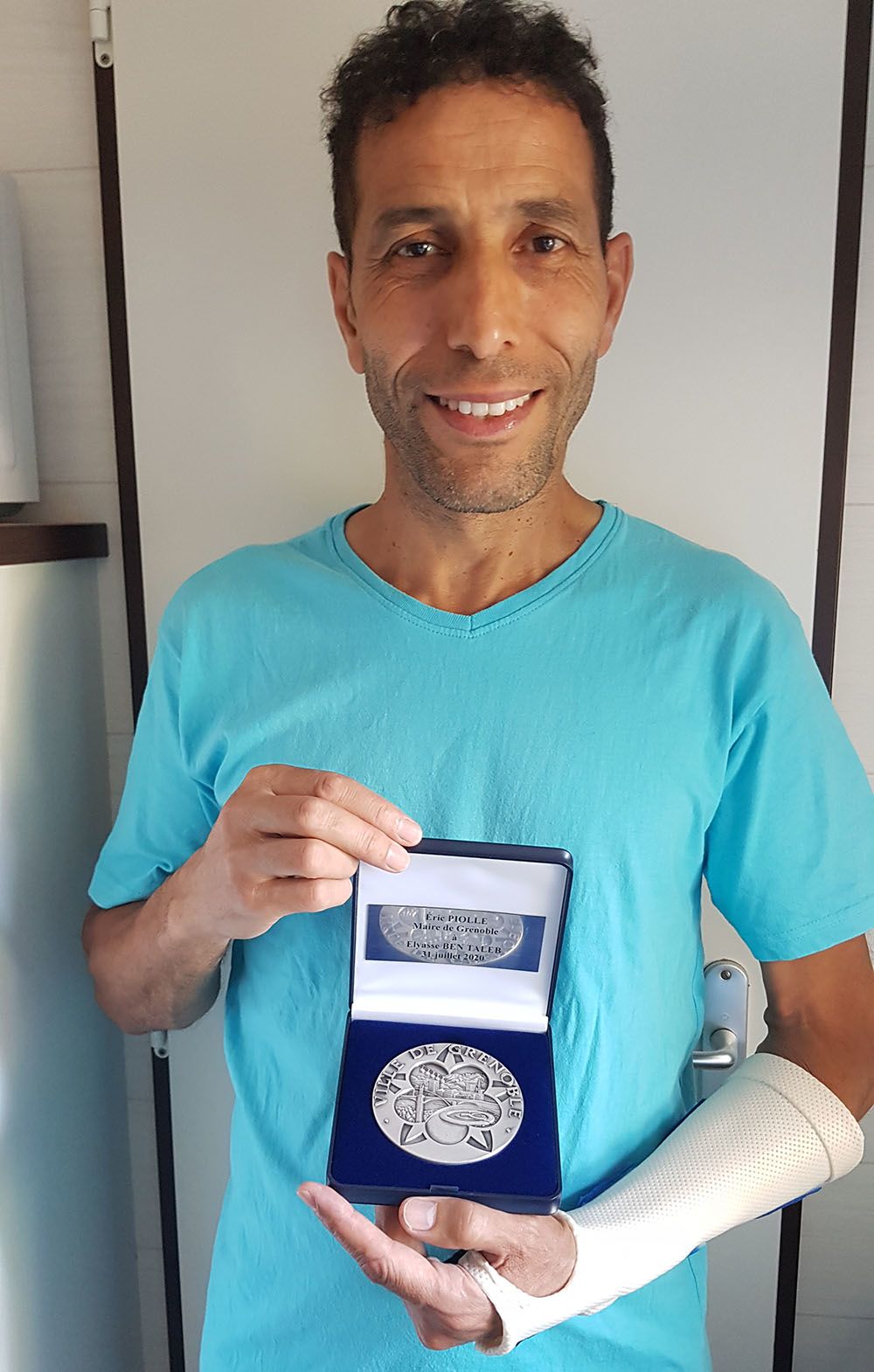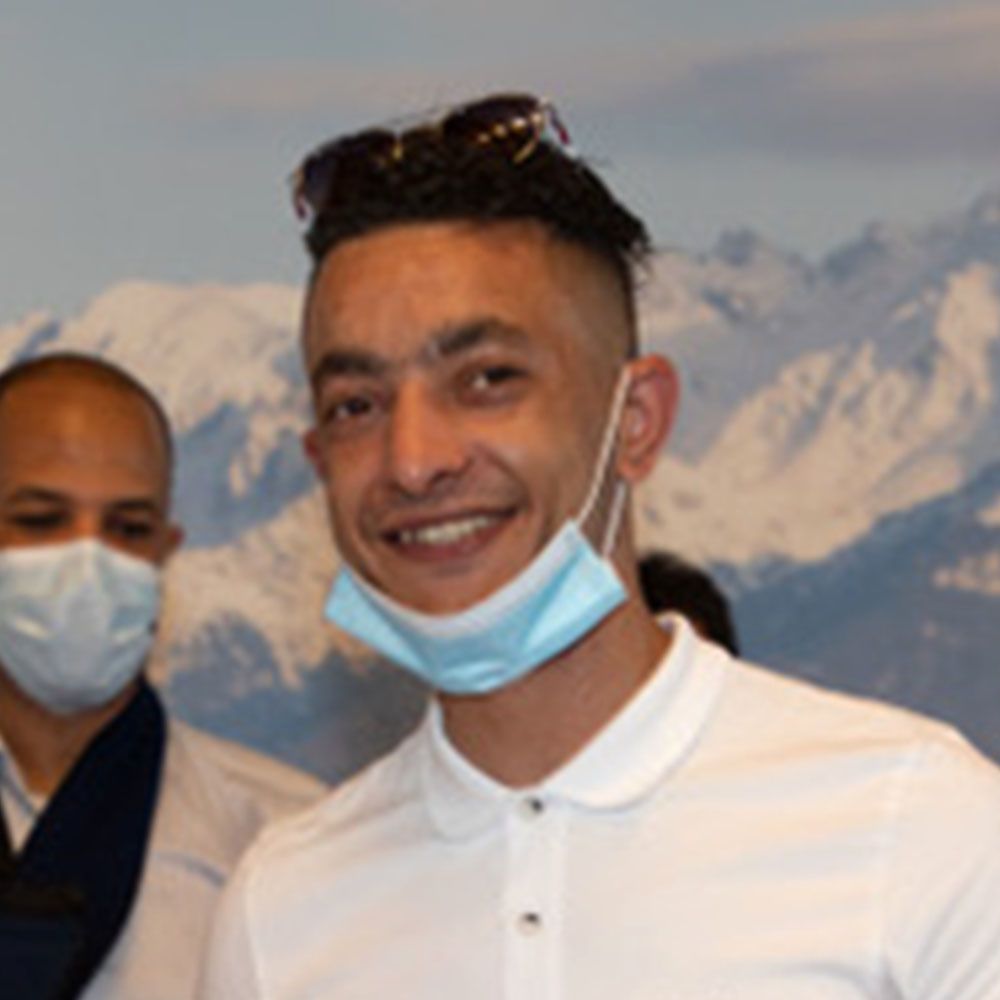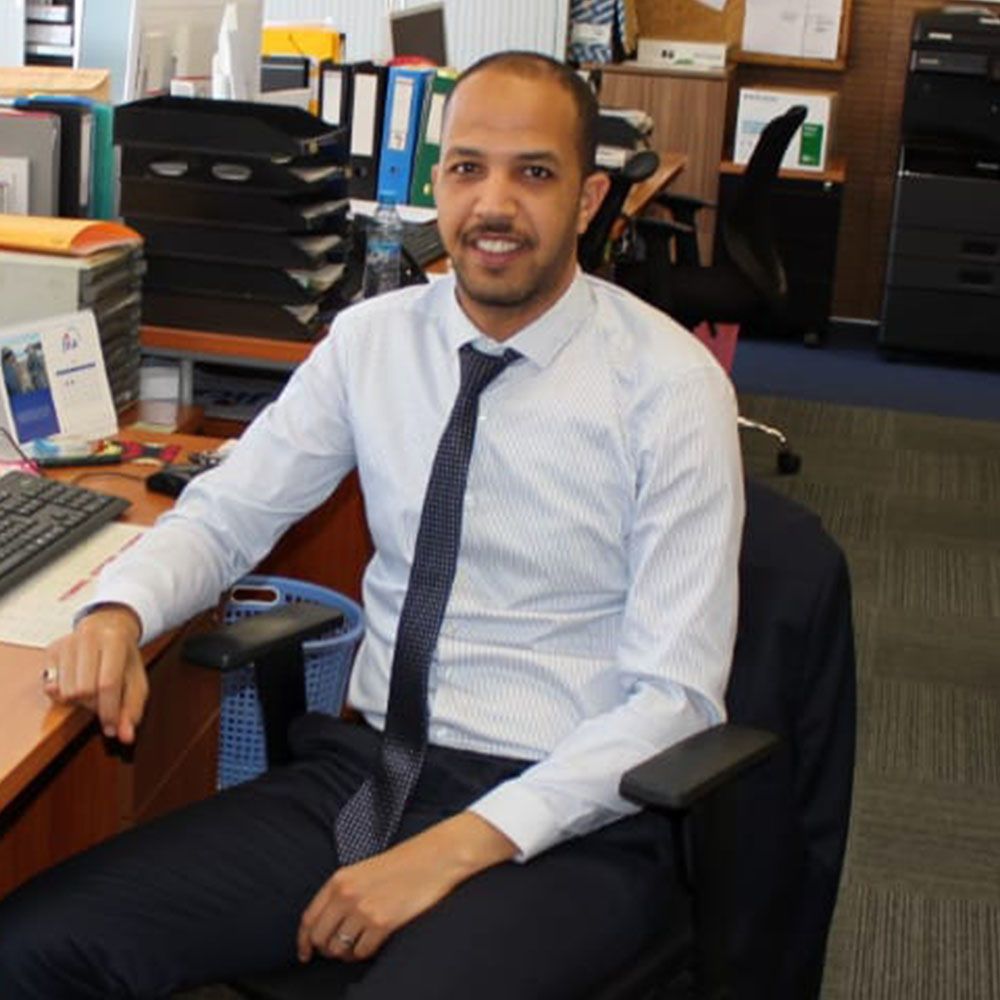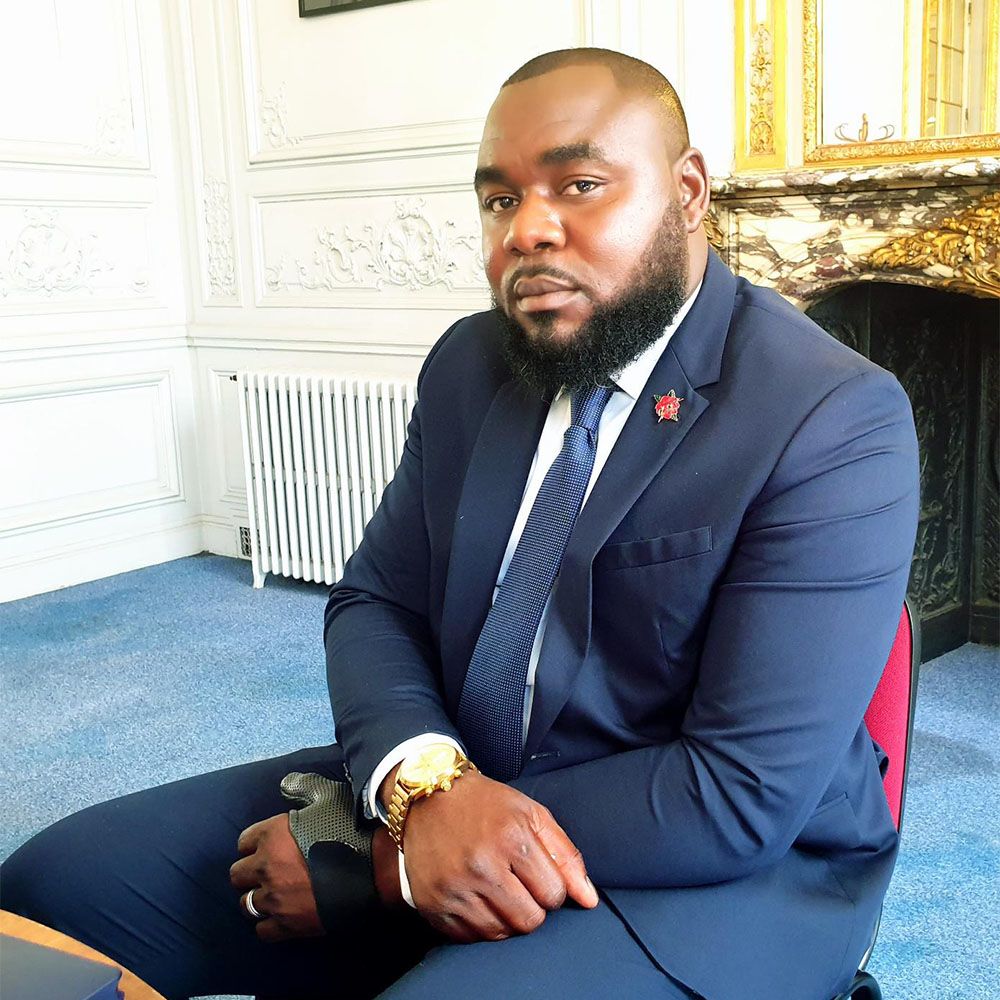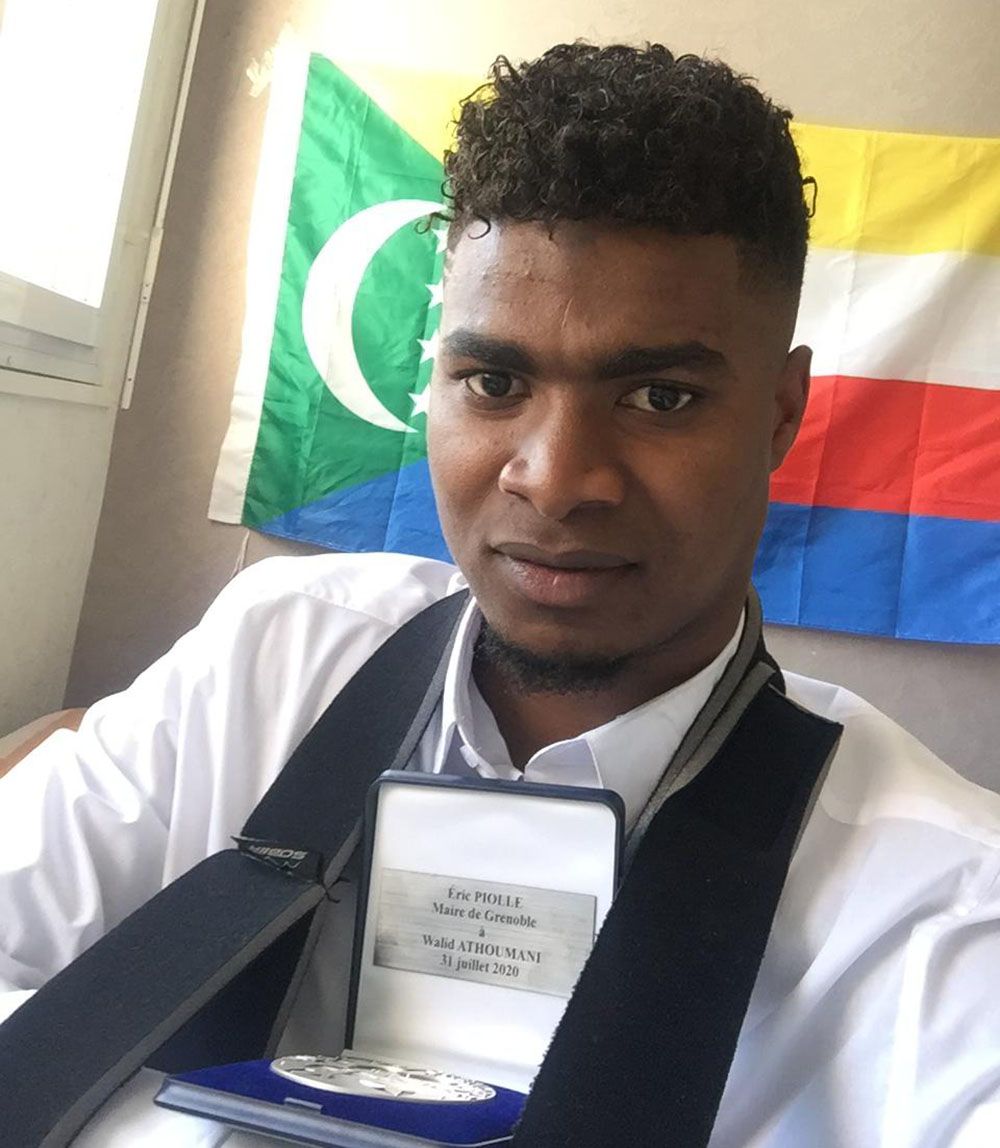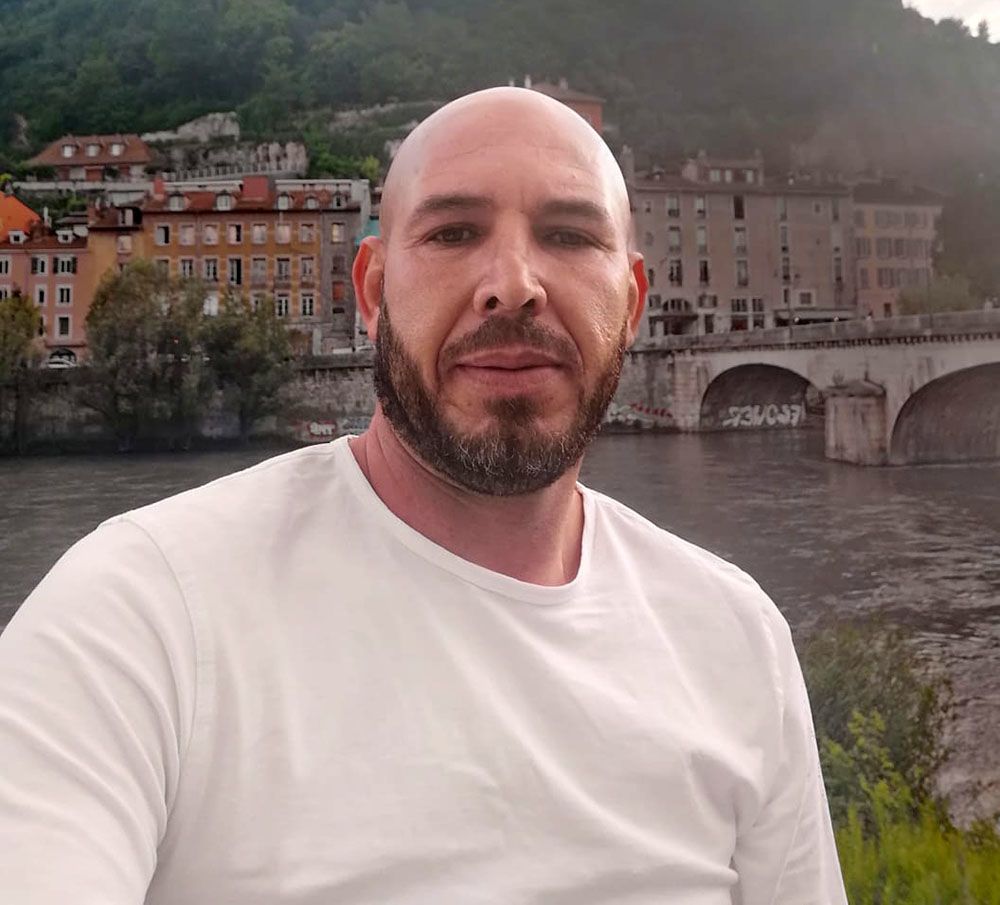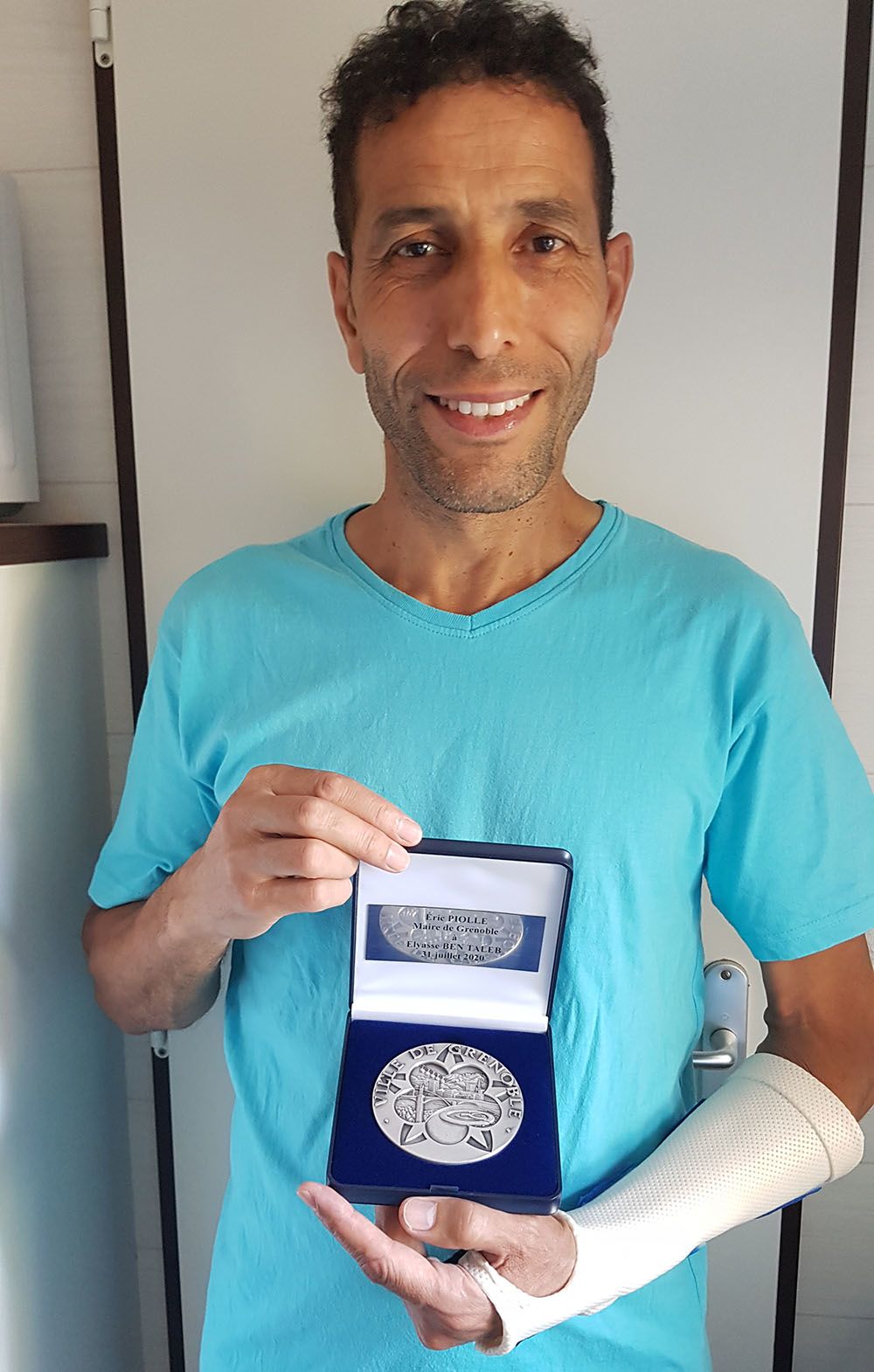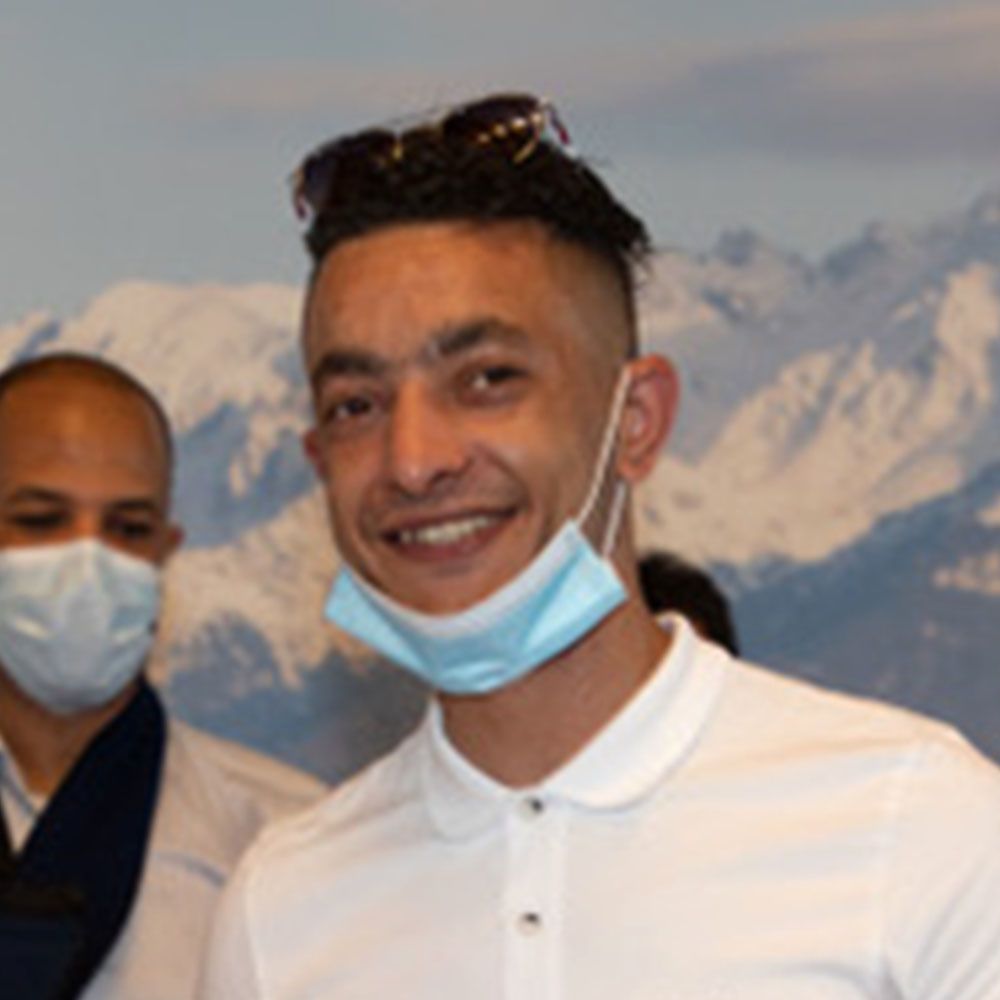 The men started out on 21 July as strangers, even though most live in or close to Arlequin, a neighbourhood in La Villeneuve known for its multicoloured tenements.
Mouhsine Sbiti had moved from Morocco just one month earlier to an apartment 200m from the burning building - Arlequin's tower 54. He was on his way to the supermarket when he heard screams.
Guelord Musumar, a special-needs teacher from the Democratic Republic of Congo, who lives near La Villeneuve, was on his way to the tower block to meet his father-in-law for lunch when he saw the commotion.
The two youngest men, Lucas Reizmives and Walid Athoumani, saw the flames from their neighbouring apartment blocks. Walid, a 25-year-old student from the Comoros, sprinted into the lift of tower 54. He was joined at the children's door by Lucas, a 19-year-old Romanian construction worker, who had hurtled up the stairs.
Hechmi Selmi, originally from Tunisia, had been photocopying documents in Arlequin's social centre. He came outside to find the temperature had soared in the midday sun. Lifting his head to swig from a bottle of water, he saw the smoke out the corner of his eye.
Elyasse Ben Taleb, an Algerian lift technician, had been carrying out checks in Arlequin and was rounding the corner of the block for his last appointment before lunch when he drove past the commotion, stopped the car, and ran back. 
Now, just minutes after gathering at the foot of the tower block, they are holding Soleiman. "It's like a vehicle falling into your arms… I felt a terrible pain," recounts Elyasse. 
But they have done it - the boy is safe.
It's Hechmi who gets up with the three-year-old, and as he lifts him up, he feels his back cracking. He is too injured to help with the second rescue.
The other six get back into position.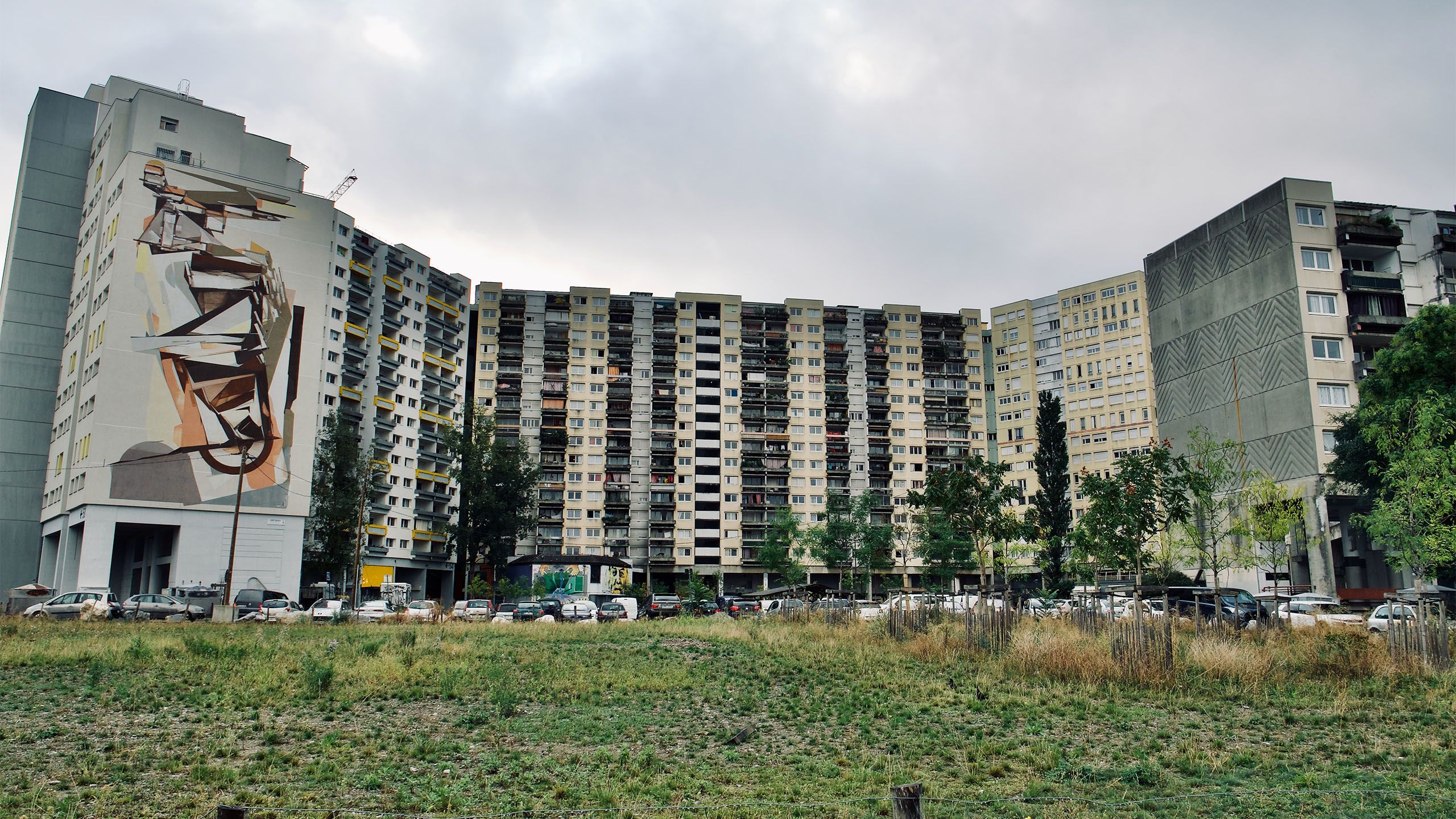 Ten-year-old Sofiane is much bigger and heavier than his brother. Mouhsine, a former security forces officer with the Royal Palace in Rabat, looks up and tries to estimate. About 40 kilos, he guesses. He knows the force will be much more difficult to absorb.
Guelord is to his right, strong enough, Mouhsine reckons, that between them they can lock together to brace against the impact. He grabs the 29-year-old's arm.
The men are worried - they can't see Sofiane. But he soon reappears through the thickening smoke. He climbs through the open window to sit on the sill. His feet dangle over the edge, and he looks down at the ground.
The men wait. It seems like an eternity but it's only a few seconds. Finally, he levers himself over the windowsill, hangs, then lets go. 
His right foot strikes Mouhsine, his left foot Guelord. Both fall under the impact. Mouhsine screams in pain. The bone in his wrist looks deformed. Guelord realises he has broken his thumb. Walid has fractured his wrist, Lucas his hand. Bilal is thought to have broken a finger.  
But Sofiane is unharmed. "He landed directly into our arms," says Walid.  Elyasse weeps in relief. "The two children were unscathed - it's a miracle," he reflects.
"We didn't have much time to discuss and decide, everything was done by instinct," adds Mouhsine.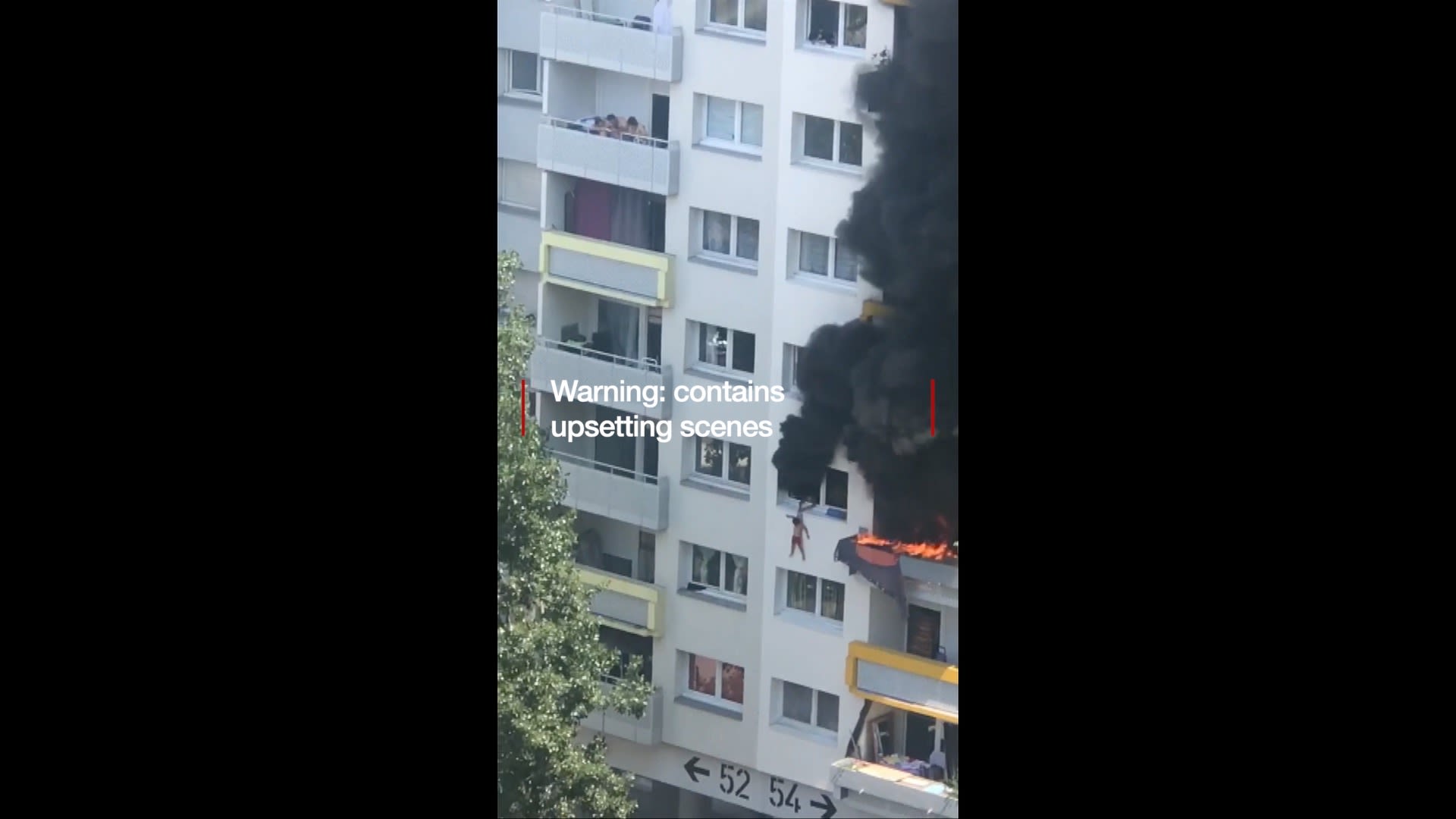 "L'acte heroique," proclaimed Grenoble's newspaper Le Dauphine Libere. The story was carried by national and international media, brought to life by dramatic mobile-phone footage.
But the euphoric headlines could not convey a striking detail. 
The boys were saved by a group of immigrants on the very same estate that erupted - almost 10 years previously to the day - in violent rioting, prompting an excoriating anti-immigration speech by then French president Nicolas Sarkozy.
In the summer of 2010, a man from La Villeneuve was suspected of stealing from a local casino, and was killed in the police shoot-out that followed. His death triggered three nights of looting and arson in the area. A few days later Sarkozy made a hard-hitting and widely criticised security speech in Grenoble.
"We are seeing the consequences of 50 years of insufficiently controlled immigration, which have ended in the failure of integration," he said. "We are so proud of our integration system. Perhaps we need to wake up? To see what it has produced. It worked. It doesn't work any more." 
He called for foreign-born residents threatening the police to be stripped of their citizenship.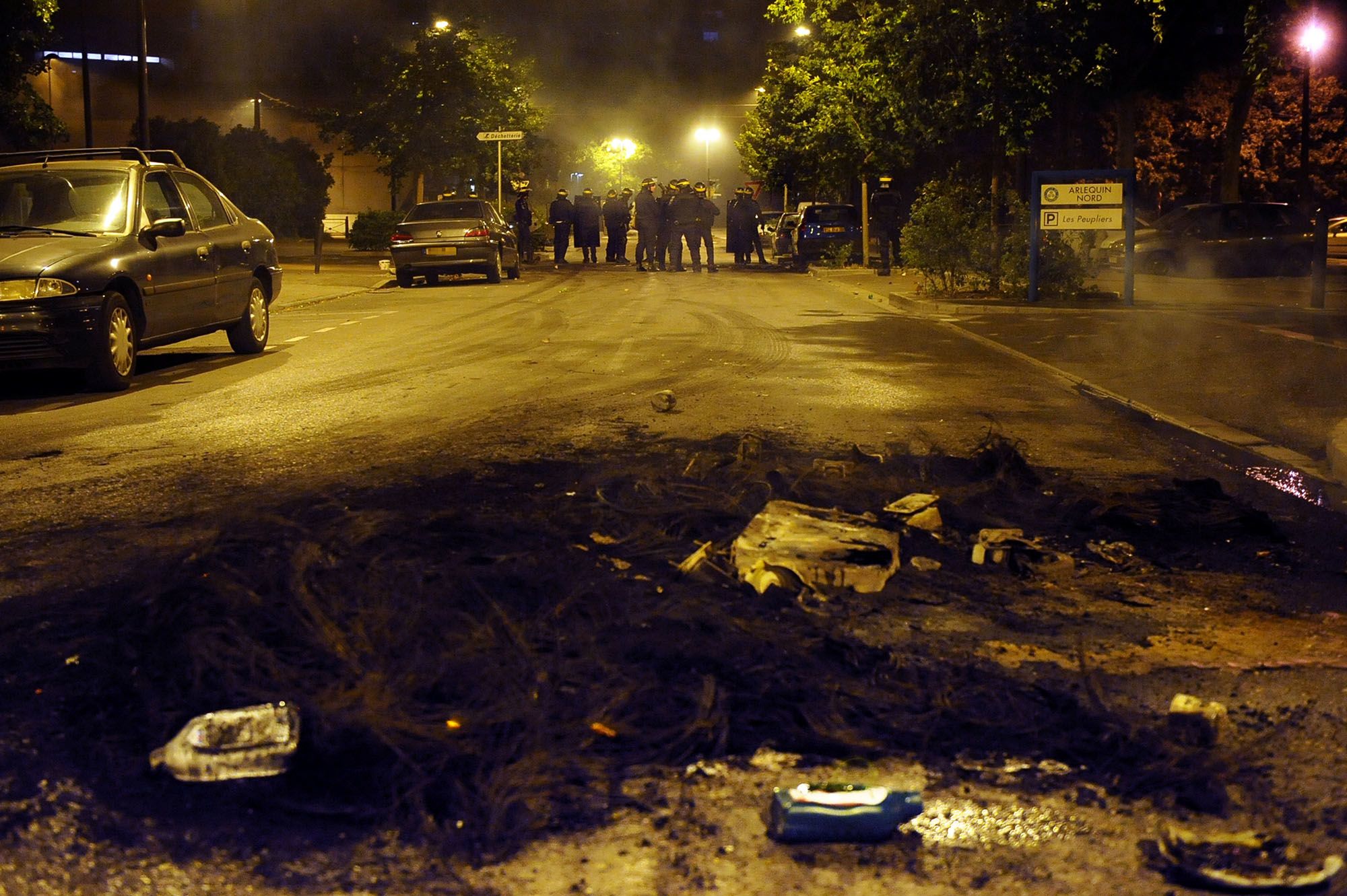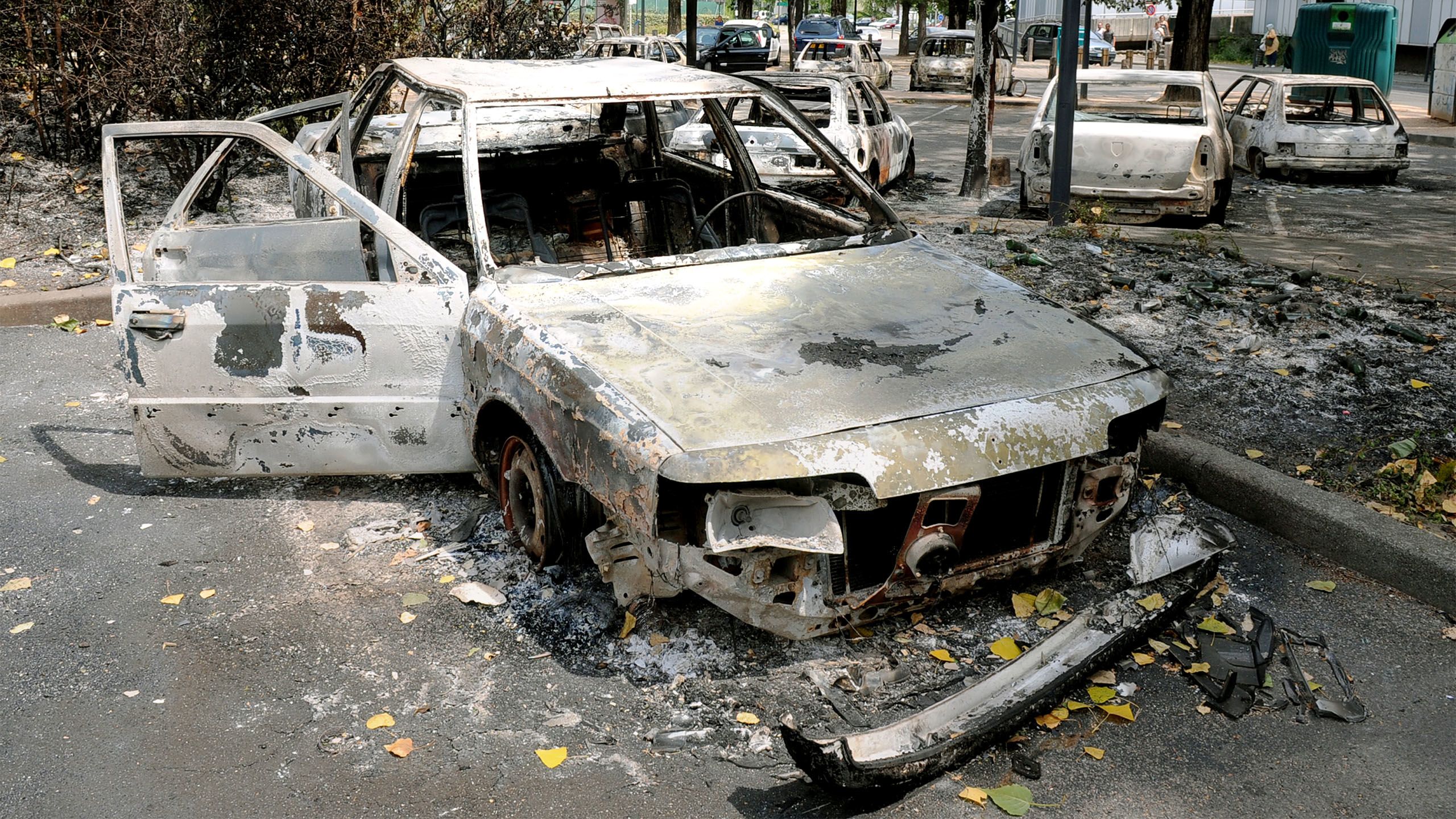 Riots in Villeneuve, Grenoble, July 2010
Riots in Villeneuve, Grenoble, July 2010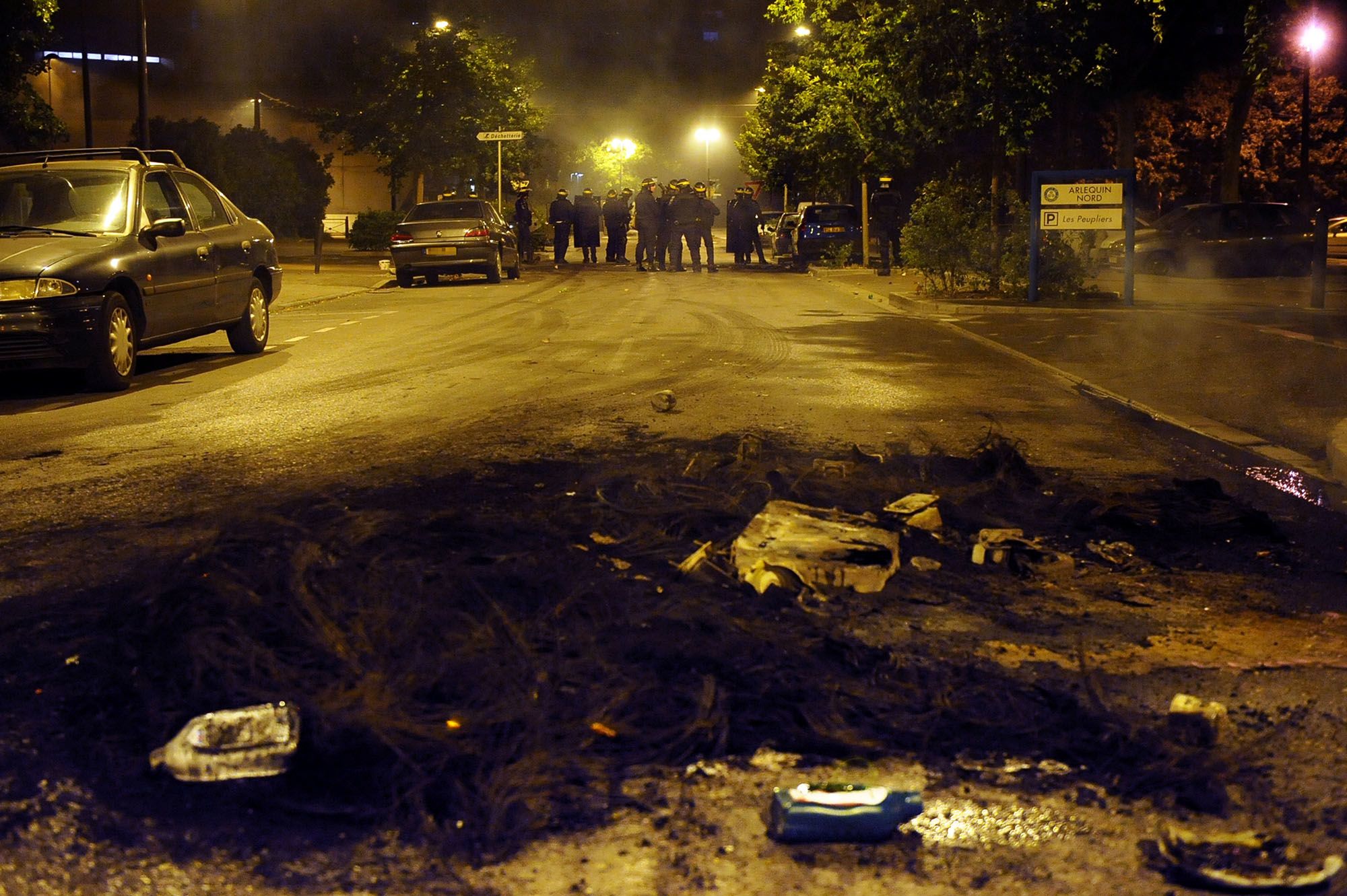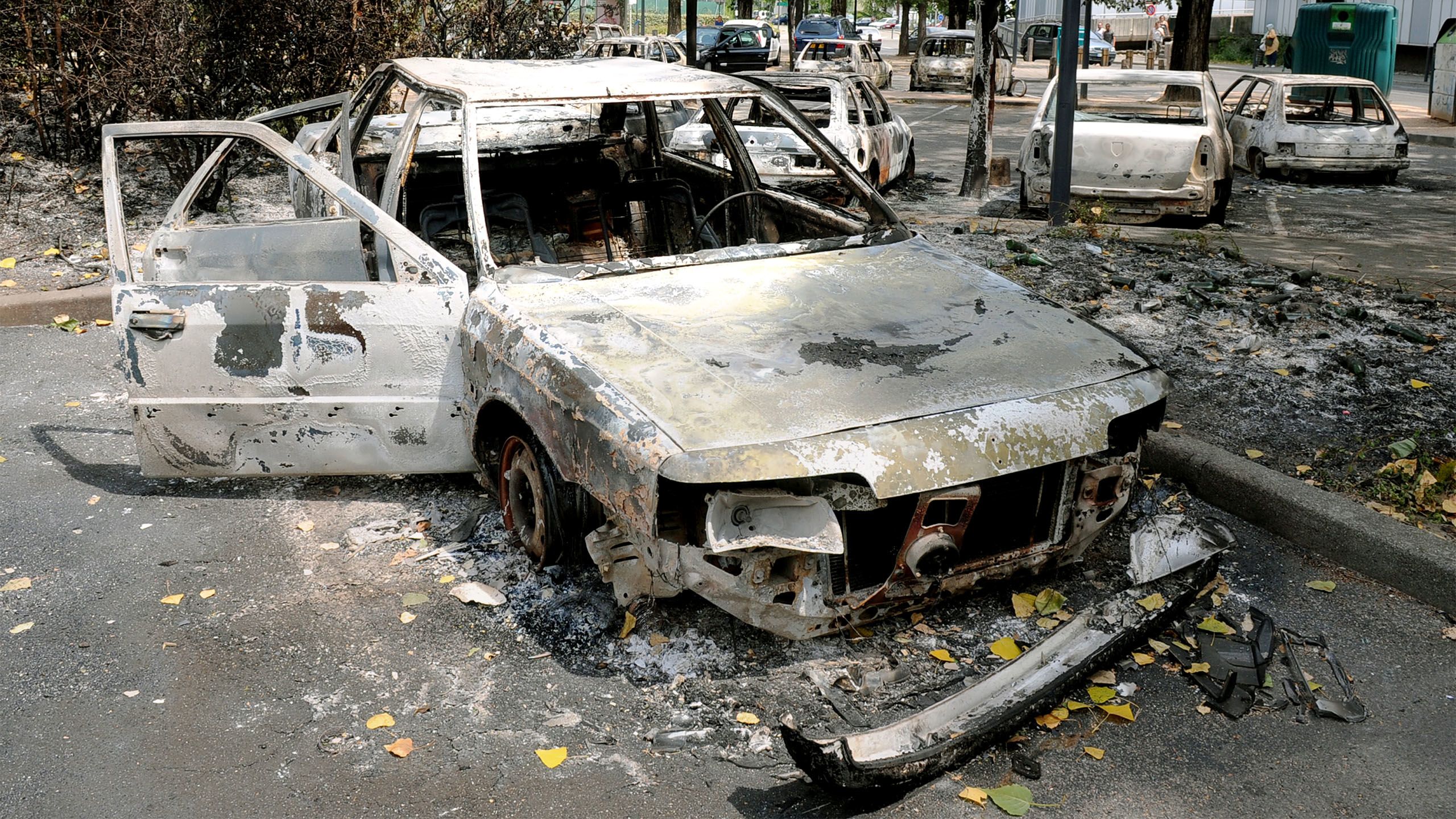 Riots in Villeneuve, Grenoble, July 2010
Riots in Villeneuve, Grenoble, July 2010
Two years later, La Villeneuve hit the headlines again when a group of youths from the estate brutally murdered Kevin Noubissi and his friend Sofiane Tadbirt in a neighbouring suburb. The attack was reported to be revenge for an altercation between Noubissi's younger brother and another teenager.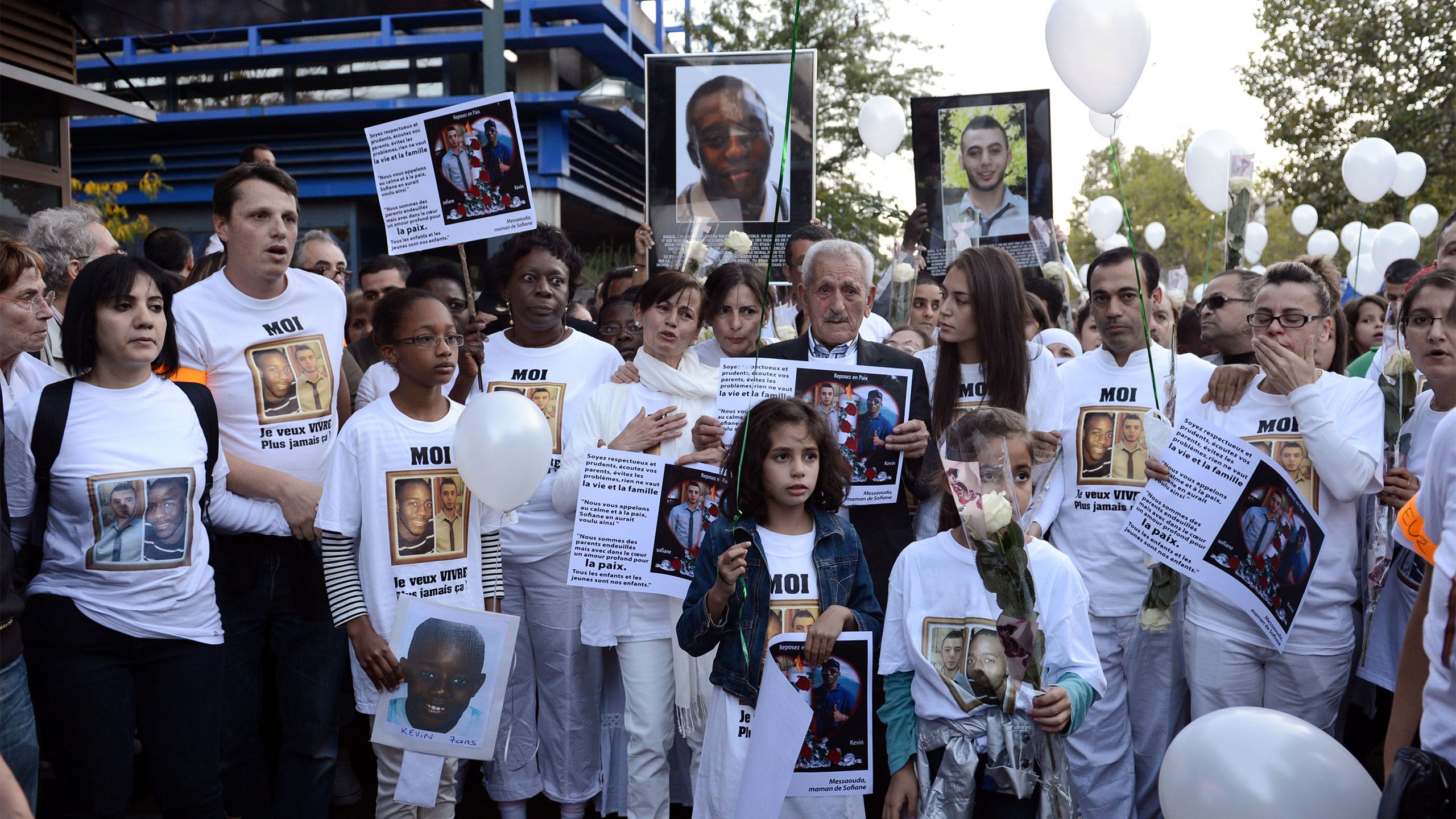 March for Kevin and Sofiane, September 2012
March for Kevin and Sofiane, September 2012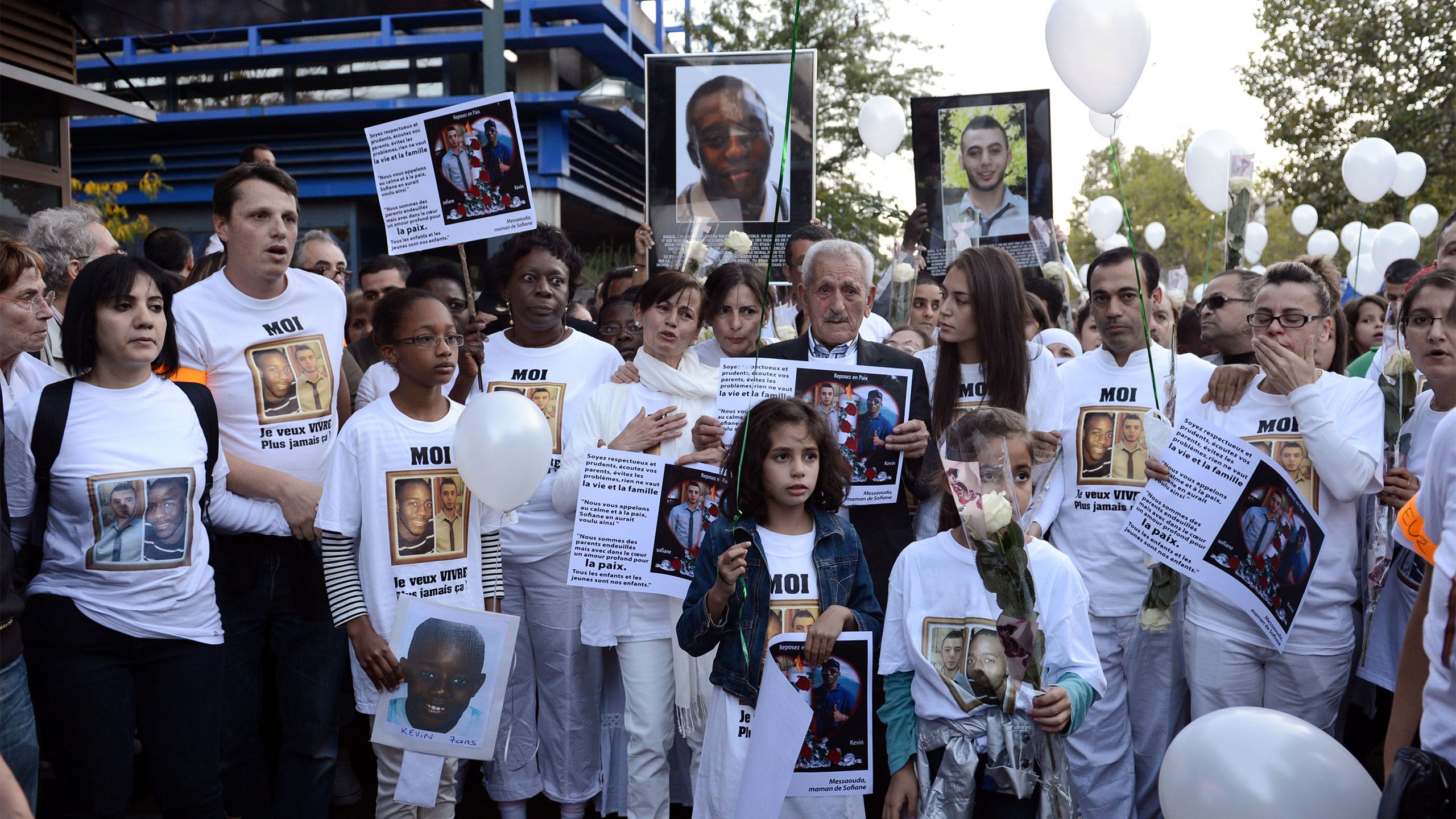 March for Kevin and Sofiane, September 2012
March for Kevin and Sofiane, September 2012
The area has not crashed into the headlines for such violence since, but La Villeneuve is nevertheless seen as a place "that sucks", according to local journalist Benjamin Bultel. Its buildings have been poorly maintained; its schools have a bad reputation, he says. 
This is a world away from how it was envisaged. La Villeneuve, or "new city", was actually a neighbourhood born of high ideals.
It was built in the 1970s to create a community that would be different from other more ghettoised French suburbs. 
The development, which has a 14-hectare wooded park, large lake, and a view of the mountains, sought to attract residents from a mix of social backgrounds.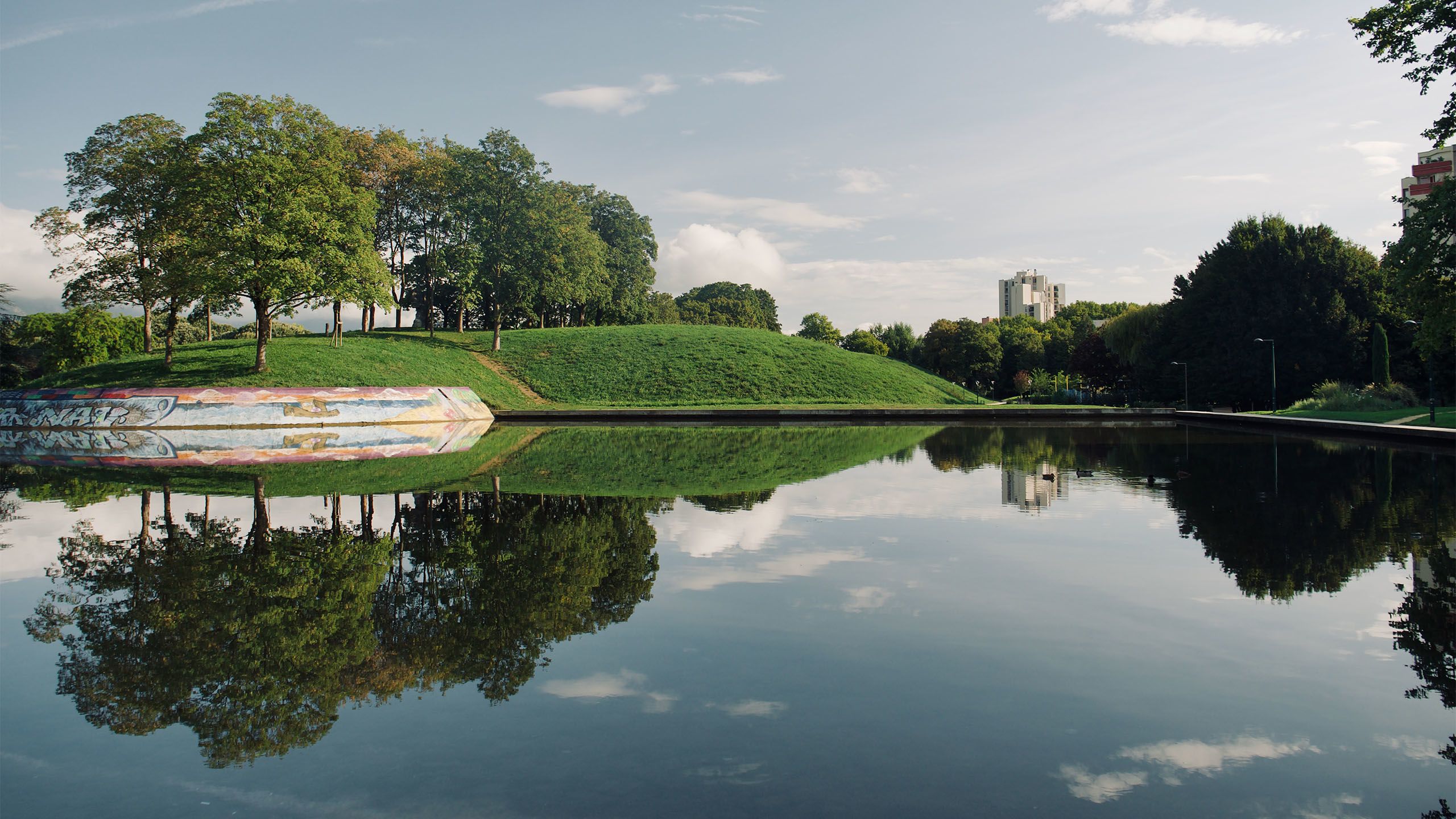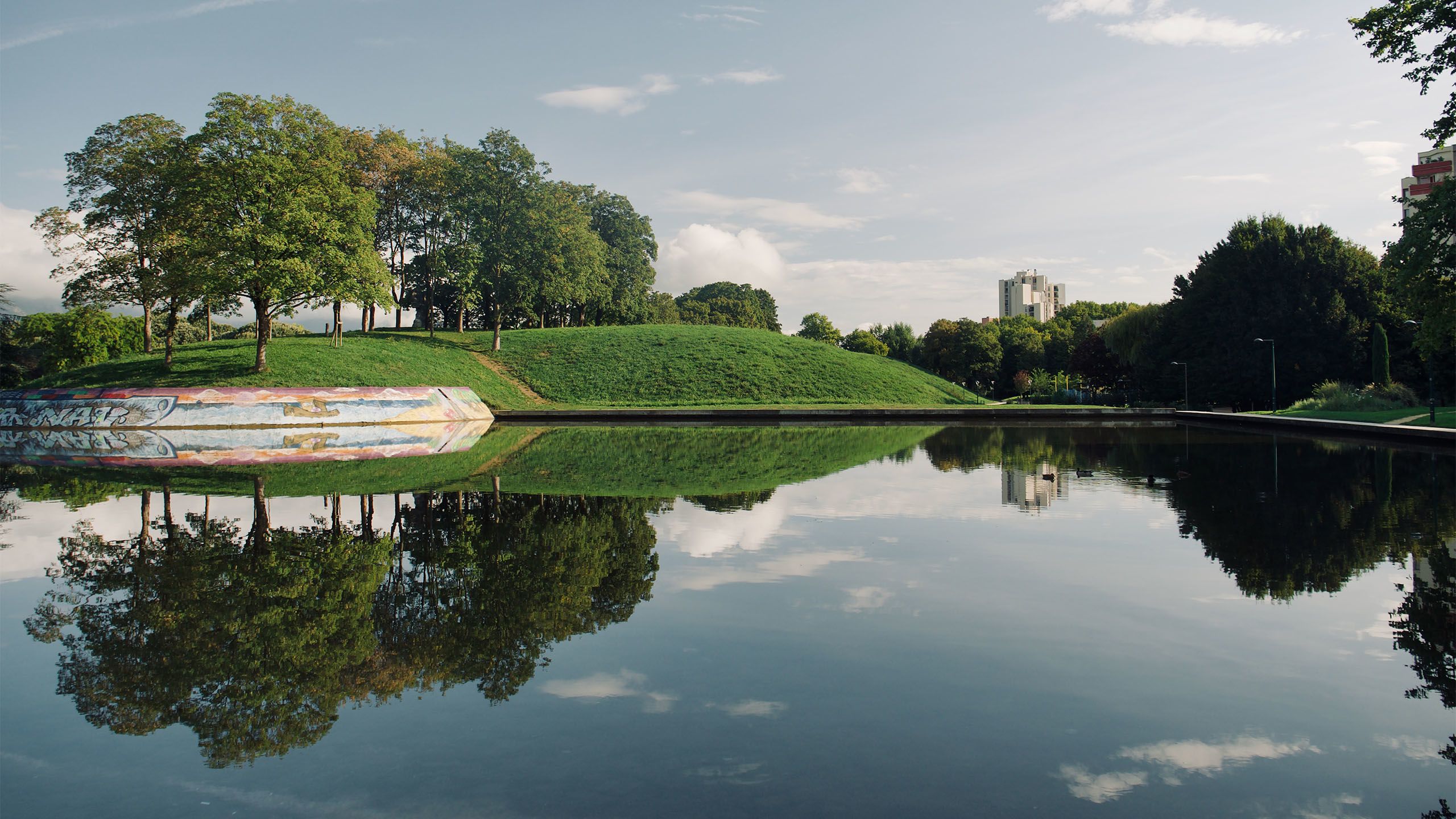 The neighbourhood was designed to be self-sufficient, with its own schools, shops and other services. Residents have spoken fondly of how sociable and ground-breaking the development was at first, with skating on the lake in the winter, doors left unlocked, and an enlightened education system.
Grenoble urban planner Maïlys Toussaint says the project attracted a wide range of residents in the early days and became home to people who wanted to rebuild their lives; economic and political immigrants; or residents of a city-centre district under renovation. 
"The children found a huge playground, the residents ate meals with their neighbours in the walkways... there was even a neighbourhood television station run by the residents."
But experts say reality failed to live up to the dream, and after only a few years the vast majority of the middle classes moved away. And then in 1983 the housing policy was changed to prioritise those on low incomes, changing the social blend.
"Many people blame the deterioration of La Villeneuve and Arlequin on the municipality elected in 1983 and its political choices," says Toussaint. "It's a project that would have required support and there was none."
Bultel, a reporter with La Villeneuve's Le Crieur newspaper and a current resident, says it has never recovered from the violence of 2010, despite residents trying various initiatives to change its image.
Toussaint, who lived in the suburb when she was a student, says her first-hand experience challenged her preconceptions.
"I had seen La Villeneuve on the TV news at the time of the riots, and had been afraid of this neighbourhood without even knowing it. But I ended up settling there a few years later. You have to go beyond clichés and try to understand what is really going on there. This stigmatisation is a real suffering for the residents," she says.
She says current renovation works in La Villeneuve's Arlequin district are designed to try to lure back the middle classes. 
Bultel says the address is so stigmatised that its young residents struggle to get a job, or even an internship. He stresses, though, that there are many positive aspects to the suburb. Social ties are stronger in the area than in the city centre, he argues, with some families having lived there for generations.
"During the lockdown, neighbours shared food, internet connections, information about the pandemic… people made face masks for their neighbours, young people did shopping for the elderly...
"Some Arlequin people set up a choir and sang on their balcony every evening at 6pm."
Mouhsine says La Villeneuve's reputation is unjustified.
"I will never forget what these people did for my children
"We're not going to deny that there are a lot of problems in Villeneuve, but there are also great human values, such as solidarity," he says.
Grenoble mayor Eric Piolle acknowledged this community spirit in a post about the rescue on his Facebook page.
"Hand in hand, they allowed the two little ones to get out of this tragedy unscathed. Faithful to the tradition of… mutual aid in Grenoble, particularly strong in La Villeneuve all year round, as we have seen during lockdown… it is together they were able to rescue the children," he wrote. Ten days after the fire, Piolle presented the seven men injured in the rescue effort with medals of honour at City Hall.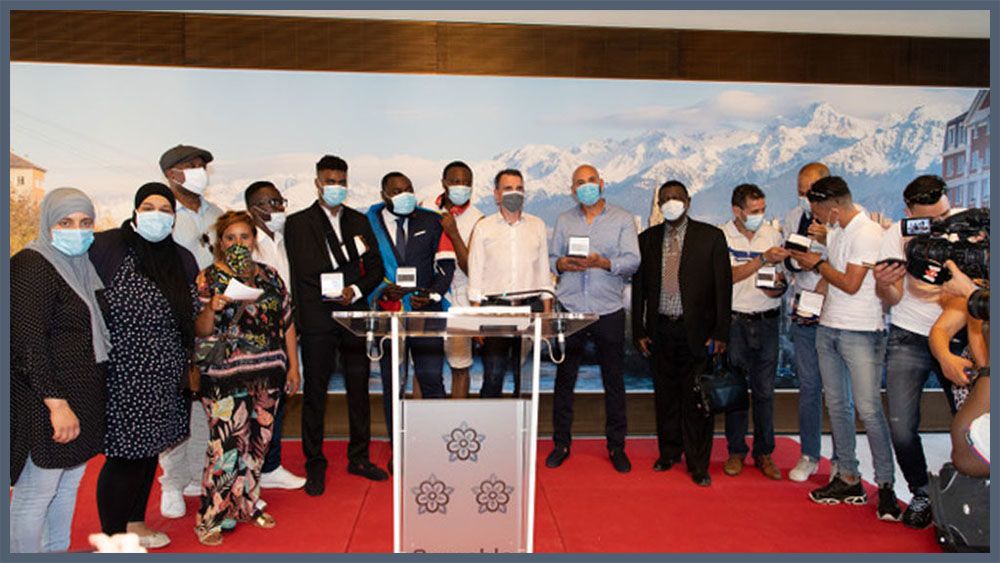 But only six of them had their identities inscribed on their medals. Bilal's name was left off. 
The Algerian, who is reported to have fled the rescue scene when the fire service arrived, is an undocumented migrant.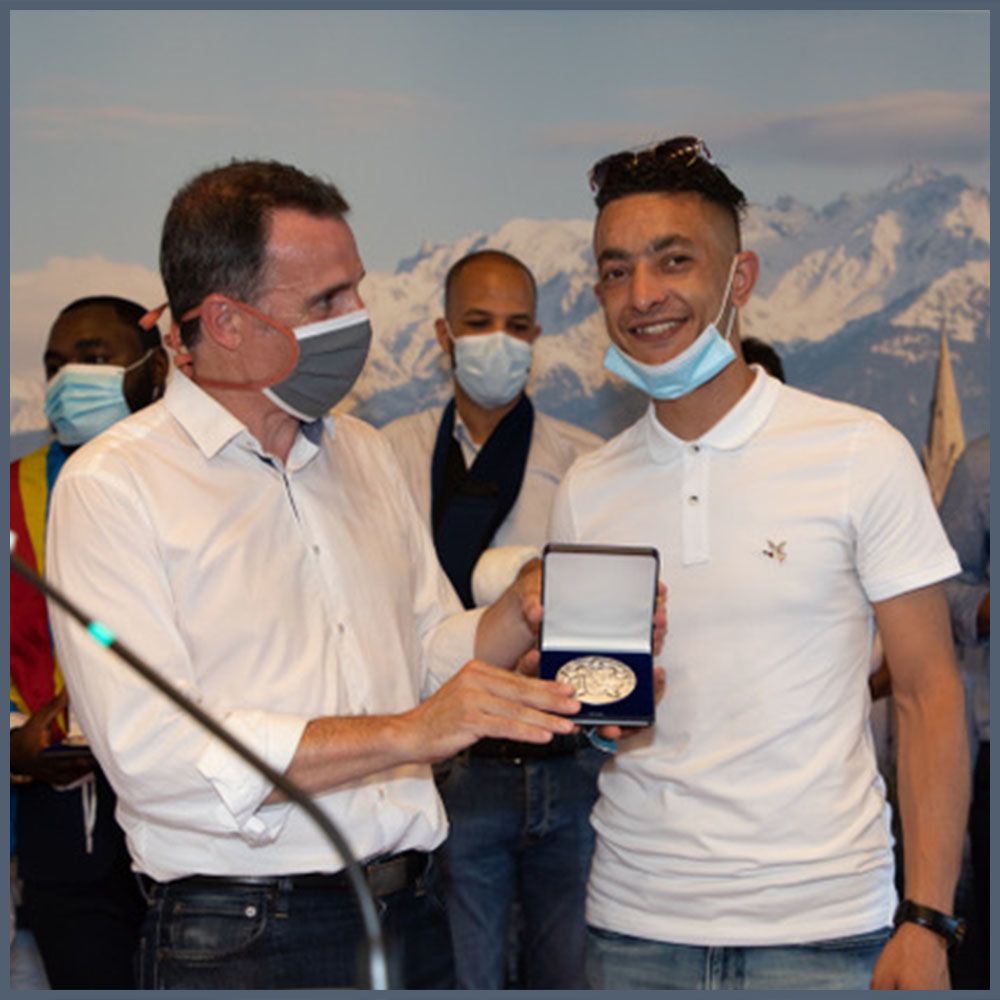 According to French media he arrived in France in 2018, and has been sleeping on friends' floors doing odd jobs. He hopes to get the necessary paperwork to live and work legally, reports say. 
Eric Piolle also awarded a collective medal to other residents who were uninjured in the rescue but nevertheless helped, or tried to do so. 
One of those given the collective medal was Algerian Malika Kredimi.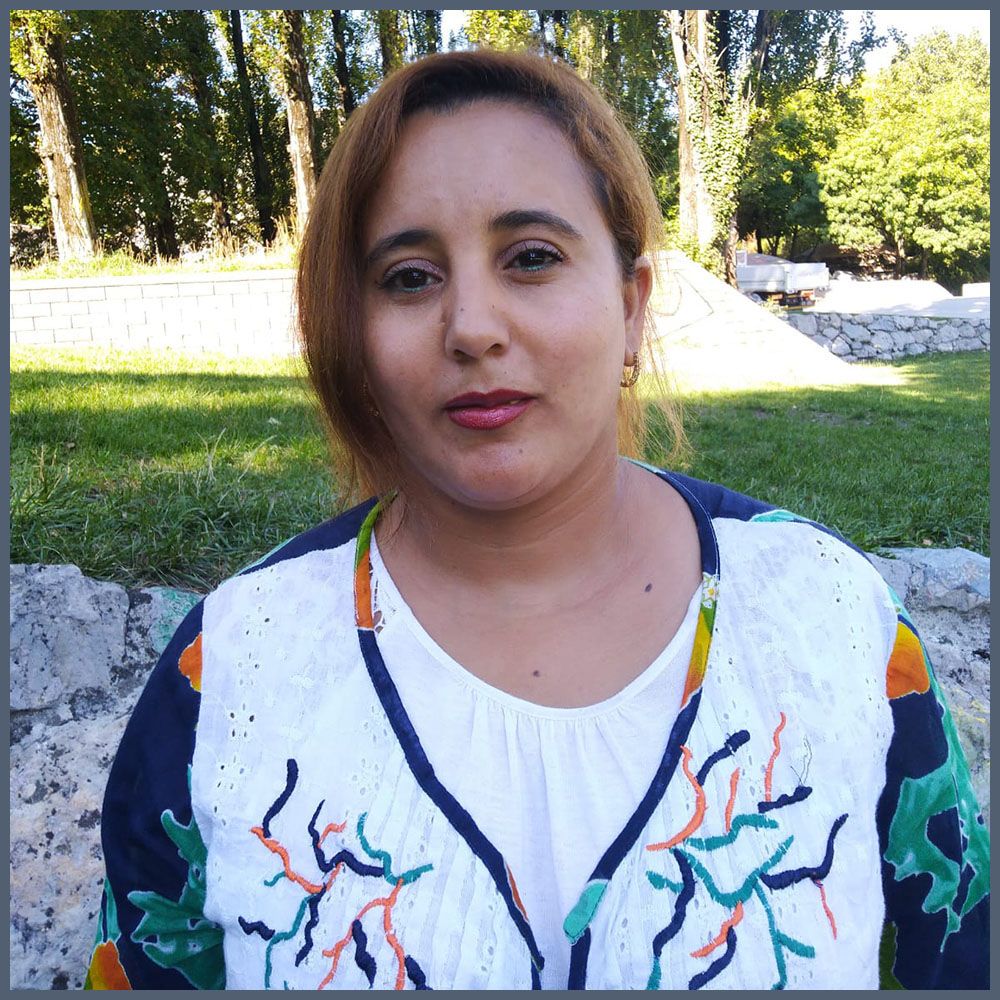 She had been on her way home from the pharmacy when she spotted the drama unfolding and, as a good friend of the family, took the children home for a bath and change of clothes. She says they were covered head-to-toe in soot.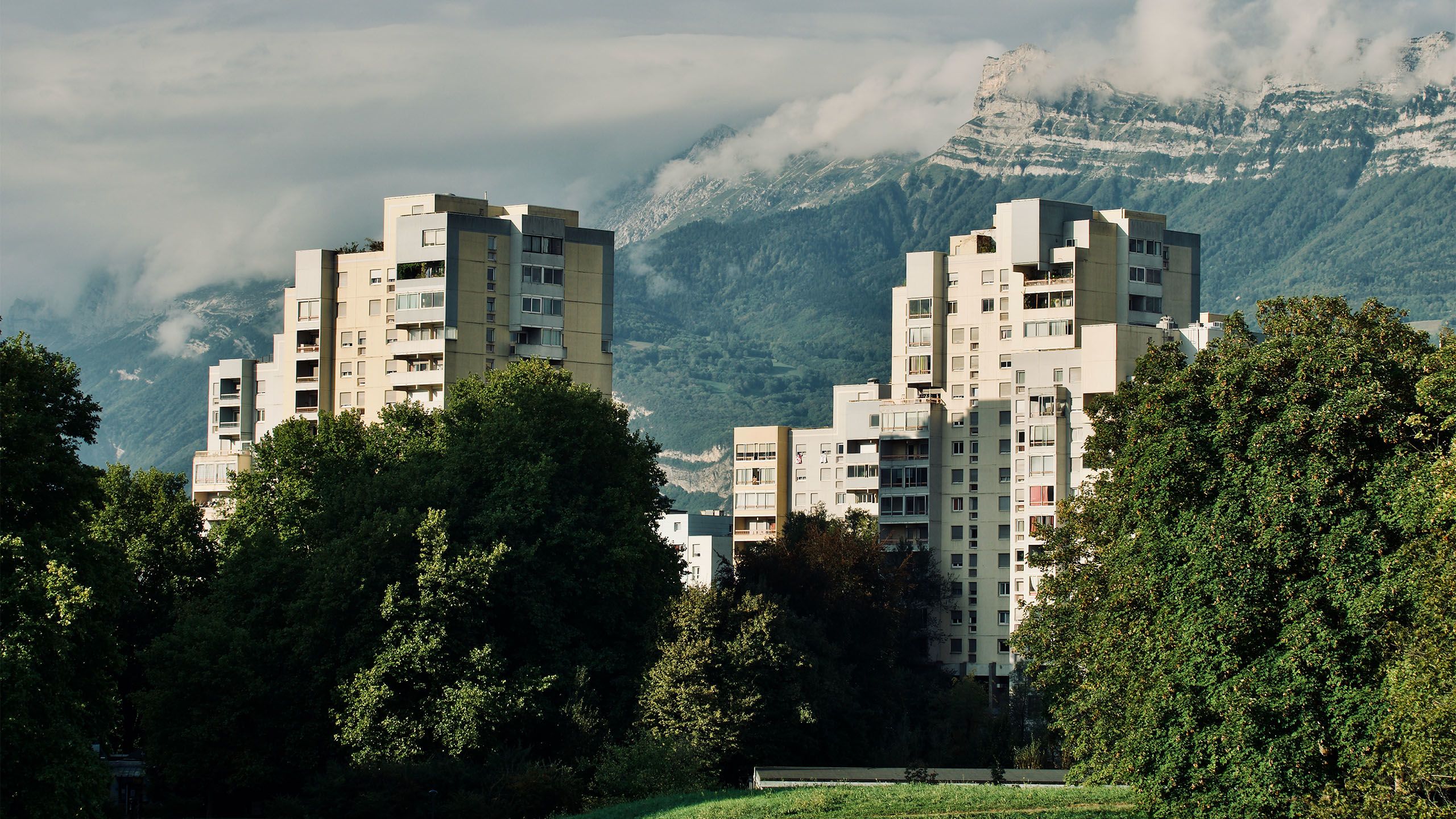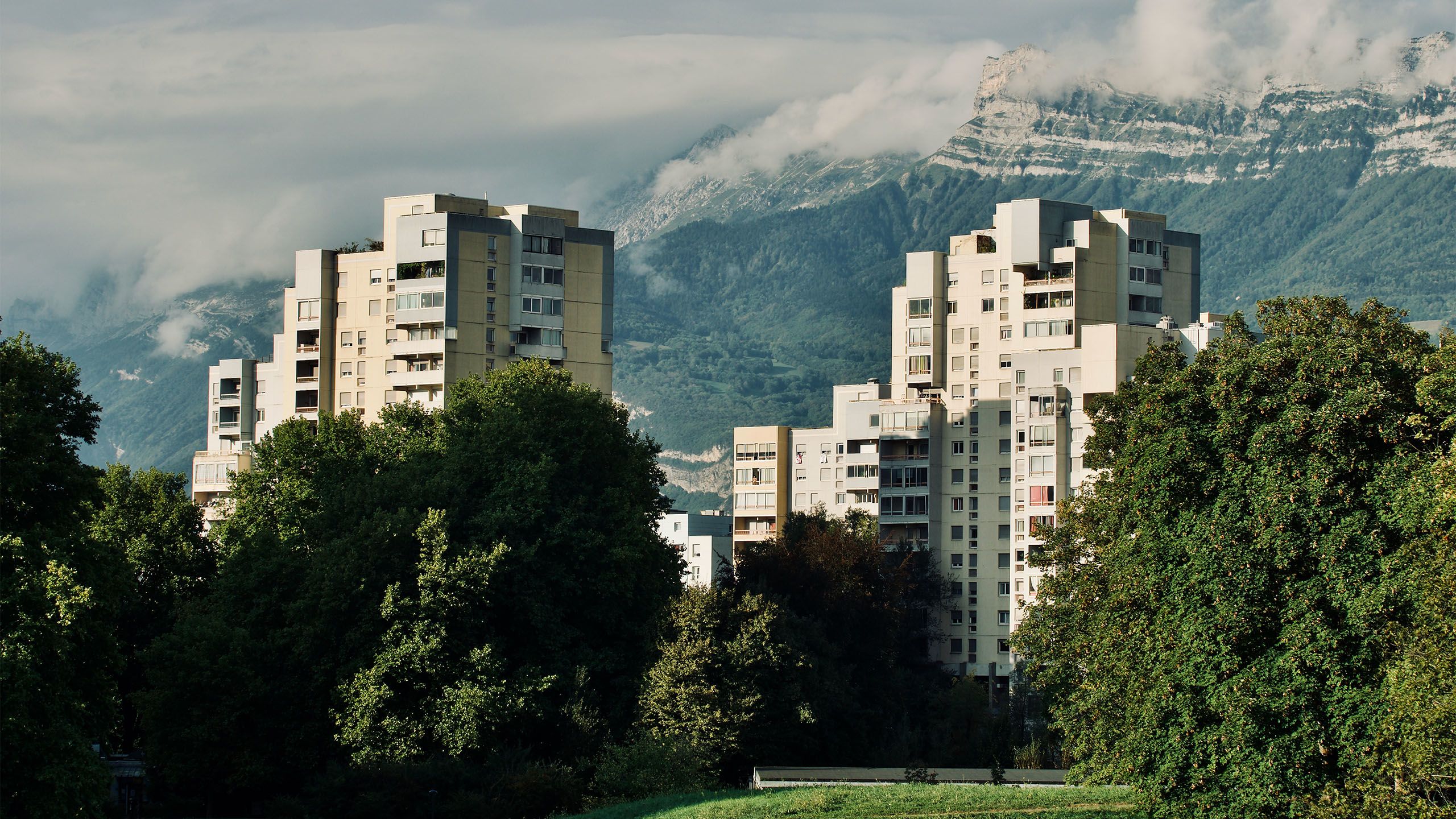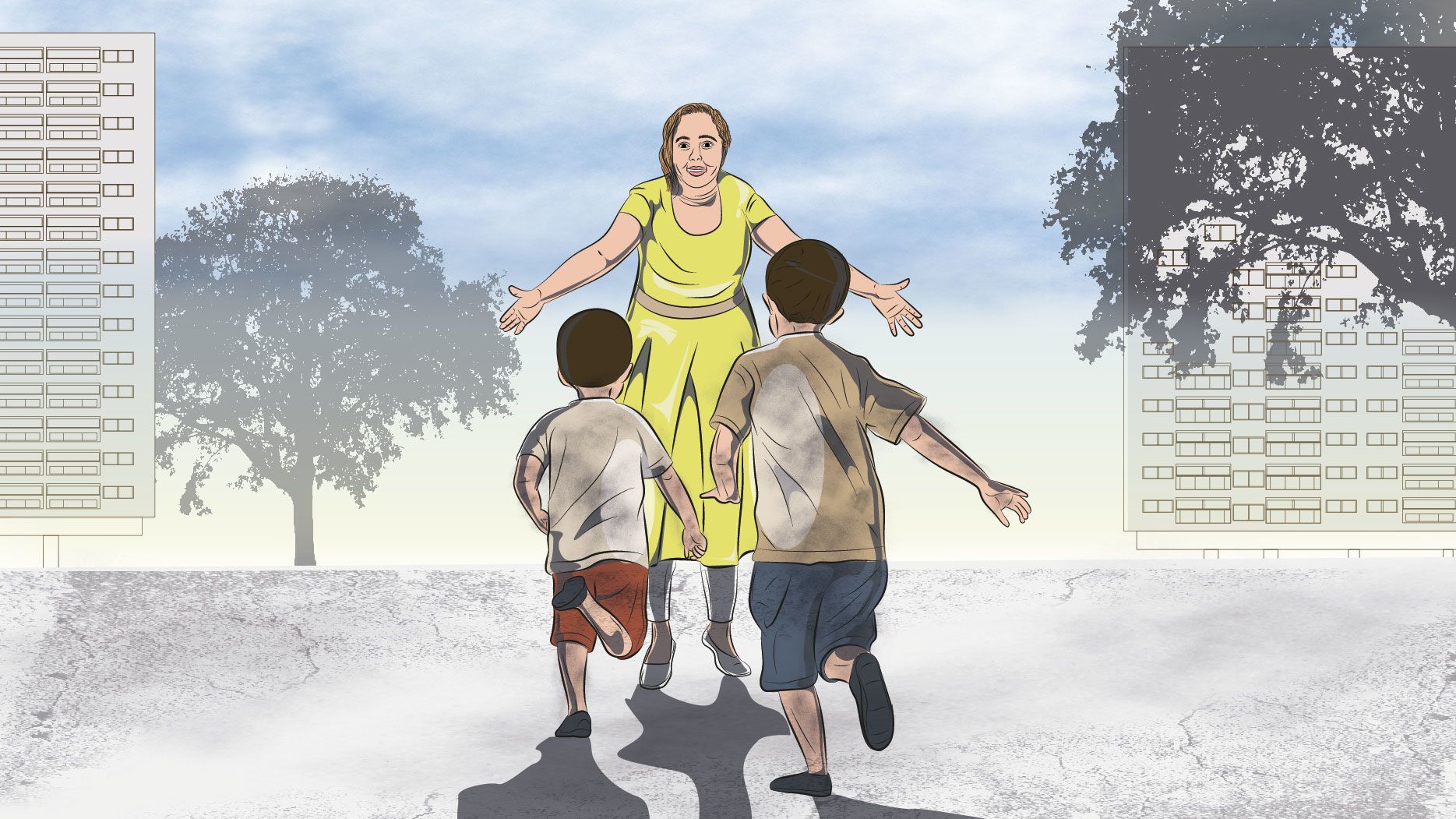 The boys were then taken to hospital to check for smoke inhalation, and an investigation was launched into why their parents had left them locked in their apartment alone.
According to Grenoble public prosecutors, the father left to go to work at 1130. The children's mother, Rachida, had not yet returned from a shopping trip.
Rachida was filmed giving an emotional speech at the medal ceremony.
"Some say that the Villeneuve district is not good... I will never forget what these people did for my children. The people of the neighbourhood have not let us down. I don't know if there is solidarity like this in other neighbourhoods," she said.
But the way in which City Hall rewarded those involved has not been without controversy. Some in the wider crowd feel others should have been given more recognition. 
Bultel says dozens of residents were involved in the rescue effort, with activities ranging from trying to reach the children via another balcony to directing the fire brigade to the scene.
"I can't forget the faces of these two kids, I... have nightmares about them
The injuries of the seven who caught the boys were in some cases severe, and some of the men required surgery.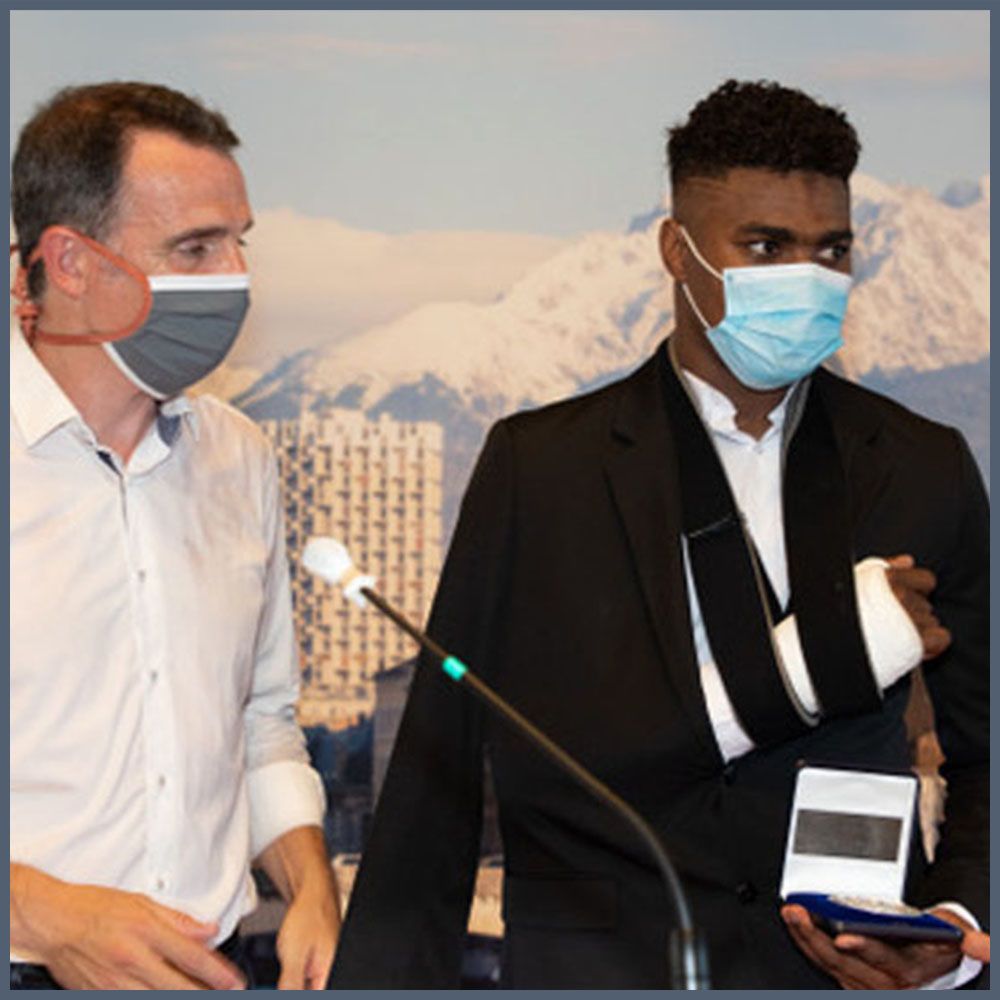 And most have needed support from a psychologist, organised by a national victim support organisation and Grenoble City Council. 
Elyasse, a father of three who left Algeria 20 years ago during the civil war, says he still has flashbacks to that day in July.  "The children are shouting, the smoke, the flames, it keeps coming back. As soon as I see or smell smoke, I am immediately transported back to these scenes." 
Mouhsine says he is so traumatised that he is thinking of leaving the neighbourhood.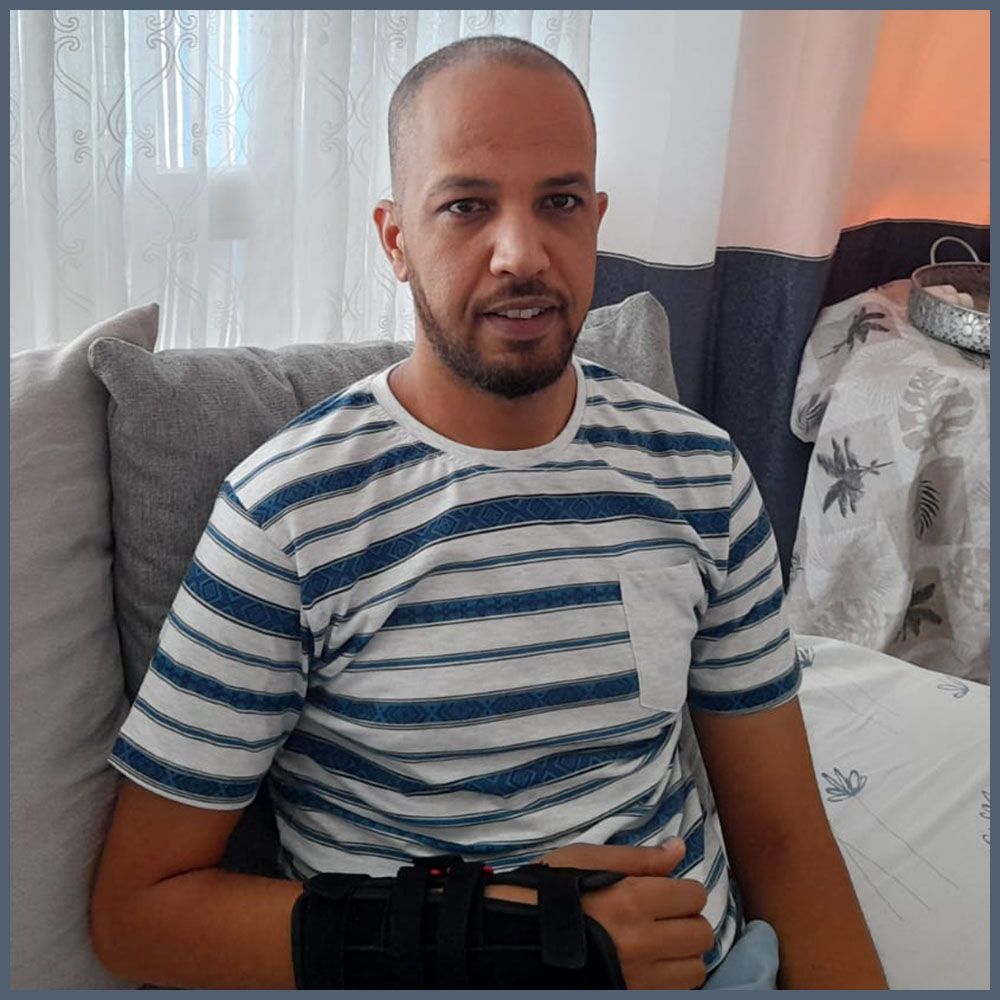 "I can't forget the faces of these two kids, I... have nightmares about them," he says.
Malika's seven-year-old son, Salah, who watched the rescue with his mother, also has bad dreams. He can't understand why his friend, Sofiane, threw his little brother out of the window.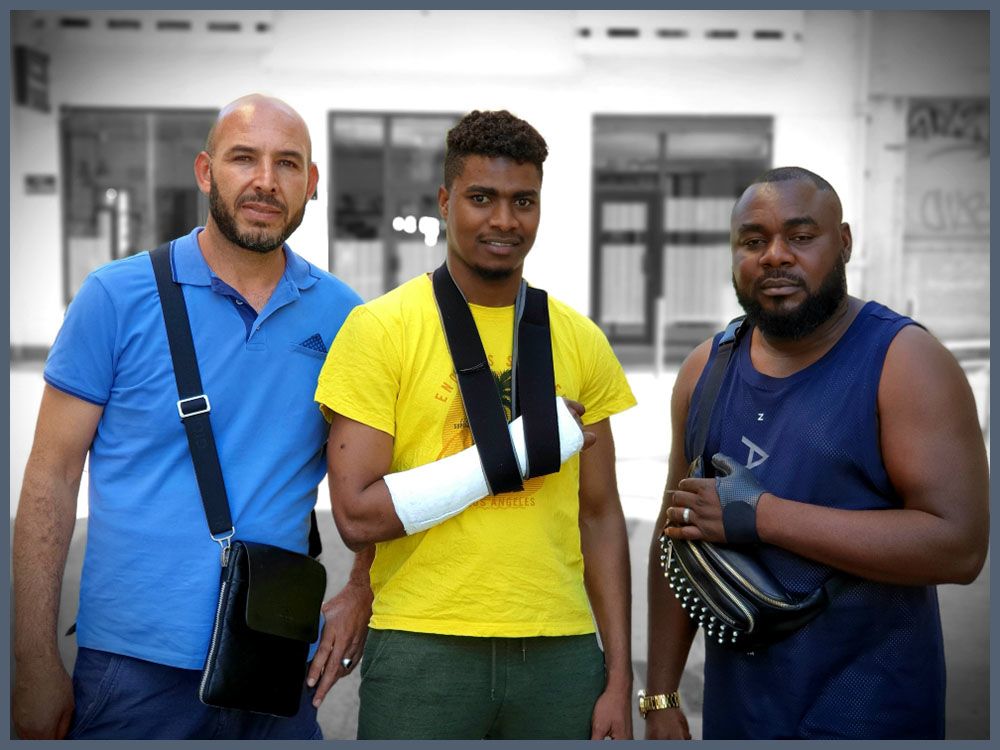 The rescuers have not seen the children again, but Arlequin's social centre is planning a reunion as soon as Sofiane, the older boy, feels ready. 
"Keeping calm, keeping his little brother in a safe place, calling for help, not panicking, dealing with the situation - it was incredible. Even an adult couldn't have done better," Elyasse says.
"They call us heroes. But for all of us, the real hero is the big brother."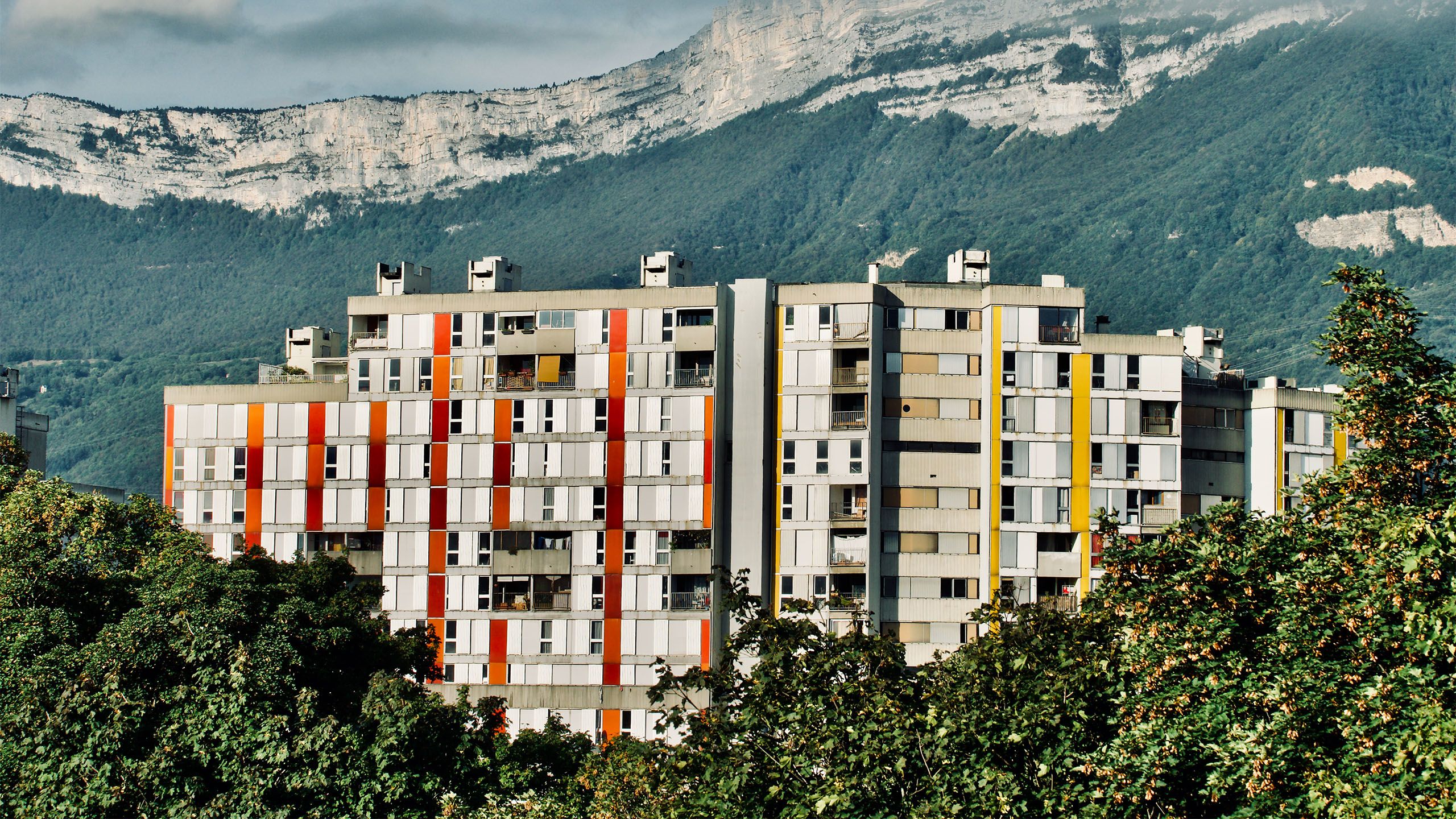 ---
Credits
Writer: Myriam Lahouari
Editor: Sarah Buckley
Illustrations: George Wafula
Photography: Pierre Bascugnana
Graphics: Debie Loizou
Video: Souhaila Saidi / EVN
Additional images: Getty Images, Mouhsine Sbiti, Guelord Musumar, Lucas Reizmives, Walid Athoumani, Hechmi Selmi, Elyasse Ben Taleb, Malika Kredimi, Thierry Chenu - Grenoble City Council
Online Production: James Percy
Published: October 2020
---