What led to a single gunshot being fired?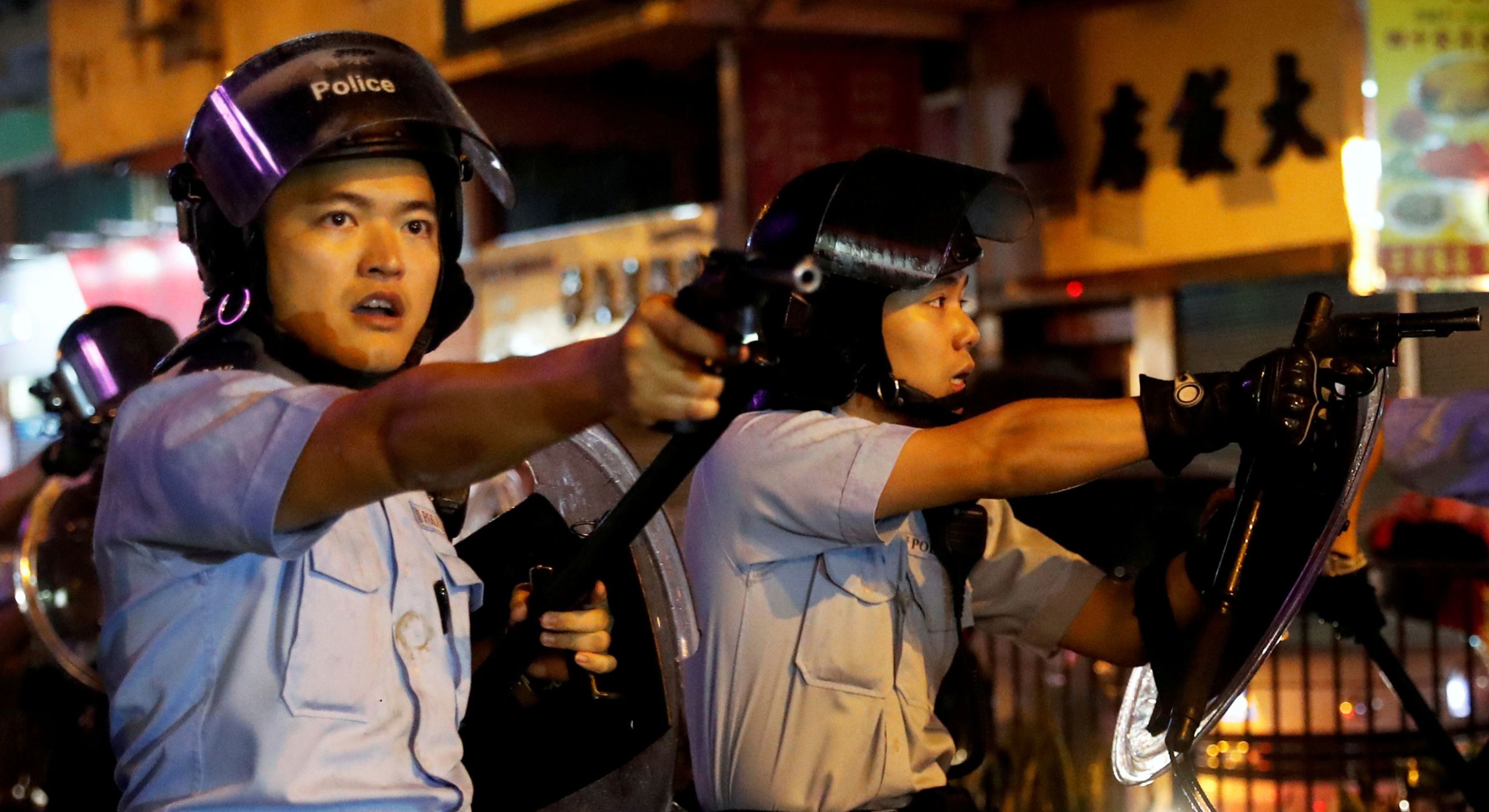 It started with a group of like-minded strangers connecting on Telegram.

It ended with petrol bombs and gunfire in a residential Hong Kong neighbourhood.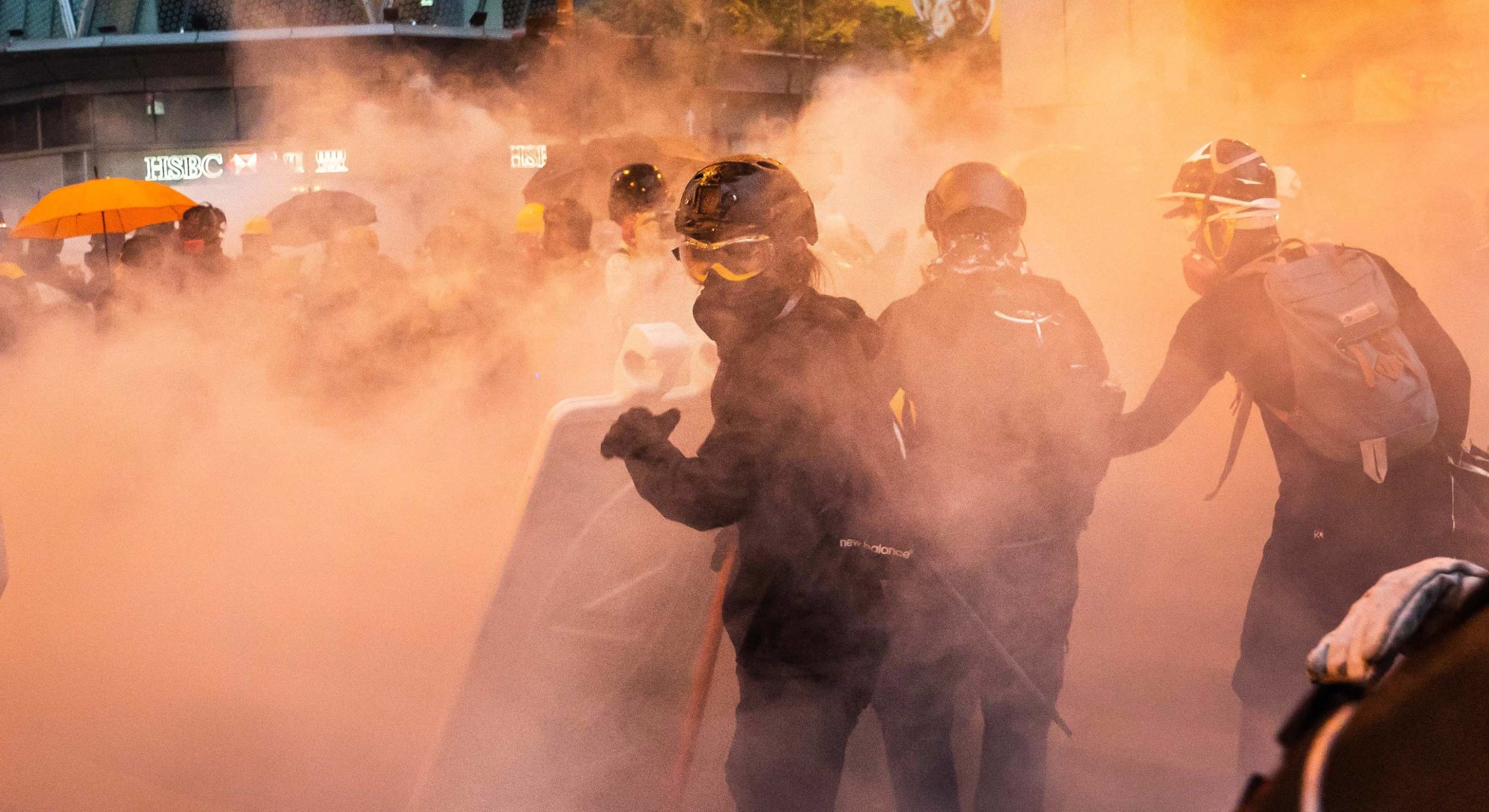 A political crisis has raged in Hong Kong through the summer and protest has spread to almost every corner of the territory - from suburban housing estates to neon shopping districts. It has, at times, spilled over into violent clashes.
The protest on Sunday 25 August, in the working-class district of Tsuen Wan, came after the first full week without incident since June. Some had hoped that the worst of the violence was over. 
It did flare up, though, and with a new level of intensity. A warning shot was fired by a police officer - the first time a live round has been used since the demonstrations broke out in June. Also for the first time, water cannon  made an appearance. And a 12-year-old was among dozens arrested - the youngest detained to date.
All of this has created a new sense of foreboding.
This is the story of one evening in Hong Kong.
The Tsuen Wan protest began much like any other, with a group of people who wanted the city-wide outcry to be marked in their own neighbourhood. 
There is only one way that can happen - via the encrypted messaging app Telegram, where there are dozens of groups dedicated to ensuring the protest movement stays alive, stays strategic, well organised and supplied.
Some groups - with tens of thousands of members - discuss strategy. Smaller channels organise protest logistics and provide live updates about marches, while individual channels coordinate supplies, first aid, and even offer to make posters. 
It was on Telegram where about a dozen or so strangers from Kwai Chung and Tsuen Wan connected in June to organise the 25 August protest.
One of them was 26-year-old Potter.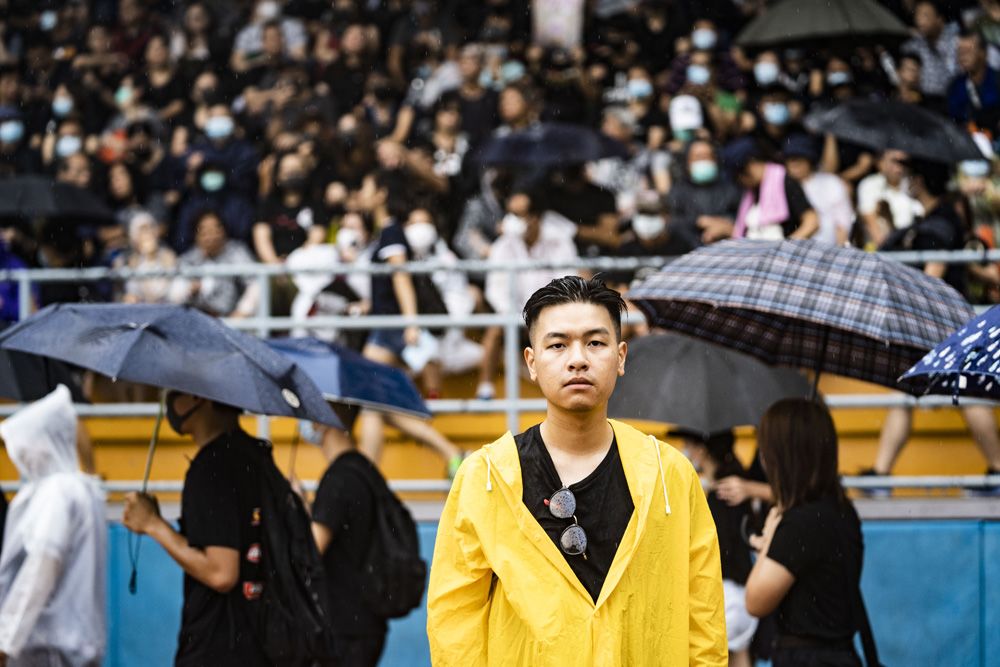 "We never thought we would do it by ourselves," he said, adding that none of them had done it before.
Within days, those well-established Telegram groups for promotion, medical volunteers, supply procurement and even drivers swung into action for Tsuen Wan.
There was even advice on how to negotiate with police to get permission to march.
---
Sunday 25 August - Preparing to march
The supplies team collected 10 large bags of water, bandages and other necessities, which had been mostly donated by enthusiastic residents.
"Before the march, we had identified potential hotspots so we placed some supplies and protective gear nearby," said Vita, a volunteer.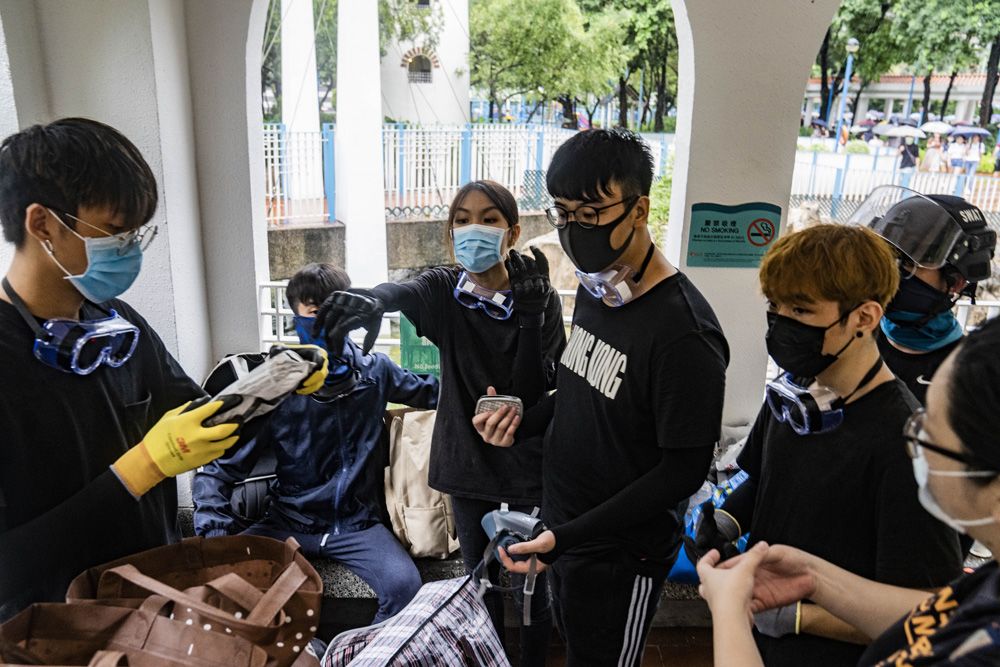 "The movement can only become so big because everybody contributes in their own way," Potter said. 
But he was quick to say that he was not a leader of the movement - in fact no-one could be called that. Protesters know it's harder for the government to crack down if individuals can't be identified as faces of the movement.
Their spiritual predecessor was the 2014 Umbrella Movement, which called for universal suffrage. Seventy-nine days of occupying central Hong Kong won no concessions from the government and put the movement's leaders in jail.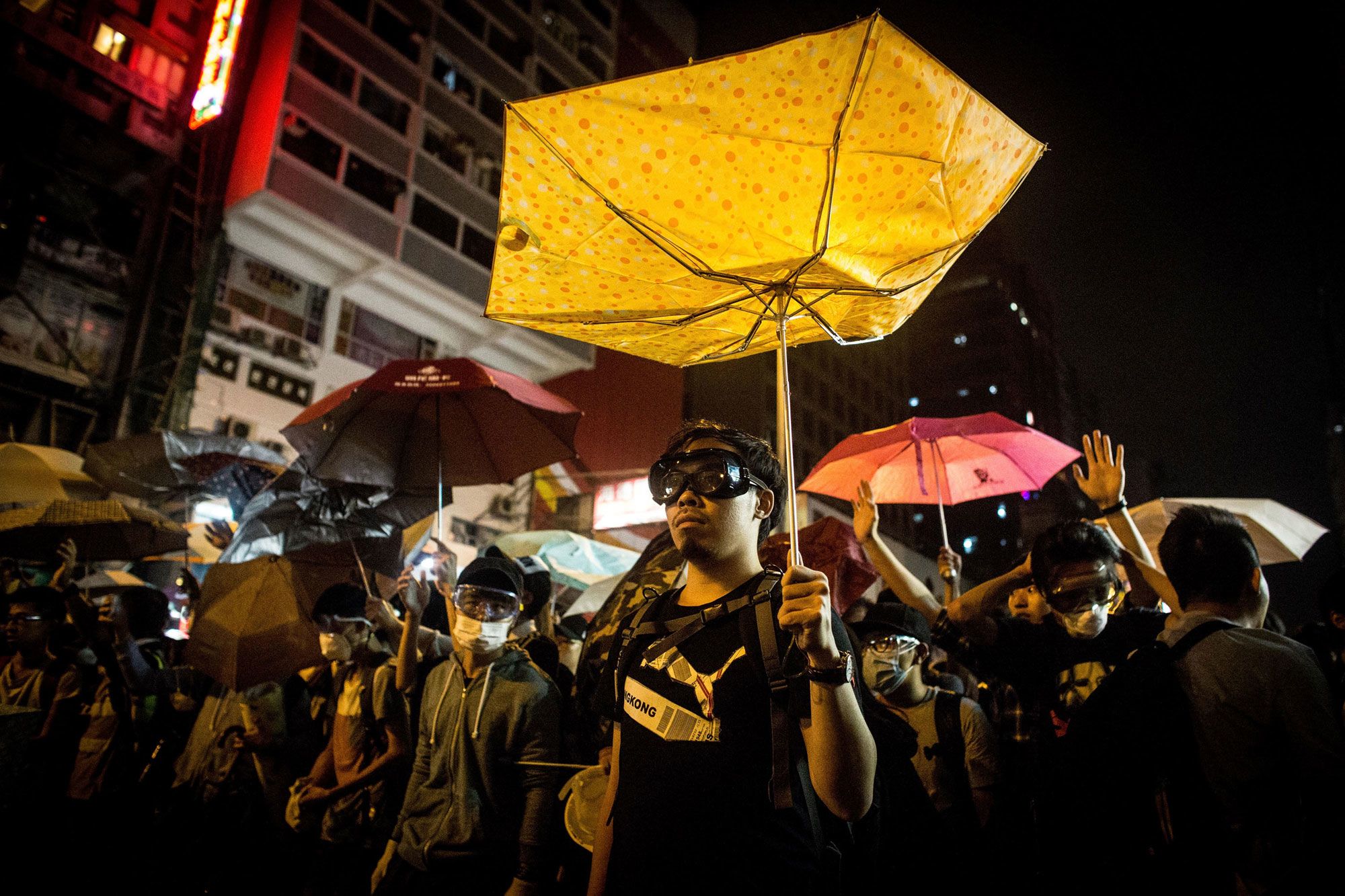 Umbrella Movement - October 19, 2014
Umbrella Movement - October 19, 2014
This time round, the popular messaging forum, LIHKG, has been used to make broad decisions about the direction of the movement. Posts are voted on by thousands of people, and whichever strategy gets the most votes is put into action.
While Potter is helping to organise a peaceful march, most protesters know that violence will likely break out afterwards - as it has after many previous rallies.
The hardline groups - those who form the frontline, facing police tear gas - are much smaller. Their Telegram chats are private. One hardline protester, who goes by the name Scorched Earth, said his group doesn't plan its moves much in advance.
"We will fight every time there are clashes after protests," he said.
"This regime relies on the police force to maintain its rule. If we defeat the police, they can no longer avoid having a dialogue with us."
He believes there is a tacit understanding between the non-violent and more forceful camps. "They know something will happen next." 
---
15:00 - Protest begins
Thousands of people streamed sedately in the pouring rain along the planned route, some 2.5km to the heart of Tsuen Wan.
They chanted slogans like, "Heung Gong yahn ga yau", which translates as "Hong Kong people add oil" -  but is used as an expression of encouragement to mean "keep going". It has become one of the main slogans of the movement. 
Families with small children, the elderly and young adults mingled - but there were no police in sight, presumably because they knew, as with previous protests, that this is not where the violence would erupt.
A small group of young men set up barricades to block off part of a road from traffic. It was playful, lighthearted and one was just 15 years old.
They had gone to great lengths to hide their faces.
Since the start of this movement, protesters have concealed their identities.
As well as using encrypted messaging apps, they have not given journalists too many personal details and avoided using their personal train passes for transport - for fear of being tracked by the authorities.
Along the route, a family with two boys - aged three and six - handed out home-made rice balls.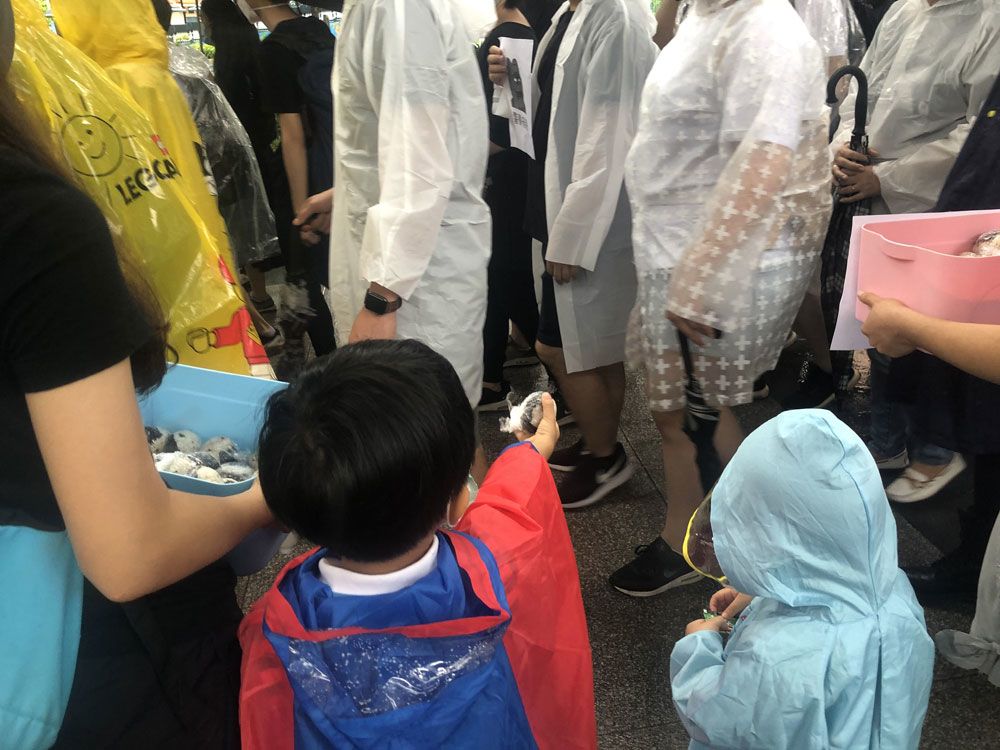 When the stream of people reached Tsuen Wan Park, the official end of the march, there was a sense that it wasn't over. But no-one was sure where the focus might shift to next. 
"Hong Kong is now at a critical moment," said one girl dressed all in black, as she watched the Telegram chats for live updates.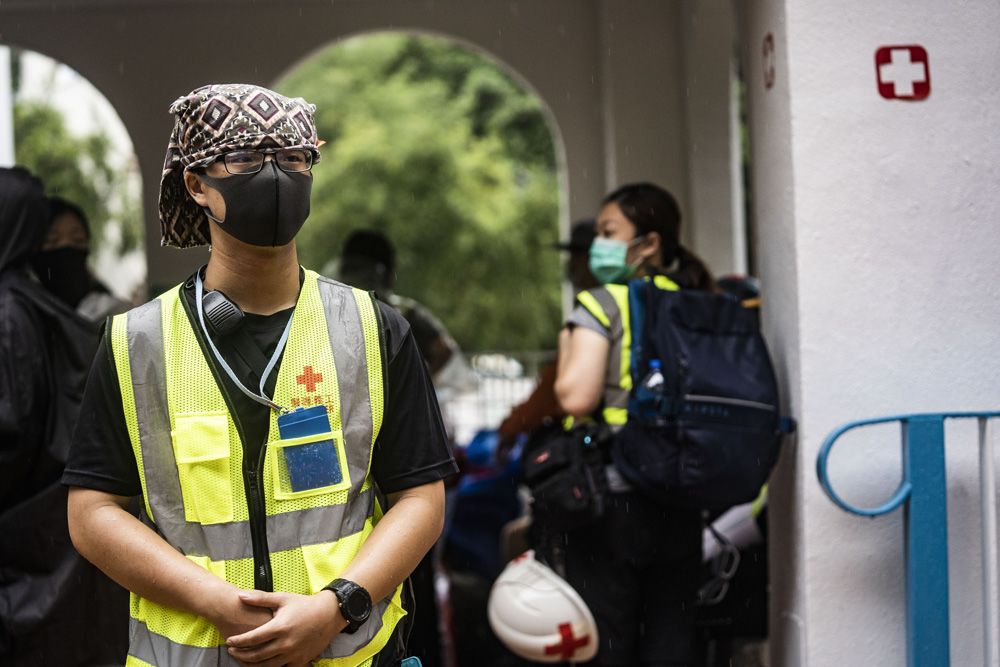 Under a canopy, medical volunteers were making their final preparations in case things turned violent.
"We are deciding on the positions of the patrol teams in case of emergency," said Jonathan, a medical student who was among some 80 first aiders on the ground. 
Meanwhile, a few hundred metres away, on Yeung Uk Road - a major artery in the industrial neighbourhood - barricades were being set up. Hundreds of hardline protesters were gathering, wearing yellow hard hats and dressed in black.  Some of them had made their way over from the peaceful march.
The hardliners believe escalating action and provoking the police is the only way to make the government take any action. They came ready to face tear gas and rubber bullets, their determination manifest as they dug up bricks from pavements to throw at police, and gathered metal gates and bamboo poles to shore up the barricades.
Although these scenes are now common in Hong Kong, this hardline group has become increasingly militant. They have upped the ante every weekend.
This time they came with petrol bombs.
---
16:50 - Riot police arrive
A sense of anticipation swept through the crowd, as everyone got the next update on Telegram.
"1650 Riot police is advancing," the message said. 
As if on cue, the crowd moved towards Yeung Uk Road, to shout their support and watch the drama unfold.
They arrived to find riot police arranged across the road in straight lines, their full-length shields forming a transparent bullet-proof wall in front of them. Anger surged through the front liners and bystanders, as well as those crowding the overhead footbridges.
For many of those involved in the movement, the police have become a symbol of hate.
Insults were hurled and piercing strands of neon blue light cut over the heads of the crowd, as a few protesters shone bright laser beams at the police - another tactic used to provoke and disorient officers. 
"Hong Kong police break the law knowingly," someone shouted.
There were chants of "add oil" and a deafening drum beat as people banged their umbrellas on any hard surface they could find.
Suddenly, the hardline protesters rushed their barricades forward to within 50m of the police. Umbrellas out, they crouched behind the water-filled plastic barriers armed with bricks and metal poles.
Some threw eggs, others poured soap and batteries on the ground to stop riot police from advancing.
"We are just trying to express our feelings. We think the police are using force against protesters and journalists and we think we should speak out and stop this kind of madness," said a frontline protester, his face fully covered.
Then police raised a red warning flag - a signal that force would be used to disperse the crowds. Minutes later, a black flag went up, indicating tear gas would be fired.
---
17:15 - Battle begins
Police put on their gas masks, stood their shields up and prepared to fire. 
Police protocol dictates there should be some time between the warning and firing of the tear gas, to allow people to leave the vicinity. But the protesters were undeterred - the use of tear gas is routine now - and they put their own masks on.
Twenty tense minutes passed, with more chanting, beating of umbrellas and taunts at police. 
"Now there are so many police," said a male protester wearing a yellow helmet and a gas mask on the frontline. "We are a bit afraid and want to make sure those without gear will be able to leave safely."
As the first police tear gas rounds were fired over the protester lines, the protesters readied their own weapons - Molotov cocktails.
As the smoke swept into the crowd, the first of many petrol bombs was thrown into the space between the two sides.
Some protesters, armed with water guns, rushed to put out the tear gas canisters as they landed on the street. A man with a blue tennis racket, swimming floats on his arms for protection, started batting some of the canisters back at police.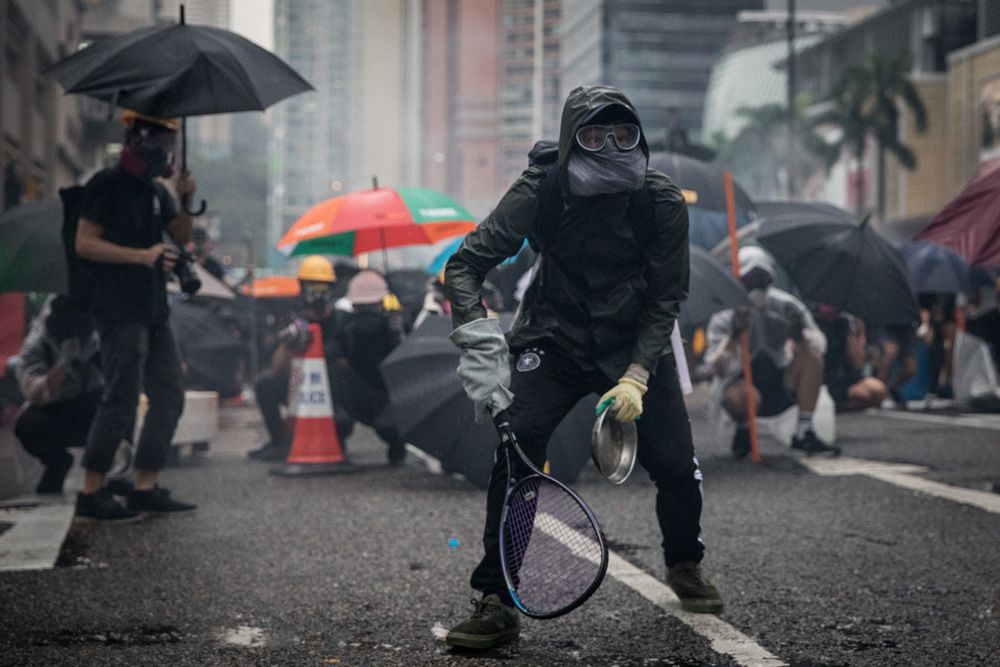 More threw the bricks and projectiles they had brought. Bamboo poles, metal barricades and signposts went flying towards police.
Some used their umbrellas to catch tear gas canisters and lob them back at officers. 
A long-haired man fell to his knees as he breathed in CS gas, a component of tear gas that causes dizziness or difficulty breathing. Someone threw him a water bottle to pour over his face.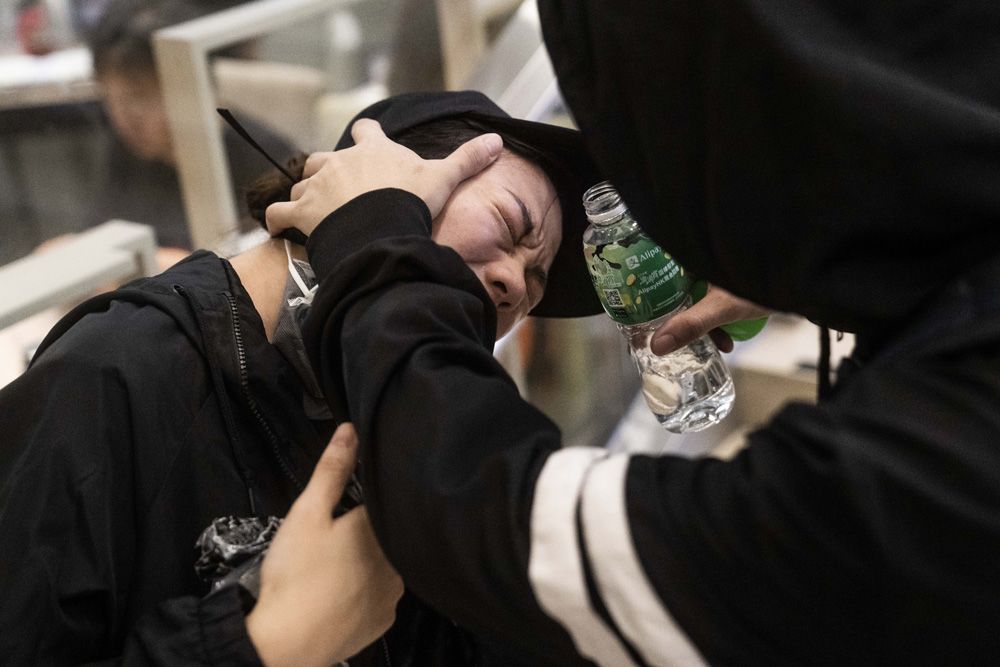 One student in her 20s who had earlier been on the peaceful march had little to protect her from the tear gas. It was her first experience of it.
"I am not afraid. I am mentally prepared for it," she said. 
In a nearby shopping centre, medical volunteers washed people's reddened eyes with saline and tended to protesters who were vomiting after inhaling the smoke.
---
18:00
Telegram lit up with a new warning, that water cannon trucks had been spotted in the area.
This was the first time water cannon had been deployed in these protests, and some protesters retreated - unsure of their power.

---
18:30
Most protesters held their positions. Many, crouching down, continued to beat poles or bamboo sticks on the floor and railings.
Some had climbed on to an overhead footbridge and were throwing fire bombs and bricks from above. Dozens of police ran up the stairs to stop them.
---
18:53
The main battle only ended when two water cannon trucks ploughed down the main street, followed by a line of police officers.
The powerful water jets sprayed over the debris - canisters, bricks and poles - in the wake of retreating protesters.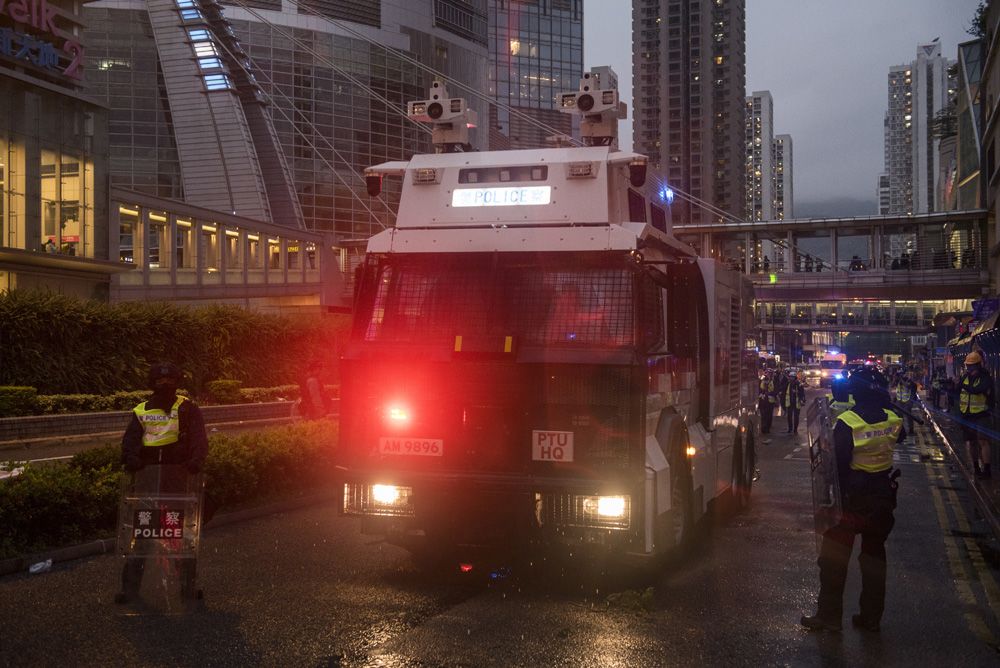 Despite the intensity of the 25 August confrontation on Yeung Uk Road, those scenes were not shocking for Hong Kong any more. 
What did shock everyone was what happened next.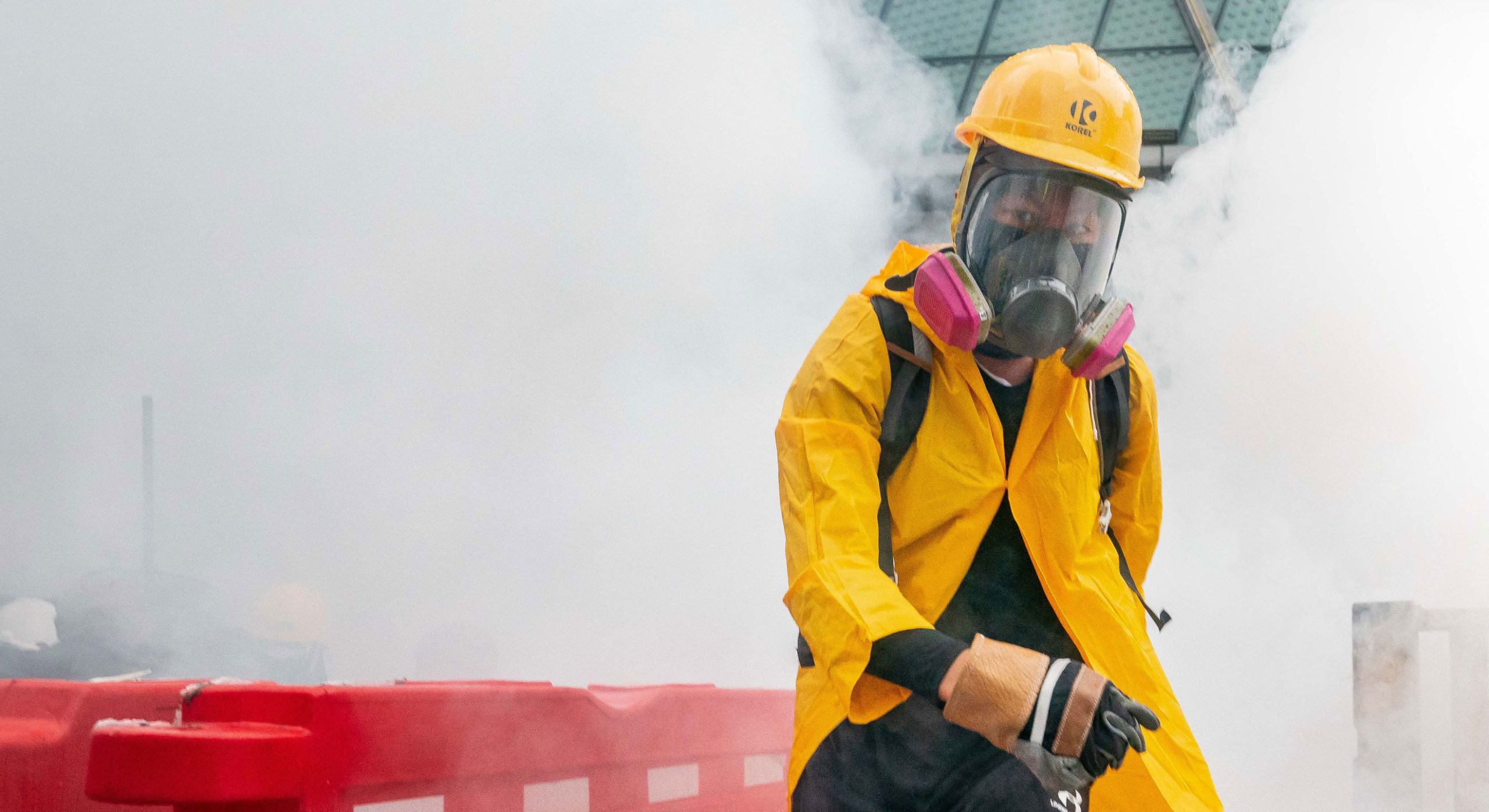 Among the 54 people detained on Sunday - for unlawful assembly, possession of weapons and assaulting police officers - was a 12-year-old boy, the youngest person so far to be arrested. News of his arrest spread online.
As he was being detained, he yelled out the name of his family members and their phone numbers. Later, we found out that a social worker had contacted them and he had been released on bail.
In the hours after the stand-off on Yeung Uk Road, small groups of young men armed with makeshift weapons roamed the narrow streets of Tsuen Wan - streets too small for the water cannon trucks. 
---
19:30 - Shot fired into the air
At around 19:30, a group of police officers encountered a group of protesters.
Holding up a shield, one of the officers fired a live shot into the sky. It was the first time live ammunition had been used in 12 weeks of protests.
In an instant, five other officers drew their guns and advanced on the protesters. 
That picture - of this small group of police officers, eyes widened in the heat of the moment and guns held aloft - became a defining image of the night.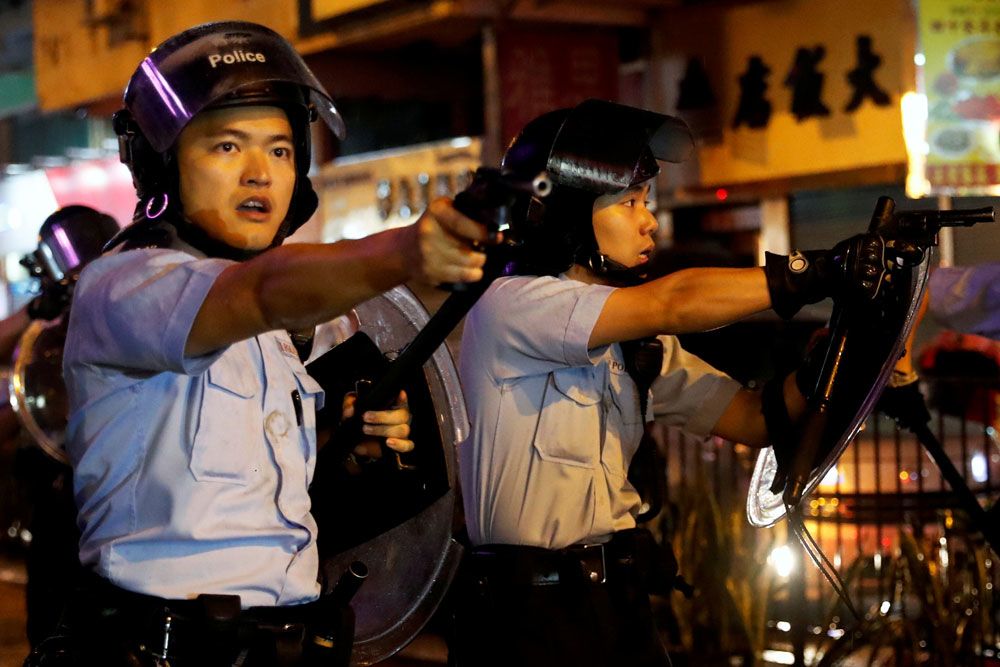 As the police advanced, a middle-aged man wearing a vest and shorts and armed only with an umbrella, was kicked by one of them, as he knelt begging them not to shoot.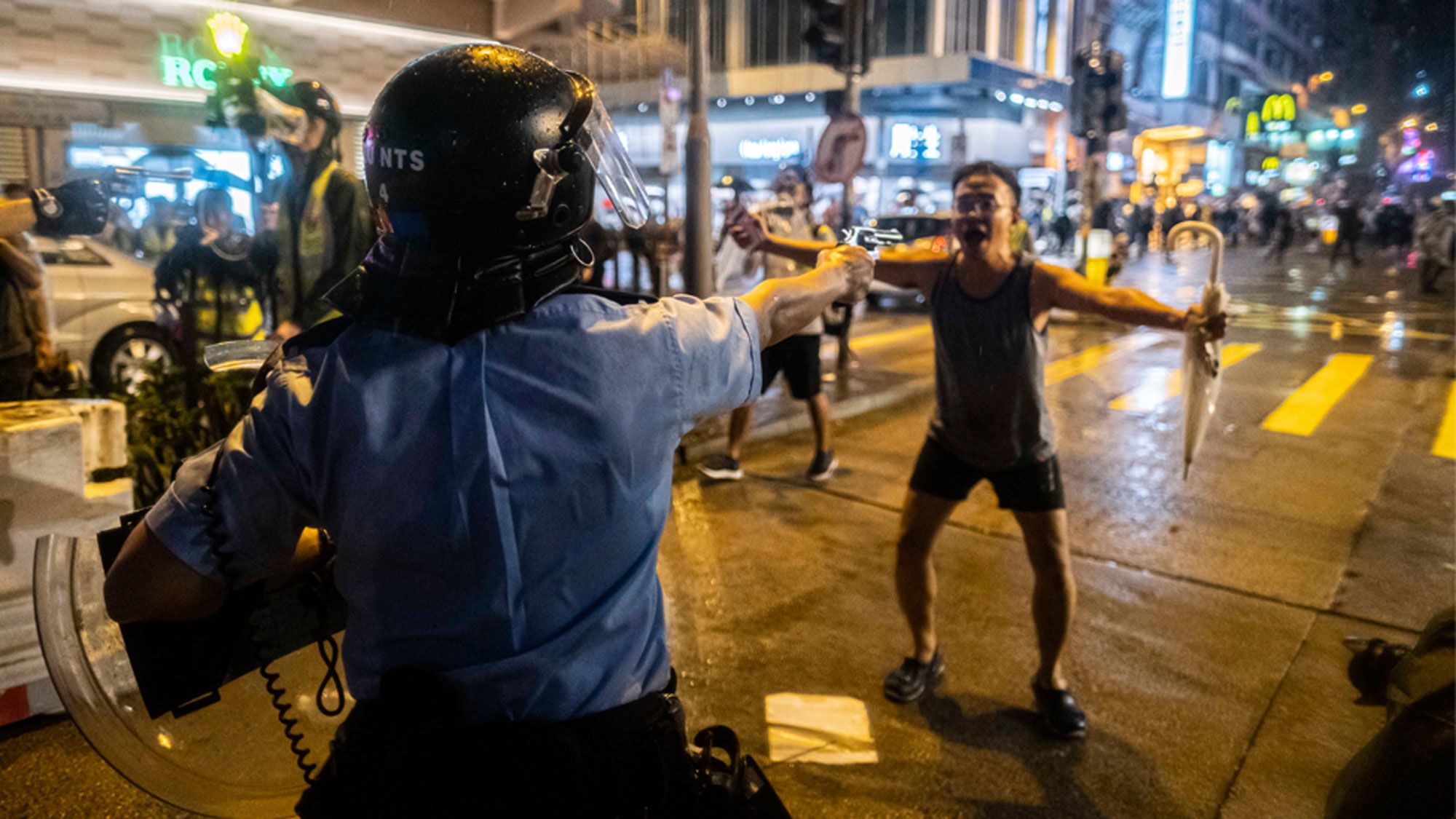 Within minutes, the image was being shared online and was being described as an example of police brutality. It even drew comparisons with Tank Man of Tiananmen - the iconic image of a lone, unarmed man with shopping bags standing in front of an advancing row of tanks during the bloody Tiananmen Square crack down in Beijing 30 years ago.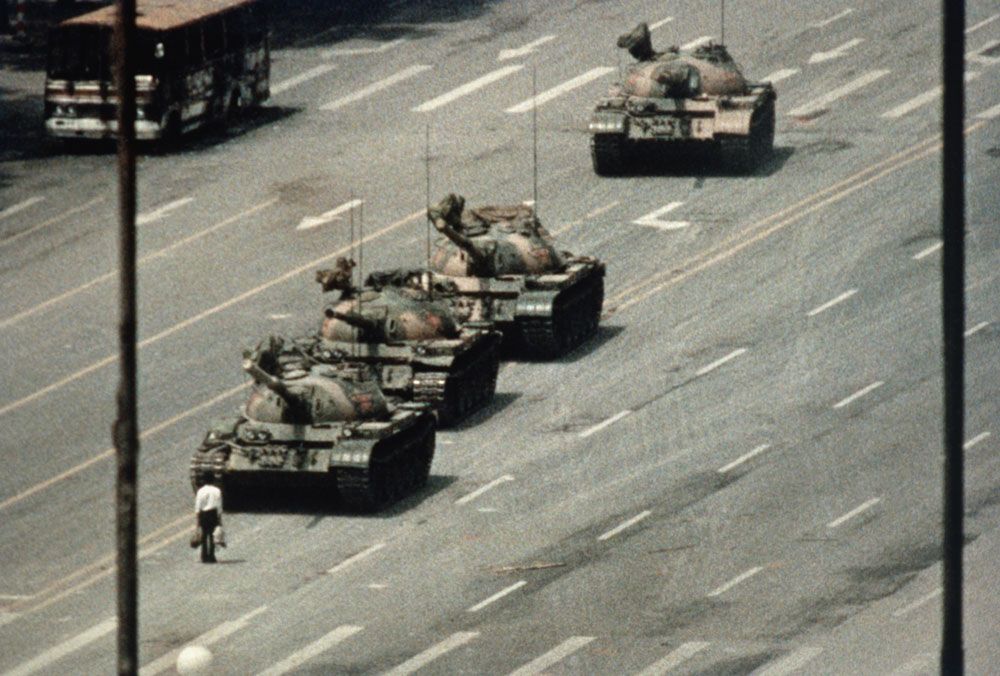 But a closer look at the footage of the entire incident, from several angles, shows the story of the 25 August 2019 was much more complex than that. 
In a statement afterwards, police said the officers had no choice but to defend themselves.
Even after that stand-off, protesters fanned out to districts further away - they were seen in Sham Shui Po, Tsim Sha Tsui and the Cross-Harbour Tunnel.
In doing this, they were putting into action the philosophy "Be Water" - which has emerged as a mantra in these protests.
It has been taken from a famous line spoken by martial arts legend Bruce Lee to denote the importance of being fluid and adapting to different circumstances. In Hong Kong, it has become a rallying cry for protesters to be nimble and adapt to fast-changing situations.
So, in a bid to outwit the police, protesters move swiftly to other parts of the city. 
As the evening of violence unfolded in Tsuen Wan, many residents of the housing estates there lined the streets - egging on the protesters and shouting their support.
A small of group of protesters vandalised local shops they believed may be pro-Beijing - sparking fears that triad gangs, known to be in the area, may get involved again.
At the end of July, white-shirted men, thought to be triads, attacked black-shirted protesters in the district of Yuen Long. In Tsuen Wan itself, there was a knife attack on black-shirted protesters just weeks ago.  
Meanwhile, in the district of Sham Shui Po, a solitary man was seen defiantly waving a Chinese flag outside a police station - two of the symbols most hated by protesters - provoking abuse from black-clad protesters.
For his own protection - it appeared - police swiftly pulled him inside the station.
The movement still has mass support in Hong Kong despite the routine disruption to the lives of those who support it. There is an understanding between the two types of protester.
The more peaceful ones feel they must come out in large numbers because those who are more extreme are risking so much.
Even though his peaceful march was marred by the violence that followed, organiser Potter said he wouldn't distance himself from the more hardcore protesters because they share the same goals. 
"If we don't have the courage to escalate our resistance, we will lose faith and be overwhelmed by a sense of helplessness."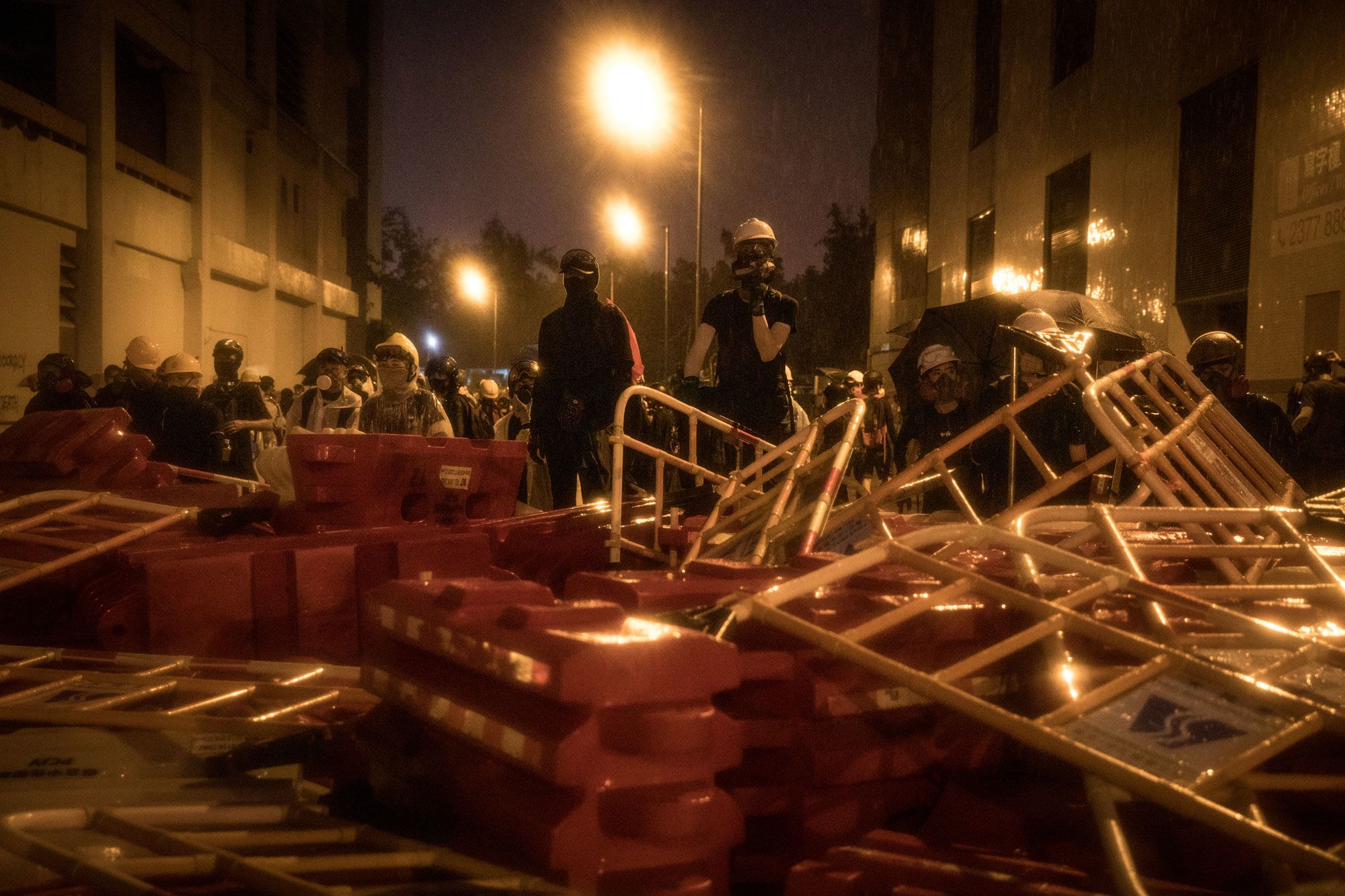 ---
Credits
Authors : Saira Asher and Grace Tsoi
Additional reporting: Danny Vincent, Fan Wang
Pictures: Curtis Lo
Graphics: Sean Willmott
Video: Tessa Wong, Curtis Lo, Andreas Illmer
Additional photos: Lam Yik Fei /NYT/eyevine, Reuters, Getty Images
Producer: James Percy
Editors: Kathryn Westcott, Samanthi Dissanayake
---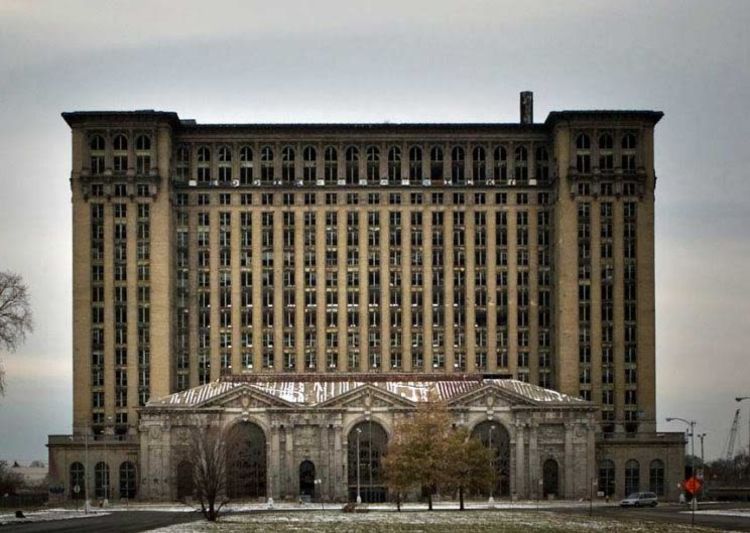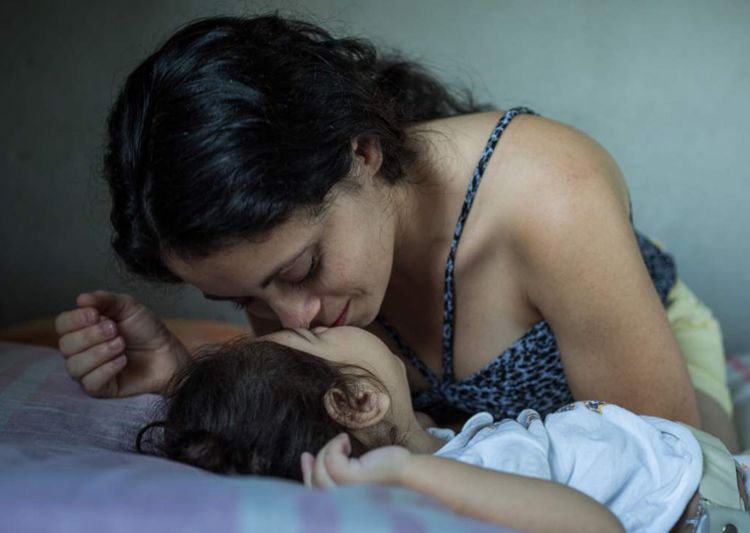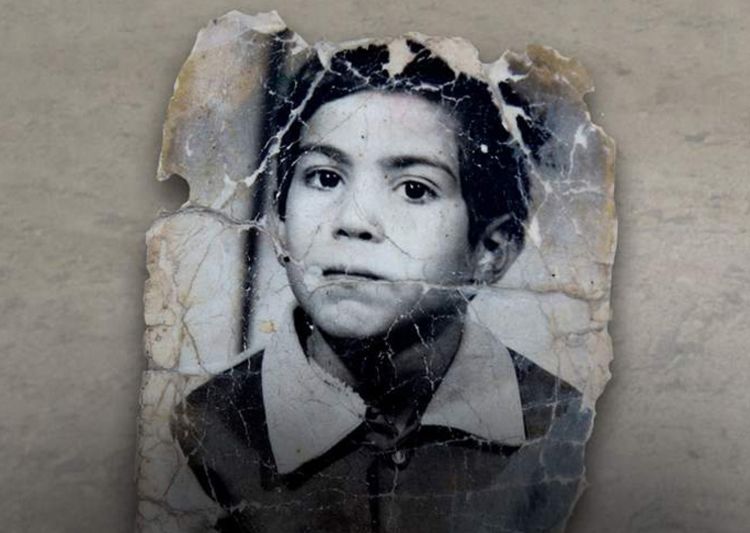 Publication date: 30 August 2019