How are eviction rules for renters and landlords changing?
By Alice Aitken
BBC News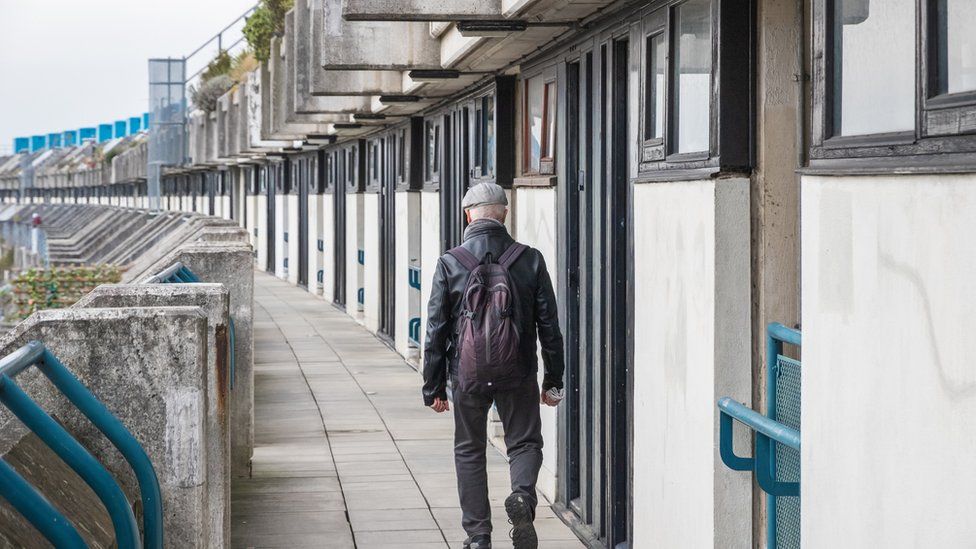 A ban on evictions introduced during lockdown comes to an end in England on 1 June.
What does it mean for renters?
If a landlord wants to evict tenants, there is a strict legal process to follow.
There are two main types of eviction:
A "no-fault" or Section 21 eviction is when a landlord does not need to give a reason. Landlords can do this at the end of a fixed-term tenancy agreement, or during a tenancy with no fixed end date
If the tenant breaks the terms of the rental agreement - for example by not paying rent, damaging the property or causing a nuisance - the landlord can use a Section Eight order
Usually, no-fault evictions require two months' notice.
Evictions where tenants have broken the terms of the tenancy have a notice period of between two weeks and two months, depending on which terms were broken.
What do landlords have to do?
There are a series of steps a landlord must take to evict someone:
Issue a Section 21 or Section Eight notice with the date they want a tenant to leave
Get a possession order from the court if a tenant stays beyond the date
Ask the court for a warrant of possession if they don't leave on time. The court sends an eviction notice to the tenants, who can be evicted by a bailiff
Someone can only be evicted if correct procedure has been followed. They could challenge the order if they have been discriminated against
What happened to evictions during the pandemic?
During the pandemic, some people saw their incomes plummet.
So, the government announced a "complete ban on evictions" to ensure no struggling renter would be "forced out of their home".
Eviction hearings were banned in courts in England and Wales last March.
They restarted in September, but bailiffs were told not to enforce eviction orders.
Meanwhile minimum notice periods for renters - where eviction was not involved - were increased across the UK. In England this was to six months.
What is changing for renters on 1 June?
Landlords who want their tenants to move out can give four months' notice, down from six months. On 1 October it will return to two months.
Minimum notices are shorter for evictions where renters have broken the tenancy agreement. It will drop back to two weeks - or no notice in the most serious cases.
Bailiffs will be able to enforce eviction orders issued by courts with two weeks' notice.
They are not allowed to evict you if you, or anyone you live with, has coronavirus symptoms, tested positive for coronavirus or has been told to self isolate by the NHS.
In Wales, the ban on eviction enforcement is due to end in July. There is no ban in Northern Ireland.
What protections are there for renters?
Landlords are not allowed to harass tenants to leave, or lock them out of the property. Only bailiffs can carry out evictions.
Renters can apply to their local council for help if they are homeless, or set to become homeless within eight weeks.
Some landlords have also experienced hardship. The government says, 45% of private landlords own just one property and are vulnerable to rent arrears
What have people said about evictions?
Announcing the end of the ban, Housing Minister Christopher Pincher said it would "ensure tenants continue to be supported with longer notice periods, while also balancing the need for landlords to access justice".
The National Residential Landlords Association (NRLA) said it was "an important step in ensuring the sector's recovery".
But representatives of both landlords and tenants have called for more help for people in rent arrears.
The NRLA said ministers should "step in and provide affected tenants with the financial support they need to pay off rent arrears built as a result of the pandemic".
Polly Neate, chief executive of Shelter, called for an emergency package of financial aid and said the government should "make renting more stable and secure by scrapping Section 21 "no fault" evictions altogether".
Are you struggling to pay your rent? Or are you a landlord who relies on rent for income? Email haveyoursay@bbc.co.uk.
Or use this form to get in touch:
If you are reading this page and can't see the form you will need to visit the mobile version of the BBC website to submit your comment or send it via email to HaveYourSay@bbc.co.uk. Please include your name, age and location with any comment you send in.