What's taking the knee and why is it important?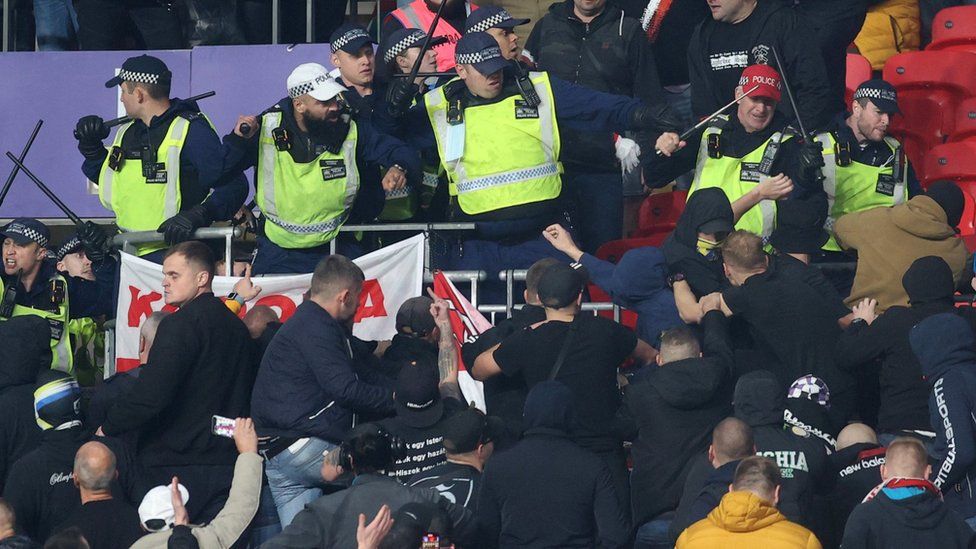 Some Hungary fans booed as England players took the knee ahead of Tuesday's World Cup qualifier at Wembley.
Taking the knee has spread across the sporting world as a statement against racism, but has proved controversial.
How long have English players taken the knee?
A number of other teams also took the knee before some or all of their matches, including Scotland, Wales, Belgium, Portugal and Switzerland.
In advance of the competition, Home Secretary Priti Patel said that she did not support "people participating in that type of gesture politics". Asked if she would criticise fans who booed England players taking the knee, she said: "That's a choice for them, quite frankly".
After they missed penalties in the final, which England lost, Marcus Rashford, Bukayo Saka and Jadon Sancho were racially abused.
Ms Patel tweeted that she was disgusted they had been subjected to "vile racist abuse".
You don't get to stoke the fire at the beginning of the tournament by labelling our anti-racism message as 'Gesture Politics' & then pretend to be disgusted when the very thing we're campaigning against, happens. https://t.co/fdTKHsxTB2

— Tyrone Mings (@OfficialTM_3) July 12, 2021
Why do some people oppose taking the knee?
Several Conservative politicians have said they oppose kneeling because they see it as a political statement.
Prime Minister Boris Johnson said people should be "free to show... how much they condemn racism in any way they choose". But he was criticised by Labour for stopping short of condemning fans who booed the England team.
Where does taking the knee in sport come from?
American footballer Colin Kaepernick took the knee during the national anthem before a match in 2016. He said he could not stand to show pride in the flag of a country that oppressed black people.
The anti-racist statement has since become a prominent symbol in sport and during protests.
It has also been a feature of Black Lives Matter protests, including those following the murder of George Floyd.
What happened about taking the knee at the Tokyo Olympics?
The IOC - which organises the Games - initially banned competitors from taking the knee. It said Rule 50 of the Olympic Charter forbids any kind of "demonstration or political, religious or racial propaganda".
But it then decided to lift the ban, allowing athletes to "express their views" before and after competing. This meant they could take the knee before an event.
However, they could not express their views during events and victory ceremonies, or at the Olympic Village. Any protest should not be "disruptive", including unfurling a flag or banner during "the introduction of another athlete or team".
Female footballers from Chile and Japan also took the knee, as did Costa Rican gymnast Luciana Alvarado.
What other protests have been made?
At the Mexico Olympics in 1968, Tommie Smith and John Carlos gave the black power salute on the medal rostrum
Basketball star Mahmoud Abdul Rauf refused to stand for the US national anthem in 1996 and described the US flag as a symbol of oppression
LeBron James and other basketball players wore T-shirts with the words "I can't breathe" written on them in 2014, echoing the last words of Eric Garner, who died after being restrained by police officers in New York.