Coronavirus: How will the Covid-19 alert system work?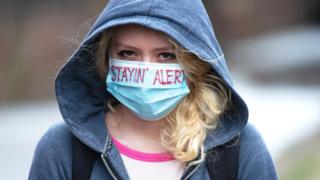 The risk posed in England by coronavirus is measured by a five-level, colour-coded alert system.
What is it for?
Prime Minister Boris Johnson has said it helps the government decide how tough social-distancing measures should be:
What determines the level?
In time, the government hopes, the level will reflect the threat in specific areas of England and be used to determine local restrictions.
What is the current level?
England's Chief Medical Officer, Prof Chris Whitty, said in the middle of May after the alert system was brought in that the UK's position was best described as level four - meaning the virus was still being transmitted widely and many social-distancing measures would not be relaxed.
Foreign Secretary Dominic Raab says the country is currently in the process of "transitioning" to level three.
Speaking to the BBC's Andrew Marr show, he said the government had "taken evidence from scientists" and had met the five tests it said were needed to relax restrictions.
Who sets the level?
A Joint Biosecurity Centre (JBC) - set up by counter-terrorism specialist Tom Hurd, on similar lines to the Joint Terrorism Analysis Centre (JTAC) - will identify changes in infection rates, using testing, environmental and workplace data, and advise chief medical officers.
But government ministers will make the final decision on easing or tightening restrictions.
What about the other UK nations?
The government has said it would engage with the devolved administrations in Edinburgh, Cardiff and Belfast, as they develop their own versions - and explore how the JBC can operate as part of a broader infrastructure to address all the UK's biosecurity threats.