Strictly Come Dancing 2022: The line-up in full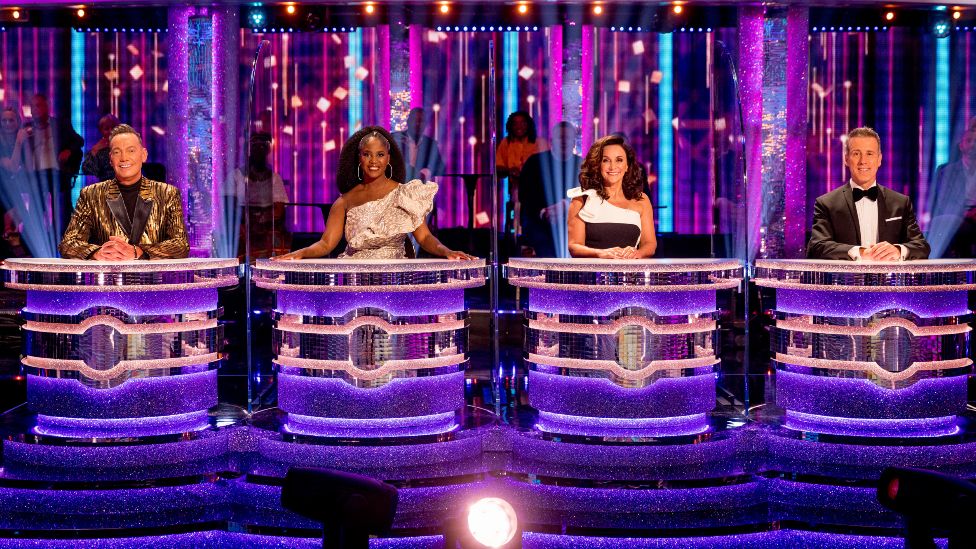 The Strictly Come Dancing line-up is complete, with Kym Marsh, Fleur East, Ellie Simonds and Matt Goss among this year's contestants.
Helen Skelton, Will Mellor and Kaye Adams will also appear when the dancing competition returns next month.
Craig Revel Horwood, Motsi Mabuse and head judge Shirley Ballas will all be back on the Strictly judging panel.
The show is set to return to BBC One in September. Here are all 15 of this year's Strictly stars:
"I'm equally nervous and thrilled to be part of this year's Strictly line up," said East, a former X Factor and I'm a Celebrity contestant.
"I'm excited to learn new skills and I want to soak up every moment of this magical experience," she added.
She went on to say it was "such an honour to be on the show" after years of watching it with her late father, who was also a huge fan.
"Unfortunately my dad is no longer with us but I know he will be watching over the ballroom in spirit," she said. "I'm doing this to make him and my family proud and can't wait to get my dancing shoes on."
East was the runner-up on The X Factor in 2014 and went on to have a hit single with Sax and release two albums. After appearing on I'm a Celebrity… Get Me Out of Here in 2018, she became host of the Hits Radio breakfast show.
The former England and Arsenal men's football captain's said: "To say I'm excited is an understatement.
"The lure of the sequins and the call of the salsa has me swapping my battered old football boots for a set of Strictly soft shoes.
"I'm absolutely thrilled to be giving it my all on this year's 20th anniversary of Strictly Come Dancing. I can't wait to meet my partner - god help her - and start the dancing."
Aside from winning titles with the Gunners and representing his country at Euro 96 and the World Cup in 1998, Adams was made an MBE after founding a charity to help sportspeople with mental health and addiction issues.
CBBC star Molly Rainford said she was "so excited" to be part of Strictly Come Dancing.
"I've watched it for years and can't wait to meet the pros and the others taking part! I can't wait to learn the moves and get dancing!"
The star rose to fame aged 11 as one of the youngest ever finalists of Britain's Got Talent.
She went on to do a scholarship at the Sylvia Young Theatre School and is currently the star of the CBBC show Nova Jones, where she plays the titular intergalactic pop superstar.
In real life she has released two EPs and her biggest single, Commitment, has racked up millions of streams.
Singer Matt Goss said he was "extremely nervous and excited, but I'm optimistic because I'm very supple from the knees down".
Goss enjoyed huge success in the band Bros alongside his brother Luke and Craig Logan, with their debut album Push going platinum seven times following its release in 1988.
He's enjoyed solo success since with a longstanding residency in Las Vegas and the 2018 Bros documentary, After the Screaming Stops, won a Bafta and a National Television award.
Paralympic swimming gold medallist Ellie Simmonds was the youngest British athlete at the 2008 Summer Paralympics in Beijing at the age of 13 - and was named BBC Young Sports Personality of the Year the same year.
Simmonds said she was "bursting with excitement" about joining the show but also admitted she was "petrified".
Speaking to Radio 5 Live's Sunday Breakfast, Simmonds said: "I'm so excited, I just want to enjoy every second and try out the sequins and costumes.
"I'll be the first dwarf doing this show and I just want to show how positive it is - being different is okay."
She said while it would be "tough" - admitting she would be living off coffee once training begins - it was a "once-in-a-lifetime opportunity".
During the 2008 competition, she won gold medals in the 100m and 400m freestyle events. Simmonds won two golds at London 2012 and another at Rio 2016.
She went on to present for BBC Sport after retiring from competitive swimming in 2020 and has also made documentaries, including Ellie Simmonds: A World without Dwarfism?
Actress and TV presenter Marsh currently hosts BBC One's Morning Live and has appeared in Coronation Street and The Syndicate.
"I'm nervous but I'm really looking forward to it," she told BBC Breakfast about joining Strictly.
In the early noughties, Marsh was a member of pop group Hear'Say, who were created on talent show Popstars.
"It's been a long time since I've been on stage, performing in that kind of way, so it's going to be really tricky, but I'm up for the challenge," she said about joining Strictly.
Asked how she would deal with criticism from the judges, she joked: "Listen, I was judged by Nasty Nigel in Popstars, he was the villain back in the day, so I think I'll be fine with it."
Mellor, known for appearing in Hollyoaks, Coronation Street, Casualty and Two Pints of Lager and a Packet of Crisps, said he was "honestly so chuffed to be taking part" in Strictly.
"It's getting a bit frightening now," Mellor told BBC Breakfast.
Asked if he could dance well, he replied: "It depends what you call well. I dance in the kitchen or at parties like anybody does, but nothing at all like I'm doing here, I'm way out of my comfort zone."
He explained: "My mindset completely changed a while back, and I just thought, I've got to start doing things that frighten me.
"I lost my dad in 2020 and from then I just thought, I've just got to grab life. I've got to create new memories."
Mellor reached number five in the UK singles chart with When I Need You in 1998.
He recently toured the UK with a live version of the popular podcast he co-hosts with Ralf Little, Two Pints with Will and Ralf.
West, who hosts afternoon shows on radio station Kiss, said he was "so gassed to be joining the Strictly family".
"It's going to be one crazy incredible journey which will no doubt be so far outside my comfort zone," West said.
"It's a show that means so much to me and my family and I can't wait to seriously shake a leg on that shiny dance floor… with a side of sequins."
West was nominated for best new presenter at the 2020 Arias, an awards ceremony which recognises talent in the radio industry.
He began his broadcasting career in children's television, presenting various programming across CBBC, and has hosted MTV News, HQ Trivia and the red carpet live show at the 2020 Bafta Awards.
Last year, he launched his first BBC Three series, co-hosting Flat Out Fabulous as well as becoming the host of The MTV Movie Show.
Kaye Adams, 59, is a broadcaster known for presenting ITV's Loose Women.
She said: "I said I wanted to make the last year of my fifties memorable and I can't think of a better way of doing it than showing the world my two left feet. Pray for me!"
As well as presenting on the ITV topical discussion show, she also hosts the morning show on BBC Radio Scotland.
She started her career as a news journalist presenting programmes for various TV channels, including STV, the BBC and Channel 5.
This year she also started her popular podcast, How To Be 60 with Kaye Adams.
EastEnders star James Bye, who plays Martin Fowler in the soap, said it was "an honour" to be taking part in the series.
Bye said: "I'm not known for my shimmy or my twinkle toes - in fact my kids regularly laugh at my dad dancing but it's an honour to be asked and I'm going to give it my best shot.
"There are some huge dance shoes to fill and it's truly exciting to follow in the footsteps of some amazing EastEnders talent. I'd love to do everyone proud."
Bye has previously had roles in the BBC One mini-series The Great Train Robbery and films including Hummingbird, The Hooligan Factory and Cemetery Junction.
Comedian, actress and author Ellie Taylor said she and her mum had watched the show for years and she was "over the moon" to be now appearing on it.
Taylor, who is known as a guest star on award-winning Apple TV+ series Ted Lasso and was a regular on outgoing BBC panel show Mock The Week, was announced as the latest contestant on Tuesday morning on ITV's Lorraine show.
"Well, cover me in fake tan and roll me in sequins!" she said in a statement.
"I'm absolutely over the moon to be a part of Strictly 2022! I've watched the show for years so to be able to take to the dance floor is a dream come true, for both me and mum who is a Strictly super fan!"
"At the moment I'm focusing on the excitement and glitter and choosing to ignore the fact that I have the dancing ability of a newly born giraffe," added the star, who last year had a bestselling debut book titled My Child and Other Mistakes. "Bring it on!"
Wildlife presenter and cameraman Hamza Yassin, who hosts the BBC's Animal Park and is a guest presenter on Countryfile, said in a statement he was "over the moon" to be taking part in Strictly.
Announcing his participation, Yassin said: "Never in a million years did I think I'd be on such a cool show.
"I've been watching it for years and I can't believe I'll actually be there dancing live in front of the British public," he said.
"My dance skills are currently at the level of 1970s disco vibe but I'm ready to work hard and will be shaking it every time I get the chance - shake it 'til you make it!"
Yassin is also well known to younger viewers as Ranger Hamza from the CBeebies show Let's Go For A Walk, and recently fronted a Channel 4 documentary titled Scotland: Escape to the Wilderness.
Jayde Adams, who is currently performing at the Edinburgh Festival Fringe, has won several comedy awards and is also an actor.
The comedian said: "I cannot begin to express the emotions I am feeling... This means so much to me and my family."
She said she had been a "massive fan" of the show for years. "I've always watched it, apart from a brief hiatus in 2011 as I was relentlessly gigging every weekend (to try and get on Strictly)," she said.
"I feel like I'm watching myself in a dream and I can't believe I've manifested this. Holding this in has been torture for me!"
TV and radio presenter Helen Skelton previously appeared in the 2012 Strictly Christmas special.
Skelton, who recently took over from Laura Whitmore on her 5 Live Sunday morning show, said she was "really excited to get stuck into a fun adventure".
She has also presented on Countryfile and Blue Peter, told Radio 2 she only finally agreed to take part a few days before the line-up was announced.
"I did the Christmas one the other year," she said. "The hair is the best, the makeup is incredible, the costumes are incredible. Who gets to go to work and be made to look a bit like Beyonce and have a fun time?'.
"I thought this is madness to not do it, of course I should do it, it will be so much fun."
Richie Anderson reads the travel on several shows across BBC Radio 2, and has previously helped cover the Eurovision Song Contest and The Queen's Platinum Jubilee celebrations for the station. He also covers stories for The One Show.
The presenter said joining Strictly was a "dream come true", adding that he "cannot wait to get in those sparkles and sequins".
"Strictly is the ultimate feel-good show, as soon as I hear that iconic theme tune it's just pure escapism," Anderson said.
"I'm going to have to cancel my legendary Strictly launch night kitchen party that I throw every year," he added, joking: "I'm sure my friends and family will understand."
Anderson will become the third celebrity contestant to compete as part of a same-sex couple, following Nicola Adams and John Whaite.
He said: "I remember watching Nicola Adams do it a couple years ago and John Whaite last year, and I remember just thinking - me growing up when I was coming to terms with what I am or what I'm not - it would have been amazing for me to see something like John and Johannes and Nicola and Katya on such a big show."