Pat Carroll: Actress who voiced Little Mermaid's Ursula dies aged 95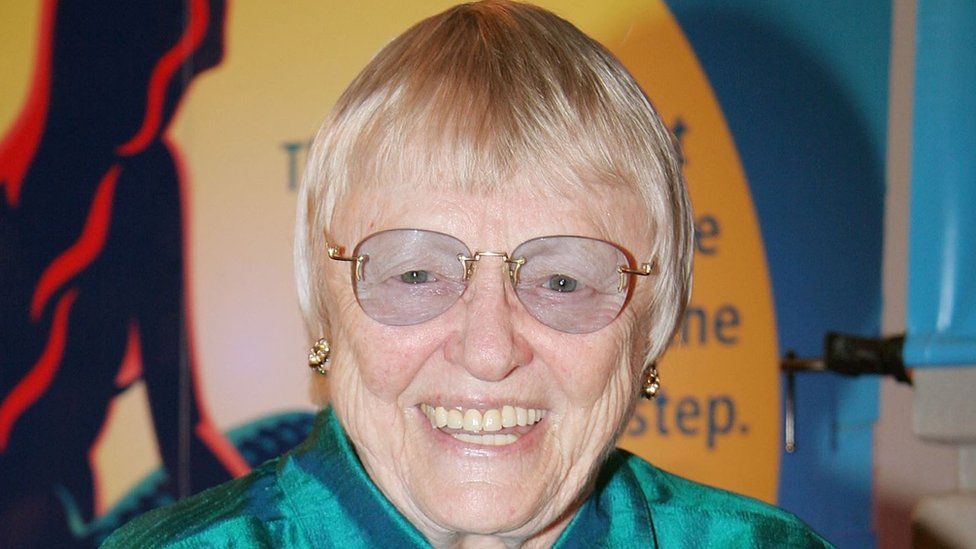 Pat Carroll, the actress who voiced the menacing sea witch Ursula in Disney's The Little Mermaid, has died aged 95.
Carroll, who won an Emmy in 1957 for TV comedy show Caesar's Hour, died on Saturday of pneumonia at her Massachusetts home, her daughter Tara Karsian told The Hollywood Reporter.
Her comic talents saw her work with stars including Mickey Rooney and Mary Tyler Moore, with much of her early TV career was spent on comedy shows.
She was also in The Love Boat and ER.
Carroll's daughter Kerry Karsian posted news of her mother's death on Instagram, asking followers to "honour her by having a raucous laugh at absolutely anything today (and everyday forward)".
But arguably her most memorable role was as half-woman half-octopus Ursula in 1989's The Little Mermaid, based on the original Hans Christian Andersen story.
She told author Allan Neuwirth, in his book Makin' Toons: Inside the Most Popular Animated TV Shows and Movies: "It was a lifelong ambition of mine to do a Disney film. So, I was theirs hook, line and sinker."
The scheming Ursula offers mermaid princess Ariel the temporary chance to become human, to try and win the heart of the man she loves - but she has to give up her voice as payment.
The Disney character's image was inspired by drag queen Divine, with Carroll "told to emulate the same low growls that Divine was known for", Radio Times said in 2020, in an article about a Disney+ documentary based on the film's lyricist Howard Ashman.
Hollywood Reporter said Ashman had made a recording of how he wanted Ursula to sing, and Carroll said in Makin' Toons: "He gave me that performance! Come on, I'm honest enough to say that.
"I got the whole attitude from him… his shoulders would twitch in a certain way, and his eyes would go a certain way… I got more about that character from Howard singing that song than from anything else."
Carroll also voiced Ursula for several video games, as well as for the 1993 TV series The Little Mermaid.
Carroll said in 2013 how much she learned about comedy working with early US comic stars Howard Morris, Carl Reiner and Sid Caesar, saying: "They worked together for so long that they had that innate sense of each other's timing. It was impossible for them to fumble."
Her other TV acting roles included playing the granny in the English-language version of 1988's My Neighbour Totoro, and a role in Laverne & Shirley in 1976.
By the 80s, her voiceover work included US cartoons such as Yogi's Treasure Hunt, Galaxy High School and Superman. Her career also included working on Broadway, where she was nominated for a Tony in 1955 for musical revue Catch a Star!
She was married to Lee Karsian from 1955 until their divorce in 1976, and they had two daughters and a son. He died 13 years ago, on the same date as his mother, Hollywood Reporter added.