Mike Batt: Womble maestro turns to French dystopia
By David Sillito
Arts correspondent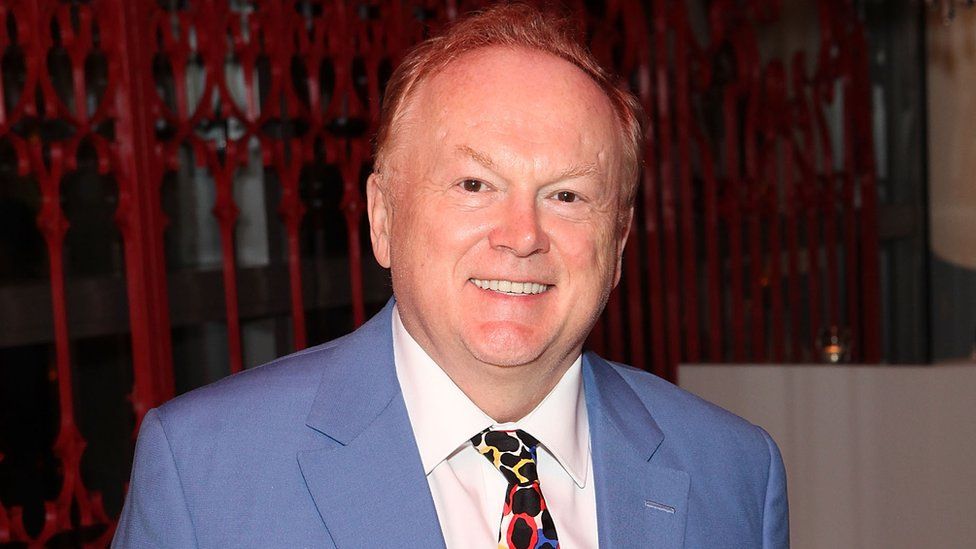 Composer Mike Batt has been making hit records for more than 50 years. But, he tells BBC News, for most artists the era of making money from albums is over.
Batt has created multi-million selling hits for Art Garfunkel, Katie Melua, David Essex, Alvin Stardust and, most famously, the Wombles. But the music industry, and the way that artists make money, has changed a great deal since he started out.
"If you put two years of your life into making a record that's just going to get streamed even if it's successful, how can you justify the expense of you time and the money?" he asks. "You've got to broaden the target and make more of a story from it."
His answer to declining sales of CDs is to reinvent himself as a superhero. Batt's latest project Croix Noire is not just an album, it has a spin-off novella, video game and a comic series in which one of the main characters looks remarkably like Mike Batt.
"Bonkers, isn't it? But it's not bonkers in a Goon Show way, it's bonkers in a kind of weird, dark way. We would have been rejected immediately by a record company executive.
"Big record companies like to have something that's very similar to what was a hit last week and we want to create something that is wholly new."
"I think it's the risk that makes it attractive for me. I like to live on the edge but it is not an edge that necessarily the cool rock or pop critics notice because they're looking at what's happening at that moment."
Has he ever been cool? "I've never been cool," he replies, "but I don't think coolness is a commodity that should be applied to whether anything's good or not."
The album is a sort of concept album loosely based on the experiences of his co-creator, Jean-Charles Capelli. It is superhero life in a drug addled French dystopia but probably no stranger than many of Mike Batt's previous projects. He is after all, the man who was asked to write a song about a dead rabbit and created the biggest selling single of 1979, Art Garfunkel's Bright Eyes.
He was also, perhaps most famously, the man behind the Wombles' musical career. In 1974, they had three albums in the charts and six hit singles. David Quantick, who has helped with this latest project, feels the quality of Mike Batt's Wombles' work, has been cruelly overlooked.
"He seems to have been around forever and is someone for whom everything is an opportunity to do genius," Quantick says. "When he made the Wombles records in the 1970s, a lot of people would have said, 'Oh, that's nice. I've had a couple of pop hits with some children's characters but Mike turns the Wombles' records into Beatle-esque concept albums, quite seriously.
"The Wombles' albums are some of the best records ever made, they are fantastic concept symphonies of eclecticism."
However, The Wombles have cast a long shadow over his many other successes.
"They did take a bit of rock credibility away from me for most of my life but thankfully, other things redressed the balance," Batt says.
Over the years, Batt has worked with Andrew Lloyd Webber on Phantom of the Opera, he wrote the songs that made Katie Melua the biggest selling female artist for two years running.
His musical, The Hunting of the Snark, involved a roll call of talent that took in everyone from Billy Connolly, Kenny Everett and George Harrison to Stephane Grapelli and John Gielgud. And in recent years he has worked and toured with counter-cultural royalty, space rock's Hawkwind.
Batt has been an industry figure for more than 50 years. He was for seven years the deputy chairman of the British Phonographic Insitutute. He is also a serial entrepreneur and whatever happens to his latest multi-media enterprise, it will be more successful than his first major project, 50 years ago. 
Variations on a Riff (The Big Revolt) was, he hoped, going to be his epic, orchestral, heavy rock, symphonic masterpiece, paid for with his first big royalty cheque of £11,000.
"It was the first sizable chunk of money I'd ever had, enough to buy a three-bedroom semi, which is what I should have done because we didn't have a house, but I spent it on this rock extravaganza," he recalls. "It was orchestral heavy rock, a cross between a Bartok and Frank Zappa, slightly heavy metal and slightly avant garde."
However, the record labels refused to release it and he lost everything. Fifty years later, he has decided the world needs to finally hear it and he is about to finally release it on his own label.
It has been a strange life. At the end of a promotional video for his Croix Noire project, his co-creator, Jean-Charles Capelli, who is a huge admirer of his talents describes Mike Batt as a "weird man".
Is he? "Yes, I probably am a weird man. I mean, my dad was quite a sensible bloke. He was an army officer and civil engineer. My mum was very wacky and mad and she made all the Womble costumes. She drew cartoons. She was very jolly. So I have a mixed set of genetic influences. Shall we say I enjoy saluting the unusual."
This interview took place before the death of Wombles actor Bernard Cribbins earlier this week.