Barbara Charone: Meet the Chelsea director who helped break Madonna
By Paul Glynn
Entertainment reporter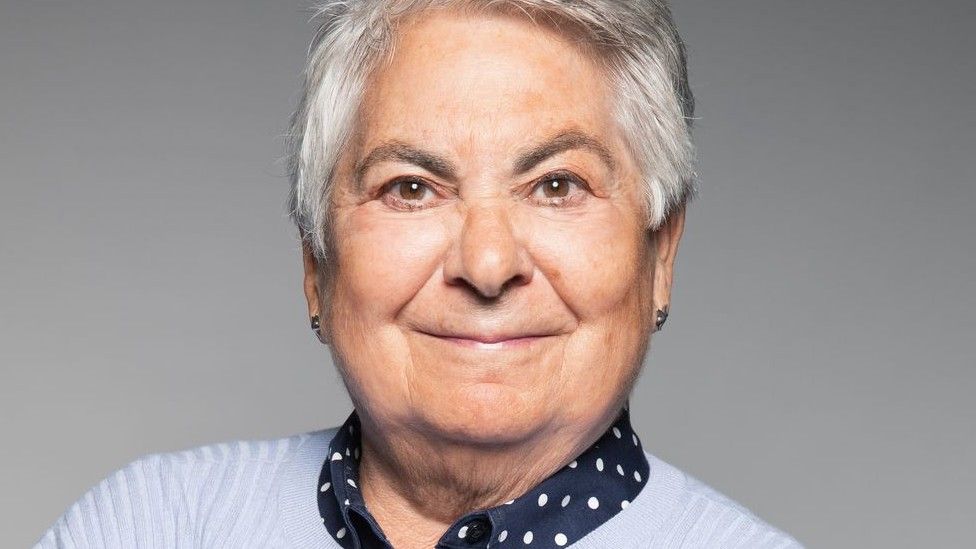 While heading backstage to interview The Who at New York's Madison Square Garden in the early 1970s, Barbara Charone got mistaken for a groupie.
Jobs for women in the music business in those days were "few and far between", the PR guru and new Chelsea FC director tells BBC News, and so the bouncer believed she must only have been there "for one reason".
"I turned up and said, 'I'm on the guest list', and the guy just went, 'Yeah, sure you are!'," recalls Charone, who used to write for magazines such as Sounds and Rolling Stone. "So condescending and completely because I was female."
The Chicagoan moved to The Who's hometown of London several years later, in 1974, and found it was a similar story. "When I first came to England and I started to freelance for the NME, the only other women on the paper were a photographer from New York, who was freelance, and the editor's secretary; and there was another British female photographer, Pennie Smith," she explains. "So there were hardly any women.
"And [it was] the same with record companies and [women] were always really relegated to certain kinds of jobs like artists liaison, where they would book the restaurants, hotels and travel." Charone ultimately moved from being a music journalist to working in PR and media relations.
"There weren't really many female managing directors or people in positions of importance, so [things have] changed completely," she says.
Charone, known affectionally (and in some quarters, trepidatiously) in the industry as simply "BC", is speaking following the release of her memoir, Access All Areas, which reflects on her 50-year career in music as a writer, publicist and co-director of her own PR firm, MBC; as well following her beloved Blues.
Written in lockdown, with a little encouragement from former client and fellow recent rock autobiographer Bobby Gillespie of Primal Scream, the book has been described by Victoria Segal in The Times as an "irrepressible account of nearly five decades in the music industry that's less lurid exposé, more side-stage view of the machinery that allows the show to go on".
"I would have liked more about that aspect of being a woman, albeit a forceful one, in a man's world," added Barbara Ellen in the Observer. "All in all, though, what a voice and what a read."
Charone's career has seen her honoured several times by Music Week, including at its Women In Music Awards. The publication described her as "one of the most successful and enduring players in the music industry".
One of Charone's longest-standing clients, Madonna, who recently said she was making her forthcoming biopic herself to prevent "misogynistic men" from telling her story, features heavily.
She recalls witnessing the relatively unknown young singer from Detroit making her London' debut at Koko, formerly the Camden Palace, in 1983, in-front of 1,000 people. When Madonna next returned a few years later it was for two sold-out nights at Wembley Stadium.
"That kind of rise will never ever happen again," she says of the Queen of Pop. "Her domination was just so quick."
It was, she notes, "incredibly exciting to be around and participate in" the rise of such a hit-making phenomenon.
"People always ask me if she has changed and I don't think she has, she was always very ambitious, very smart," says Charone. "Most really great artists have a sense of themselves in terms of not just the music, but the image, everything, and Madonna had all of that.
"But she's also incredibly human like everyone else and wants to know, 'was it really any good?'"
One incident involving a tabloid newspaper using an incorrectly cropped photoshoot image of Madonna, against the star's wishes, gave Charone one of the most "nerve-wracking" moments of her PR career. But - unlike Primal Scream and REM, who separated from Charone - nothing has stopped her and Madonna making it though 40 years working closely together.
"When you're working with people at that level, of course, it's great, you can be a hero, but also you could be a villain... sometimes things aren't your fault."
The cover of Charone's book shows her alongside another long-term client, Rolling Stones guitarist Keith Richards, who had earlier commissioned her to write his (and her) first official biography.
"I wrote that 'when Keith Richards walks in a room, rock 'n' roll walks in after him', which I still think is a great line," she smiles.
In 1977, after Richards suggested she come to join the band in Canada where they were recording a live album, Charone, who was no stranger to rock 'n' roll lifestyle herself, found herself in the Richards camp during one of the most "incredibly shaky" moments of his career. "By the time my plane landed, he'd been arrested for heroin possession," she says.
"After doing the club shows, everyone left and I stayed, and it was a really great bonding experience. To see someone go through [that] - he could have gone to jail - it was sobering to say the least, and scary, but also it was great as it afforded me the time to get to know him under really stressful conditions, so it also kind of set the framework for my book... I was lucky."
Richards' punishment was to play a concert for blind people, which Charone says is "probably the most unusual sentence ever".
"There was a cartoon the [London Evening] Standard which ran just after with some blind people and on the caption it said, 'What did we do wrong?!' It would never happen now, it's too politically incorrect."
It was during a period spent writing the Richards book, at the guitarist's famous Redlands estate in West Sussex, that the Chicago Cubs baseball fan first started showing an interest in football on the TV; and soon after she found herself going along to watch games at her local ground, Stamford Bridge.
"I always liked sport and I got pretty obsessed with football and I've had a season ticket since the early 80s," she proudly declares.
Her book shows she had break to off from a boozy lunch with former owner Ken Bates to deal with the aftermath of another client controversy, comedian Russell Brand's Sachsgate saga. It also depicts her getting Madonna on the front page of The Sun wearing a Chelsea shirt.
In March the club were put up for sale in "unprecedented" circumstances, as Charone puts it, before owner Roman Abramovich was sanctioned over his links to Russian president Vladimir Putin. The new consortium co-owners, looking to have fans represented on the board, turned to former executive editor of The Times (and Beatles fan) Lord Daniel Finkelstein, who in turn recommended he be joined by his long-time associate Charone.
So 50 years on, Charone is once again moving enthusiastically and fearlessly into a traditionally male-dominated arena.
"A lot of people talked about putting fans on the board, but no one really did it, and they did it," she says. "Danny was going to be one of the fans and they wanted a woman and they asked him if he knew anyone and he suggested me.
"So I met Jonathan Goldstein, then I met Todd Boehly and the Clearlake guys [co-owners/directors] and obviously I never ever imagined that would happen, that I would be involved with Chelsea so now I'm really excited.
"I could say it's a dream come true, but I never even dreamt something as amazing as that would happen."
Access All Areas by Barbara Charone is out now.