Comic-Con: Neil Gaiman's epic comic Sandman finally reaches the screen
By Lizo Mzimba
Entertainment correspondent, BBC News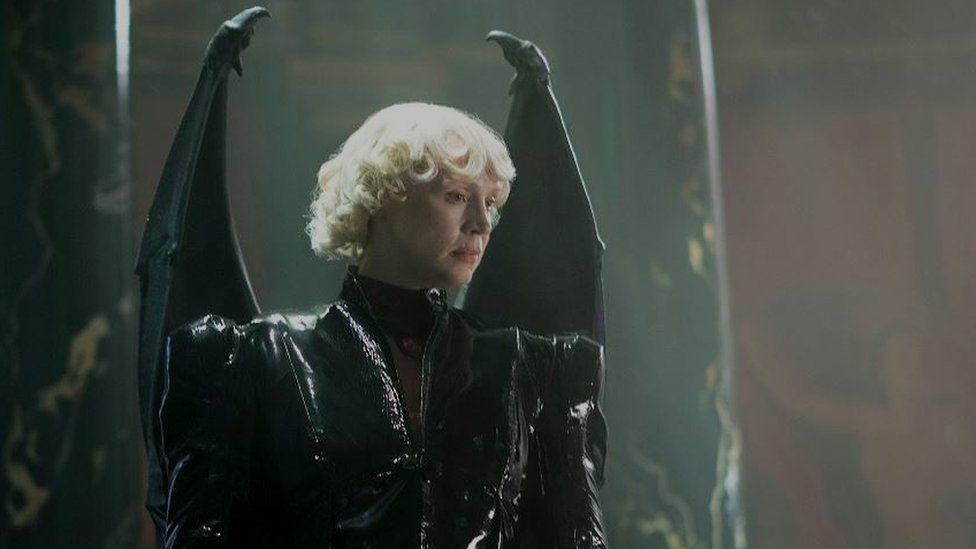 You could forgive Neil Gaiman for thinking that he was dreaming.
Plans to bring his epic The Sandman comic series to the screen have come and gone for decades. Now, it's really happening. Really.
Hollywood first started trying to adapt Gaiman's work back in the 1990s.
"They were trying to make a 3,000-page story happen in two hours of film time," says the writer. "And nobody ever cracked that because it was uncrackable".
The explosion in long form television, with its ability to give the space to more complex storytelling, has proved to be a godsend to something like The Sandman.
The 75-issue run of the original series had both short standalone stories and longer, more overlapping narratives.
Gaiman, naturally, has welcomed Netflix's decision to commit considerable resources to bringing his vision to TV audiences.
"We're now in this golden era of television," he says. "And we have the technology to make something like this."
So, what exactly is this?
Briefly, The Sandman follows Morpheus. He personifies stories and dreams and after escaping a long imprisonment, he sets about trying regain his powers and control over the world of dreaming.
He's one of a family known as the Endless, they include Death and Desire.
Tom Sturridge who plays Dream aka Morpheus says appearing on stage in San Diego not just in front of fans, but also alongside Neil Gaiman, was the perfect way to launch a project like this.
"It's overwhelming," he says. "To be here at Comic-Con, and to be sharing it with the fans who've been waiting so long."
"The reason I'm a fan of Sandman is because of Neil Gaiman. And I feel pressure to satisfy him. And that's the fan side of me. If he's happy, then we can be happy."
For many of the cast, it's their first big Comic-Con experience. Not for Jenna Coleman. Even so, she's still buzzing minutes after coming off stage.
"I've not been back in the Hall H since Peter Capaldi with Doctor Who [in 2015] so it feels like really exciting to be back."
Her role is one of the more mysterious ones, with her character undergoing some subtle, and some not so subtle changes from the comic. Something she relished.
"I was like, this is a character I've not played before, and especially obviously having John Constantine - Johanna Constantine in female form. And there's this kind of this cynicism, dry wit and deflection, but inside there's a wounded lone warrior.
"And it's complex and layered and deep, and really fun to be a kind of a foul-mouthed, roguish cynic. Yeah, he's enjoyable."
The character of Desire, another of the Endless, is played by Mason Alexander Park, who is non binary. They've welcomed the casting choices made by the show.
"Even in the original context of the comics, the character is always non binary," they say. "And to be able to stick with that in this version of the show and have an actor portraying the role also identify the way the character does, I think it's really, really exciting and a testament to where we are in this moment in time.
"Our show, it's unbelievably diverse, and so beautifully representative of the world around us, which I think Sandman is supposed to be. You're supposed to be able to see yourself in Sandman no matter where you're from, no matter who you are. And I think that our version really does reflect that."
Death is another major character in the saga. Played by Kirby Howell-Baptiste, for her this was something she's hoped for for years.
"I don't know that it is every young woman's dream role to play Death, but it certainly was this young woman's dream role," she laughs.
"When I read the comics, originally, I don't think I ever imagined I would get a chance to play this role. I read them maybe 10 years ago, and even then, there were rumblings that this was going to be made into something. But you know, not in my wildest dreams did I imagine that I would be a part of it, and then be part of it in such a significant way."
After such a long wait to see a live action version of The Sandman, there's inevitably a significant degree of anticipation. How much pressure is the story's creator feeling?
"What matters is that we love it," says Gaiman. "What matters is that we make something that we're proud of. And you can't make people like something or not like it.
"I've no idea how this is going to be received by the public. And I don't mind. What I'm excited about is that I've made something that I think is really good.
"I can't wait for people to see it. And if they see it and they like it they'll tell other people and eventually everybody will see it.
"And if people don't like it, that's okay too, because you can't make people like things. But I like it."
I think everyone knows which outcome Neil Gaiman will secretly be dreaming of.