Commonwealth Games 2022 opening ceremony: 'It's Birmingham's turn to shine'
By Ian Youngs
Entertainment & arts reporter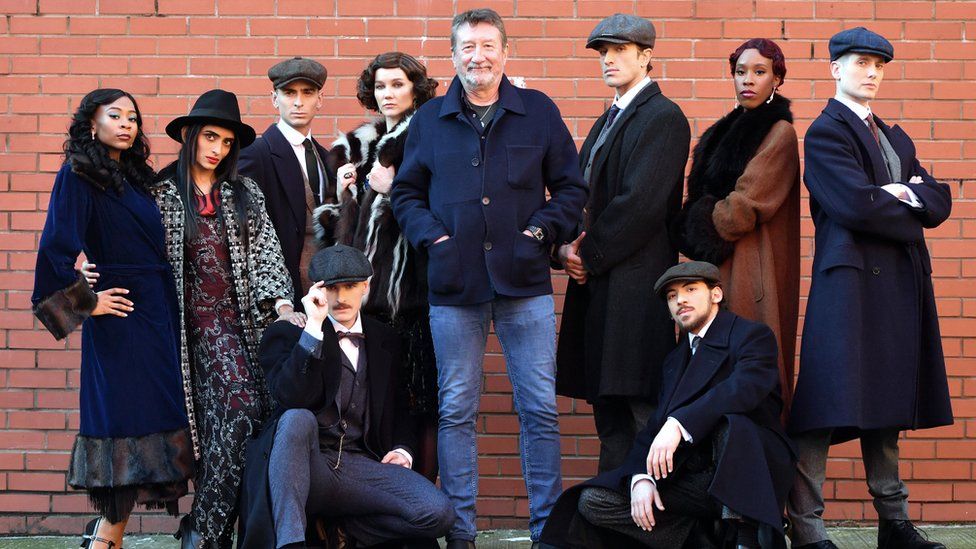 Peaky Blinders creator Steven Knight, one of the masterminds behind the Commonwealth Games opening ceremony in Birmingham, believes it will be better than the launch of the London Olympics a decade ago.
If the organisers' predictions are to be believed, 1.5 billion pairs of eyes will be watching Birmingham on Thursday when the Commonwealth Games officially kick off with an elaborate three-and-a-half hour ceremony.
"No pressure at all," laughs Steven Knight, the event's executive producer.
But Knight is used to big audiences. He's the man behind TV drama Peaky Blinders, Birmingham's biggest cultural export of recent years.
He has long been a proud ambassador for his home city, and knows this global attention is a golden opportunity to put its past achievements and modern identity fully in the spotlight.
"A lot of opening ceremonies are visually spectacular but emotionally quite timid, I think," Knight says. "But this one is very emotional.
"It's got a story to tell. It's about the people of Birmingham. So it's the story of what the city has achieved, and how it's achieved it by the people that are here.
"It feels like it's Birmingham's turn to shine - and this show certainly shines."
The focus on Birmingham comes 10 years after the London Olympics, where the opening ceremony was directed by film-maker Danny Boyle.
That was warmly received at the time as a snapshot of the best of British creativity and identity. In hindsight, it has come to represent a halcyon moment of national unity - or, as the show's writer Frank Cottrell Boyce recently remembered it, "a temporary Utopia".
Knight didn't revisit London's ceremony when planning Birmingham's version. "But I remembered watching on telly and thinking, oh my God, this is brilliant - the way that it worked, the humour and all of that," he says.
"That set the bar, I think, for all opening ceremonies anywhere in the world, and I don't think anybody's come close since.
"Now, we've got some of the same people who did that, including Martin Green [chief creative officer of Birmingham 2022].
"I think we're not just going to come close - I think we'll be better."
Thursday's ceremony will use 2,000 performers to trace the story of Birmingham past and present, while also reflecting the links between the 72 countries and territories in the Commonwealth Games.
The big names will range from pop stars Duran Duran and Black Sabbath guitarist Tony Iommi to saxophonist Soweto Kinch and the City of Birmingham Symphony Orchestra (CBSO).
According to Iqbal Khan, the Birmingham ceremony's artistic director, there will be memorable moments to match London's dancing nurses, or the twirling Tunnocks teacakes from Glasgow 2014, the last time the Commonwealth Games were staged in the UK.
"Think of the show like a concept album," he says. "Each track has an extraordinary crescendo and iconic moments throughout. So I'm hoping that we don't just have one or two [memorable moments], but that we have many during the show.
"We have amazing dream sequences, cultural parables and humour - massive subversive humour. We have a massive lemon hot air balloon that flies in with Ginny Lemon, the drag artist."
William Shakespeare - borrowed from Stratford-upon-Avon, 23 miles away - will appear as a giant puppet, as will composer Edward Elgar, dictionary-maker Samuel Johnson and members of the Lunar Society, a group of 18th Century Birmingham scientists and industrialists who Knight says "invented pretty much everything to do with modern technology".
There will be a 700-strong choir, and a water ballet sequence performed by the CBSO, the Birmingham Royal Ballet, Elmhurst Ballet School and inclusive dance company Critical Mass.
Knight is reluctant to reveal whether his flat cap-wearing Peaky Blinders will make an appearance, though. "I can't tell you," he says. "But there are two shows - the opening and the closing [ceremonies]. So over those two, you'll see."
The opening event will feature 72 young people who encounter Birmingham old and new over the course of the evening.
"We introduce them to its history of innovation and its more modern history of integration and immigration," Khan explains. "We tell the story and we don't reduce it to a moment in a float parade. We build it authentically, centrally into our show."
Khan, born in Birmingham to parents from Pakistan, is a theatre and opera director who has worked at venues ranging from the Royal Shakespeare Company's theatre to the Hollywood Bowl.
Birmingham is "the premier Commonwealth city", he believes. "It's a city that is a reflection of its Commonwealth communities. I know that. It's my story, in many ways. That is exactly the journey that I've gone on and my family have gone on."
The Commonwealth itself is not a cause for celebration for some people, however, because of its historical associations with colonialism and the British Empire.
"I think it has been problematic, and I can completely understand people being negative about the past of the Commonwealth idea," Khan responds.
"But that's not where it is at the moment. It's evolving. It is embracing a different mindset, a different paradigm. And that, for me, is all healthy and all to be celebrated."
It is important to see modern Birmingham reflected on the pitch at the Alexander Stadium, where the ceremony will take place, he adds.
"I was very keen to make it as authentically as I could, and to ensure that lots of different communities that maybe sometimes don't feel like these parties are for them, that they feel included in this experience.
"It's so vibrant, it's so vivid, this place. It's moving so quickly. And I think it's time to make a noise about it. Not just its past, but about its present as well."