Can The Great British Bake Off stage musical serve up a showstopper?
By Ian Youngs
Entertainment & arts reporter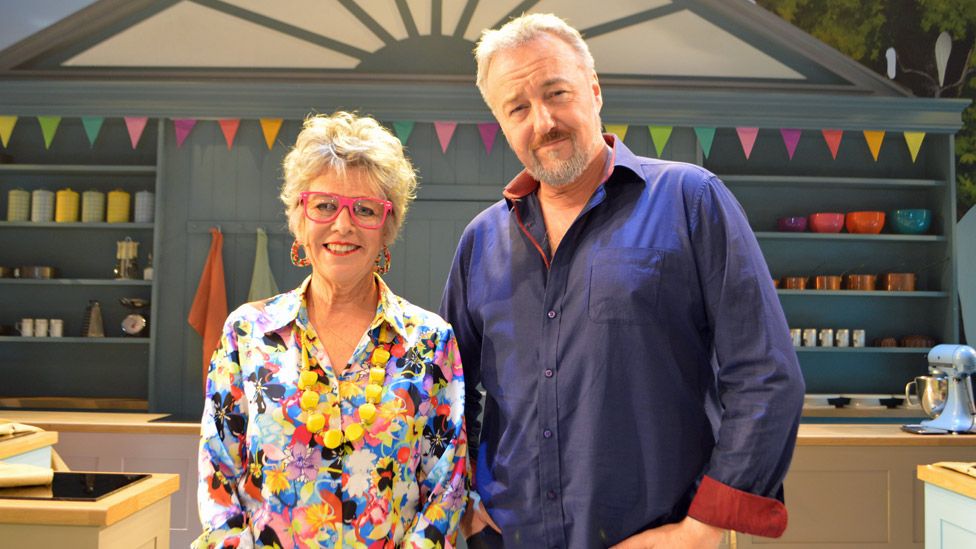 The Great British Bake Off has been turned into a musical with an on-stage tent and songs about strudels. But can it replicate the TV show's recipe for success?
The pair leaning against the wooden top of a pastel kitchen workstation are strangely familiar.
The woman is wearing bright pink glasses, a chunky yellow necklace and dazzling floral blouse. The man has silver hair and beard, with a suave shirt unbuttoned at the top and a roguish twinkle in his eye.
They are the formidable judges in The Great British Bake Off: The Musical, speaking during final rehearsals for the stage show's premiere at the Everyman theatre in Cheltenham.
Actor John Owen-Jones tries to claim that "any resemblance to anyone living or dead is purely coincidental". His eyes twinkle.
The characters' names certainly aren't coincidental. While the TV hit has Paul Hollywood, the musical has Phil Hollyhurst, played by Owen-Jones. And instead of Prue Leith, we have Pam Leigh, played by Rosemary Ashe.
Owen-Jones, reaching for a culinary pun, concedes that the actors have tried to capture "an essence, maybe a taste" of the real-life TV judges with their on-stage characters.
"It was very important to both Rosie and I, and the whole team, that we had to reflect what was on screen - but we didn't want to copy it," he says. "So what we do is a very affectionate homage to the real people."
Their characters aren't the only things that are strangely familiar. The workstations on stage are replicas of those used in the actual Bake Off tent, the stand mixers are apparently the very ones from the TV show, and the bunting and posh utensils on the tastefully-coloured shelves behind them instantly conjure the world of Bake Off.
There are puns and handshakes, of course. And then there are the contestants. There's a genial older woman, a cocky student, a middle-aged policeman, an Italian and a flamboyant man in a waistcoat.
But not everything is quite the same as on TV. The ovens aren't real, and the 79 cakes and bakes seen on stage are made out of polystyrene and upholstery foam.
Some real ingredients are used on stage - Owen-Jones has been perfecting his strudel-slapping for a song inspired by a memorable moment when Hollywood demonstrated the technique.
But mostly, given the constraints of a two-hour theatre production, the cakes are fake.
During lockdown, the stage show's co-writers Pippa Cleary and Jake Brunger were among the many people who binged on TV shows - but they did so in the name of research.
The pair bubbled together, re-watching every single episode of Bake Off and examining every past contestant to settle upon the most common character types to include in their play.
"I think there were 109 contestants by that point," says Brunger. "We looked at all of them.
"There always tends to be an older granny type person, there tends to be a handsome hipster with facial hair. We then looked at, who are the iconic Bake Off characters in those categories? And then [it was] about finding how those characters weave together."
One of the key ingredients in the TV show's recipe is seeing how the contestants grow in confidence as well as competence, and rooting for people, as baking provides a path to some sort of personal healing or growth.
So in the musical, each character also brings their own emotional baggage, and its creators hope those stories can give it the drama needed to make the format transfer successfully to the stage.
"Hopefully it will feel really quite familiar and cosy," says Cleary of their show.
"But at the same time, what you get from a musical, which you might not necessarily get from a TV show, is the freedom to go a bit deeper into people's backstories and the reasons why they bake."
Past Bake Off winners like Nadiya Hussain proved how baking can transform someone's life during the course of a TV series.
"One of our central storylines is a similar confidence-based journey," says Cleary.
"It's very common that someone might be feeling a little insecure for so many different reasons in their life, and the process of going on Bake Off and succeeding - not just with the baking, but also meeting new people and being on telly - just brings them out of their shell. We wanted to capture a flavour of that, definitely."
While the musical is intended to be uplifting, the show also "touches on quite emotional themes like loneliness and grief", Brunger adds.
The idea to put Bake Off on stage came from West End producer and Everyman theatre chief executive Mark Goucher, who approached the TV series' creator Richard McKerrow. He gave it his blessing and the backing of his TV company Love Productions, which makes Bake Off.
That was almost five years ago, and Goucher says the intervening time has been spent cooking up a script that balances the fun and joy of the Bake Off tent with the more poignant subplots.
"A common theme you hear about baking is that people who have suffered from depression, people who have suffered from loss, people who have had illness, have started to bake as a way of finding a way through the emotional problems that they're having," says Goucher.
"All of those stories are incorporated into the show. So while it's a great celebration of Bake Off and baking, it does have some fairly gritty storylines going on through it."
Such a big TV hit is perhaps an easy choice to turn into a stage show, given that the brand name alone will get bums on seats. But as the short-lived X Factor musical proved - which closed after just two months in the West End in 2014 - that is no guarantee of longer-term success.
New musicals are notoriously costly to develop, meaning the risks are big if this turns out to be undercooked.
"After Cheltenham, there are absolutely no plans for the show," Goucher says. "We've got to wait and see how it's received by the audiences and how it's received by critics. And then we'll make a plan."
That could mean the West End or a tour. "Obviously, I hope something does happen to it, because five years in the making cost quite a lot of money," Goucher continues. "And for two-and-a-half weeks in Cheltenham, that doesn't make a lot of sense."
Asked about the show's prospects, its director Rachel Kavanaugh points out that "the brand of Bake Off is global".
"We're starting small, which we think is the right way to go," she says. "The thing about Bake Off is, people really love it. They feel strongly about it. There's a huge sense of ownership from the public about it.
"It has an unusual spirit for a reality TV show, in that it's about the spirit of togetherness, mutual support, friendship, people holding each other up. And that's a wonderful thing to explore in a musical."
Additional reporting by Colin Paterson. The Great British Bake Off: The Musical is at the Everyman Theatre in Cheltenham until 6 August.