BBC sets out plans for TV news channel merger in 2023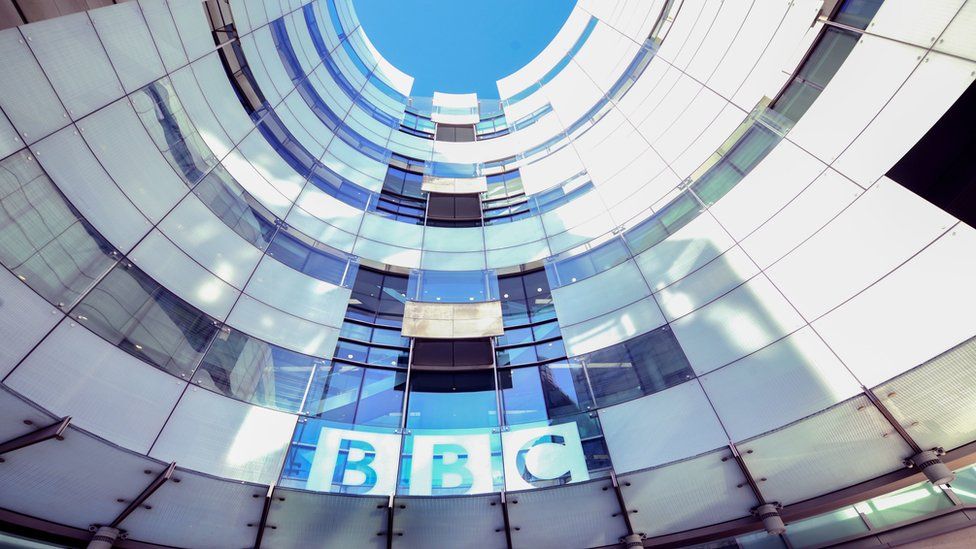 The BBC has said it is investing in "new capability to cover breaking news stories" for a TV news channel which is expected to launch in April 2023.
It is part of plans for a "digital-led, streamlined organisation".
About 70 UK-based BBC staff will lose their jobs as a result of the merger, it is understood.
But in Washington DC, about 20 jobs will be created.
BBC News digital director Naja Nielsen said the way people consume current affairs is changing.
"In recent years we've seen a huge surge in audiences coming to our live coverage, with tens of millions following live pages when big stories and events unfold," she said.
"As the world's most trusted source of news, with a huge depth and breadth of expertise, the BBC is uniquely placed to offer audiences the best analysis and explanation as these stories are unfolding."
She said investing in this would mean "our news channel and digital teams will work hand-in-hand to bring the best journalism to audiences both at home and abroad".
A new feature will be the BBC investing in "visualising" programmes based on popular radio shows, starting with the BBC Radio 5 Live Nicky Campbell programme, which will be broadcast on BBC Two on weekday mornings, as well as on the UK stream of the new channel.
The move is part of cost-saving measures - in January, Culture Secretary Nadine Dorries confirmed the BBC licence fee is to be frozen at £159 for two years.
In May, the corporation announced that as well as merging its two news channels, it would stop airing CBBC and BBC Four as traditional broadcast channels. It also said it would axe its regional TV news programmes in Oxford and Cambridge.
You don't close 70 roles including the posts of 14 chief presenters and ask an entire workforce to apply for a smaller number of new jobs (as BBC sources have confirmed to me is the situation) if you don't believe that radical change is needed.
With linear TV audiences falling, the BBC is signalling it must take its programming to where those news consumers are now heading.
Digital first has been a buzz phrase for some time. In a sense, this announcement is a reaction to the big surges seen on the live pages offered online by BBC News. Most recently, audiences have flocked to the website's live page - for stories as wide-ranging as Boris Johnson's departure and the glorious weather over the Glastonbury long weekend.
Today's plans drive greater crossover between digital and TV.
I've been told that £4m will be reinvested in new "future-facing" plans, financed from the £12.5m being saved by merging the channels. Those include a live and breaking news team it's believed will significantly increase the BBC's capacity to offer breaking stories across all its platforms, including, crucially, BBC iPlayer.
There'll be more roles for journalists who will also do presenting, there'll be programmes based around particular chief presenters and there will be a beefed-up presence in Washington.
But the news of the changes come at huge cost, not least to nearly 200 BBC colleagues who now face very unsettling times. Sources I've spoken to say that by creating one channel broadcast globally, the BBC is in fact giving up on UK rolling news at quality and depth. With plans for opt-out coverage when big UK stories break, that's disputed by the BBC.
The plans are an answer to forecasts about dwindling TV audiences. As with everything in the competitive media environment, there is no guarantee of success.
The new news channel will be broadcast globally, with advert-free access for licence fee payers in the UK, who will also be shown more international coverage.
The corporation said it will also feature "new, flagship programmes built around high-profile journalists" and UK viewers will receive specific content at certain times of the day.
'Visualising' radio shows
A live and breaking news team will offer global coverage of global breaking news stories, plus a domestic-only stream for UK-specific news events.
Other plans announced include:
The channel broadcasting from London during UK daytime hours, and then Singapore and Washington DC
Sports programming will be a mixture of the UK-facing Sportsday and new global-facing sports programmes
BBC Studios will carry on securing commercial revenues from the channel outside the UK, primarily through advertising, returning funding to the BBC that can be reinvested in public service journalism.
The BBC said its plans are now "subject to consultation with staff and trade unions".