Prince Andrew: BBC's Newsnight interview to be turned into a film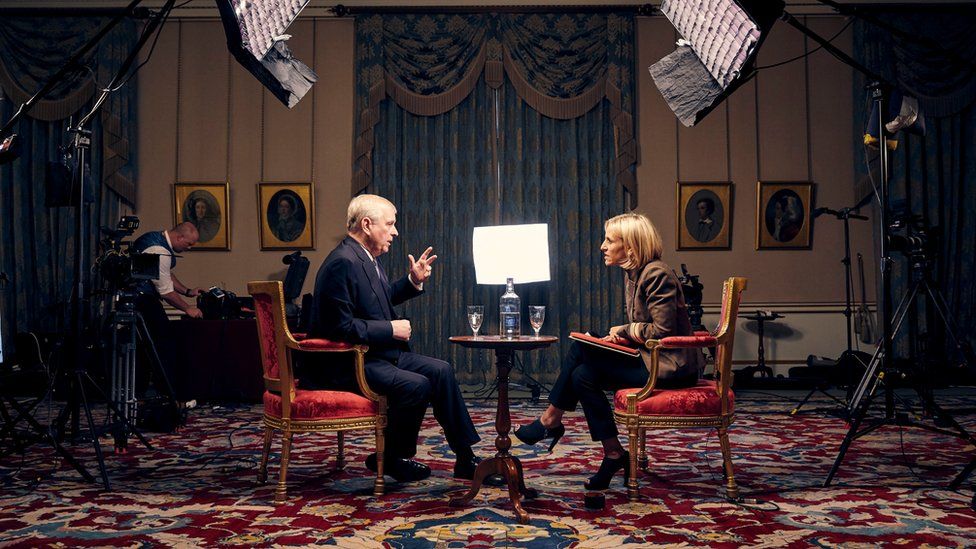 The story behind the BBC's explosive 2019 interview with Prince Andrew is being turned into a feature film.
The Newsnight interview, in which the prince talked about his friendship with convicted sex offender Jeffrey Epstein, made headlines around the world.
The movie, called Scoop, will dramatise how the show secured the interview, as well as the filming of it.
"How was it that he decided it was a good idea to do a great big long interview with Emily Maitlis on the BBC?" added Moffat, who worked on BBC drama Criminal Justice and its US remake The Night Of, plus Silk, Your Honor, Undercover and 61st Street.
Scoop will be based on the book Scoops: Behind the Scenes of the BBC's Most Shocking Interviews by former Newsnight producer Sam McAlister.
In the interview with host Emily Maitlis, the prince also discussed his friendship with Ghislaine Maxwell, who has since has been sentenced to 20 years in jail for helping Epstein abuse young girls.
The Duke of York also denied having sex with a then 17-year-old girl - Virginia Giuffre - saying he was in Pizza Express in Woking on the day the encounter was meant to have taken place.
The interview was widely regarded as a "car crash" and the whole episode has done huge damage to the prince's reputation.
In February, it was announced that his military titles and royal patronages would be returned to the Queen and that he would stop using the title His Royal Highness in an official capacity.
The following month, he paid a financial settlement to Ms Giuffre - formally ending a sex assault civil case in the US.
Asked about casting, the film's producer Hilary Salmon said "we have, of course, thoughts" but stressed "no-one is attached".
Deadline reported that Hugh Grant was "one of the unconfirmed names in the frame to portray the disgraced royal".
However, a spokesman for the film's producers said the casting process had not yet begun, and Grant's representatives said: "Hugh has never heard of this project."