Neighbours: First pictures of Kylie Minogue and Jason Donovan reunion released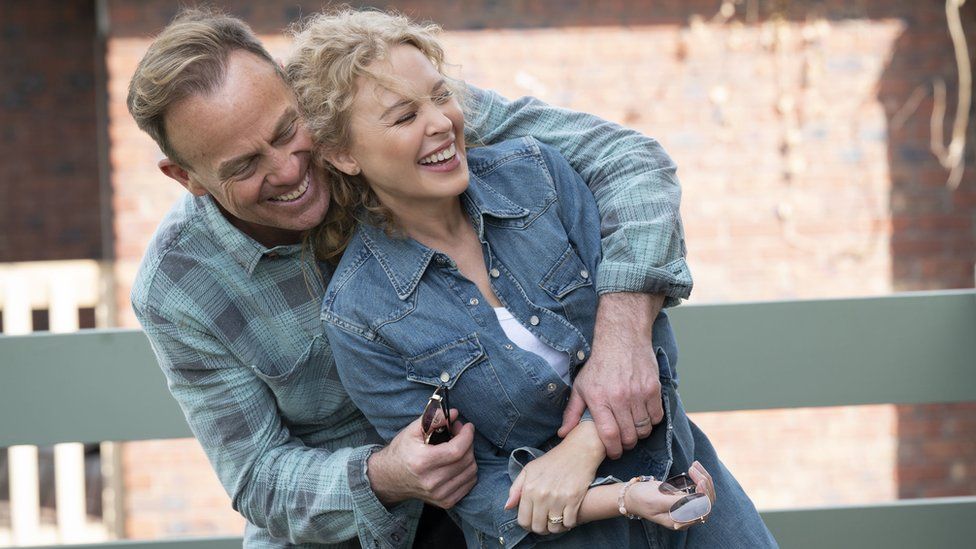 The first pictures of Kylie Minogue and Jason Donovan reunited on the set of Neighbours have been released.
After 30 years away, they will reprise their roles as Charlene Mitchell and Scott Robinson as the longrunning Australian TV soap comes to an end.
Minogue, who went on to pop stardom, shared new images on Monday of them both in character on set alongside the caption: "Now we're back together".
The pair were a favourite with viewers before their departure in the 1980s.
"Now we're back together" is a reference to a lyric from their 1988 hit duet, Especially For You.
The photographs show the much-loved characters laughing and embracing, with Charlene donning her denim mechanic's overalls while Scott is seen sporting a check shirt and jeans.
A second image shows them leaning against the bonnet of a car, with him kissing his on-screen partner on the forehead, drawing a loving smile.
Donovan, who has had several pop hits himself and has starred in West End musicals, shared some of the same images on social media too, writing: "So good to be back with this absolute legend."
Fans including Louise Redknapp reacted positively to Minogue's post with the singer giving three heart emojis, while another asked: "How come you look exactly as you did back then?"
"Very special moment for all the cast and crew to be reunited with the most iconic couple to have graced Ramsay Street for their final episode ever," another fan wrote.
One regular viewer replied: "This made me feel a warm and fuzzy childhood familiarity but absolutely gutted at the same time, this iconic soap should never have come to an end, it's an absolute travesty, it's going to be like losing a best friend that you've seen daily for the past 37 years."
Producers announced in March that the show, set in the fictional Melbourne suburb of Erinsborough, would come to an end this summer after 37 years, following the news that UK broadcaster Channel 5 was dropping it from its schedules.
The upcoming final scenes were filmed last month and will feature former stars including Minogue, Donovan, both now 54, and Guy Pierce, who played Mike Young.
Producer Jason Herbison previously said the characters would play "a very special part" in the show's finale.
"Scott and Charlene are the ultimate Neighbours couple and it would not feel right to end the show without them," he said in May.
Neighbours was first aired in 1985 and Donovan and Minogue played Scott and Charlene until their departures in 1989 and 1988 respectively.
Their wedding episode was watched by more than two million Australian viewers when it first aired in 1987 and it later attracted almost 20 million people when it was shown in the UK the following year.
Both actors shot to fame after appearing in the soap opera.
Minogue, who went on to have a successful pop career with hits including I Should be so Lucky, Confide in Me, Spinning Around and Can't Get You Out of My Head, has said she would be "forever grateful" for her time spent in Ramsay Street.
Donovan's 1989 debut album, Ten Good Reasons, featured the track Especially For You, which went to number one in the UK singles chart.
Neighbours will culminate with a double episode finale on Channel 5 on 29 July.