Dylan's new Blowin' In The Wind sells for £1.5m
By Mark Savage
BBC Music Correspondent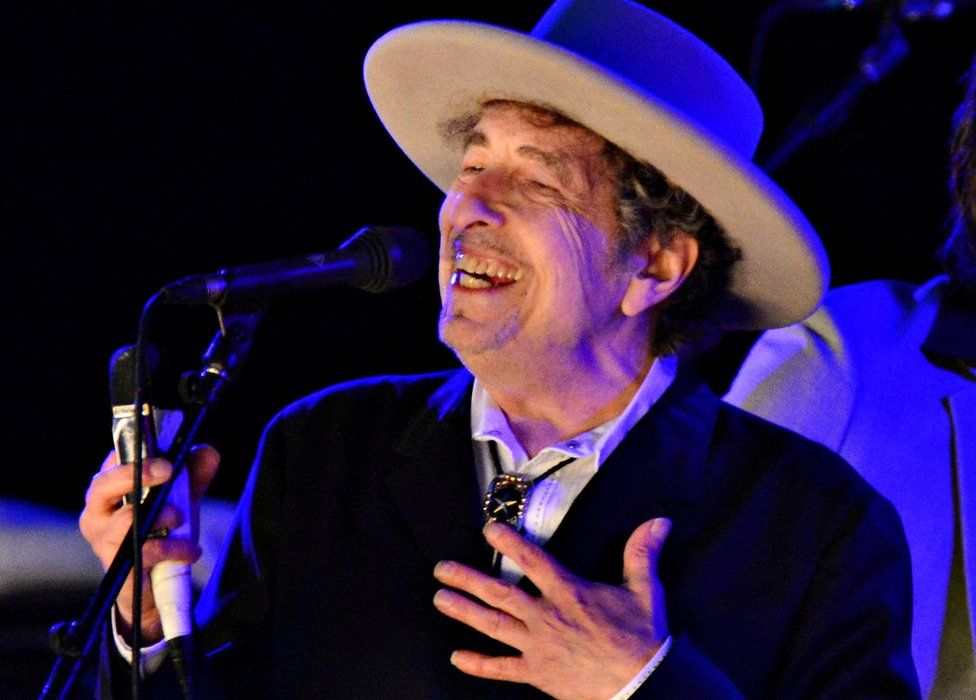 A one-off re-recording of Bob Dylan singing his 1963 classic Blowin' In The Wind has sold at auction for almost £1.5 million.
The release is the first new studio recording of the song since Dylan wrote it in 1962 and was sold by Christie's in London on Thursday.
Bidding lasted just four minutes - coincidentally the same as the running time of the song itself.
The sale beat Christie's original estimate of £600,000 - £1 million.
The name of the bidder has yet to be revealed. The auction house said it was "pleased with the excellent result".
Dylan's new version of Blowin' In The Wind was presented on a unique "Ionic Original" disc - a patented technology that promises to deliver higher quality audio than normal vinyl.
The disc is made of aluminium, treated with a layer of nitrocellulose then coated with a sapphire and quartz gradient, but is playable on any regular turntable.
It's the brainchild of Grammy-winning musician T Bone Burnett, who also produced and played on the new Dylan's recording.
"We recorded it live," he told the BBC earlier this week, "and I think we did it in one take, if I'm not mistaken".
"It felt holy. It always feels holy for me, playing with Bob."
Dylan delivers the lyrics with the hard-won wisdom of his 81 years, turning an angry young man's protest song into a more contemplative reflection on humanity's inability to learn from its mistakes.
Unlike the original, he is backed by a small band, including Greg Leisz on mandolin and Don Was on bass.
However, few people will ever get to hear the song, as the disc was sold as a one-off physical object, meaning the buyer has no rights to distribute it.
Burnett said he viewed the disc as "an original handmade original piece of work".
"We're only making one because that's the way we want to present this to the world. It's the equivalent of an oil painting."
He added that future one-offs could also be sold on the fine art market, to help support artists whose incomes have been slashed by streaming and falling CD sales.
"In time, as we're able to develop this market, every musician will have access to it and have a whole new way of earning a living.
"Musicians have been victims of the age of mechanical reproduction. Now, we are going back to the future, with one-off pieces of singular art."
The Dylan record was the final lot in Christie's Exceptional sale, which mostly focused on royal furniture and works of art.
An Egyptian limestone statue, dating to 2400 BC, sold for £6 million; while a pair of Napoleonic flintlock pistols fetched £976,000.