Sally Phillips on daring to star in a sex comedy film
By Helen Bushby
Entertainment and arts reporter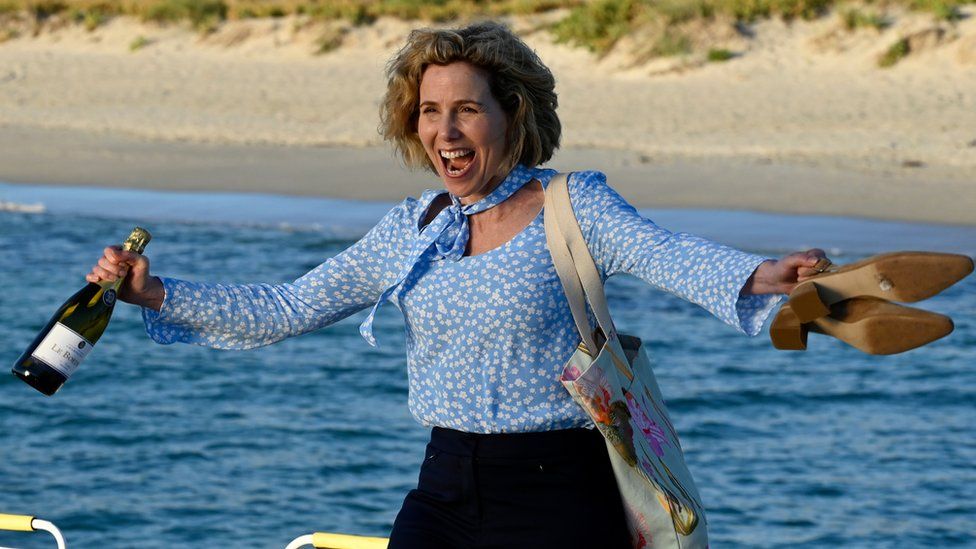 Older women may finally be having the last laugh at the cinema this summer - Sally Phillips is starring in the second film in a matter of weeks about middle-aged women enjoying sex.
"You wait for a mature woman's sex movie your whole life, and then two come along," she grins.
After a surprising turn of events, she starts an all-male house-cleaning business, with the employees doubling up as sex workers.
It follows Emma Thompson's film Good Luck to You, Leo Grande, about an older woman who hires a sex worker in his early 20s.
Both films are very much journeys of sexual discovery for the women, and of personal growth for the men. They are also written and directed by women.
"The thing I dreaded most about making this film was doing these interviews, because the film is going to be fine," admits Phillips.
Phillips feels honoured to be following on from Dame Emma though, saying: "She's just like the head girl," and jokes about following her lead.
In fact, Phillips easily takes centre stage.
She's previously played many ensemble parts, including in Emmy-winning all-female sketch show Smack the Pony, which she co-wrote, plus roles in TV's Friday Night Dinner, Miranda and the Bridget Jones films.
Gina is a serious role, despite many comedic moments in the film. She feels unseen and unappreciated - is this something Phillips thinks will resonate with women?
"Completely, yes, I mean, I've experienced that and I'm on telly!" she says.
Phillips recently tweeted: "'Contrary to appearances, we haven't given up on sex and we're tired of cleaning the house.' Married heterosexual women still do 60% of the housework and have fewer orgasms than any other group. Are these facts related??"
'Refreshing' seeing real women
The film also features older women with bodies and faces which reflect their age (much like the Leo Grande film), and the actress is clearly delighted.
"It's refreshing, when people are so curated on screen," she says, referring to the plastic surgery "look" which some actors have adopted.
"We've got this awful sort of replicant face thing - people need to get used to seeing us as we actually are."
She's a big fan of Harriet Walter in Succession, saying: "She's famously done nothing at all. Looks amazing. She can do so many different things with this painting of a face."
Phillips was initially unsure about starring in the movie, but became convinced after speaking to director and writer Renee Webster, and producers Tania Chambers and Judi Levine.
"I initially thought - this is going to be great or terrible. I was like, 'is this just a film bigging up prostitution?' and then [after talking to them] I decided it was worth a shot.
"I decided it's a good thing that the story is told. And I basically I trust them."
Levine produced the 2013 film The Sessions, starring Helen Hunt and John Hawkes, about a disabled man who wants to lose his virginity, and contacts a professional sex surrogate.
"Judi's just got a really interesting take on paying for sex," Phillips says.
"I have dipped my toe in the disabled community occasionally, and this is a really interesting question.
She goes on to talk about the difference an active sex life has on a woman's health, saying: "There's very few things it negatively impacts - it helps your immune system."
The main problem, she says, is that it's "very awkward to talk about".
What about some of the intimate scenes, were they awkward too?
"The sex was made a lot easier by the fact that we had an intimacy co-ordinator for the first time, because there is something embarrassing about it," she says.
"It was fantastic. She completely took all the sexuality out of it. She said pick an animal having sex and do that.
"So Ryan Johnson got to be a bonobo monkey, and I was a slug. So that was great.
"It didn't feel like anyone's getting a view into what I might look like having an orgasm. I was being a slug and we all knew that - I think it's fine!"
The film sees Gina learn to navigate discussing sexual pleasure, along with the cleaners and sex workers she employs. It is quite a learning curve for all.
"Male or female, you don't want anyone exploited or doing it against their will, or anyone having to do it to survive," she adds.
The film is set in Australia and has already been released there.
The Guardian's Leslie Felperin gave it three stars, and added: "Phillips has always been a charmer on-screen and, like Leo Grande's Emma Thompson, she's more than willing to use her talent here to make a case for women learning to manage and take charge of their own pleasure."
Phillips says that after the film was screened in Australia, some women filed for divorce, while others started visiting a website teaching them how to have better sex.
"There's lots of guys logging on to that too. I genuinely hope the film is going to improve people's sex lives, because it will be a starting point for discussion," she adds.
"If it improves one person's sex life, that is a good thing."
Whether it has had the same effect on housework may be another matter.
Phillips is also keen to discuss roles and representation of older women in film and TV.
"When you have women involved, you have better representations of women on screen because you've got your lived experience, you know what it's really like, and you're not afraid to say certain things."
She points to "more vulnerable representations of women on screen when women are writing", adding she knows younger actresses who "lament the fact that they're always playing kick-ass characters".
"Women aren't always kick-ass, they're sometimes idiots."
Phillips goes on: "I personally find it fascinating the way in early cinema, women were allowed to be the leads and allowed to be goofy."
"And then it all changes - we lose all power and all reasonable representation, and we become mad, beautiful and broken," adds Phillips.
"I think it is time for these stories to be told."
How to Please a Woman is available on Sky Cinema