Studio Electrophonique: The council house that launched top British bands
By Ian Youngs
Entertainment & arts reporter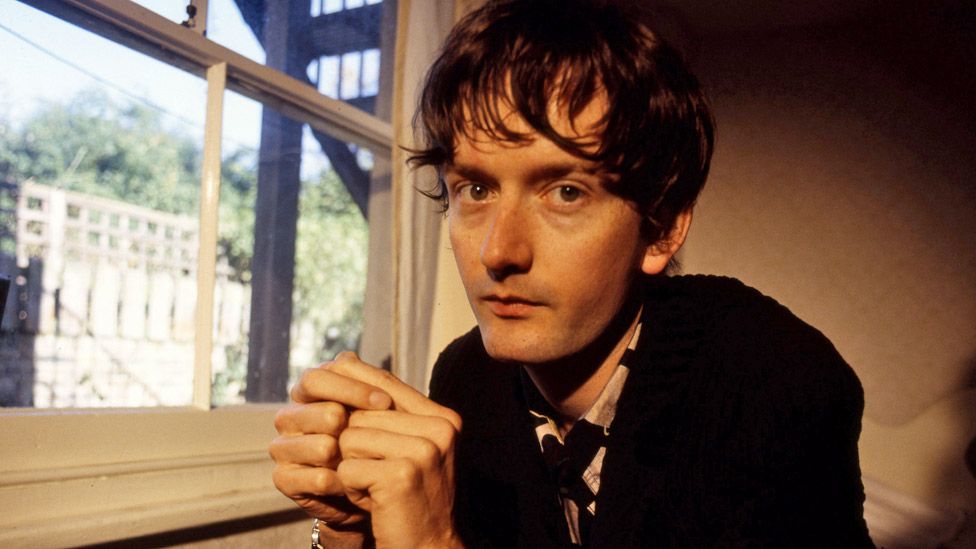 In the 1970s and 80s, a Sheffield car mechanic's council house doubled as Studio Electrophonique, a recording studio that was the launchpad for seminal British pop bands like Pulp, The Human League and ABC. A new film has uncovered its story.
From the street, Ken Patten's unassuming semi-detached home looked much like any other house on his estate, or indeed on any post-war estate in Britain.
But inside, musicians forged the future sound of British pop on synthesisers in the living room, an electronic drum kit in the master bedroom, and even a DIY vocoder - that produces a robot-type singing effect - made out of old RAF microphones and toilet rolls in the downstairs extension.
"It was totally chintz and had enormous sofas with flower patterns - a typical middle-class Sheffield suburban house with a big thick pile carpet," Martyn Ware recalls of the house. "Really comfy and lovely, with a little conservatory at one end."
Ware would go on to form The Human League and Heaven 17. But he made the journey to Ken's house on the outskirts of Sheffield with his first band, The Future, in 1977 after they put an ad in a local paper seeking somewhere to record.
When they arrived, they expected Ken to take them into a studio, perhaps in his garage. Instead, he told them they would be recording in the lounge.
"I said, 'Where do we put the synths and stuff?' He said, 'Oh, just put them on the coffee table'. He brought out his four-track recorder and, as I recall, a tiny mixing desk. We were half sat on the chintzy sofa, half sat on the floor.
"It was the most unlikely genesis of something really pretty avant garde that I can imagine. It's much more weird than being in a fancy studio. This was like Coronation Street, you know?"
Ware's forthcoming autobiography has a section dedicated to Ken's improbably-named Studio Electrophonique, while Pulp's Jarvis Cocker fondly remembered it in his recent book Good Pop Bad Pop.
Meanwhile, a documentary titled A Film About Studio Electrophonique had its premiere at the Sheffield Doc/Fest last week.
The film's director Jamie Taylor says the home studio had "a very Heath Robinson home-made ethos to it", with most of the recording taking place in Ken's home-built extension.
"He did have some very good cutting-edge equipment at the time," Taylor explains. "He also had some very strange contraptions that he made himself. It [the studio] was very small, and some of it extended into other rooms."
In Taylor's documentary, Cocker recalls marvelling at a CCTV system that Patten had rigged up to allow them to watch their drummer in the bedroom while they were downstairs. That was in 1981, and Cocker later thrust the resulting demo tape into the hands of BBC Radio 1 DJ John Peel, leading to their first radio session before they had signed a record deal.
Ware says his band's recording was "massively important" for their progression. They took the tape of what he describes as "soundscapes with vocals on" to record labels in London. Most showed them the door after five minutes - but some saw their potential.
"They said, 'You need to go away and write some structured songs, but this is very interesting and please come back to us when you've got more stuff'." They did, and eventually signed a contract with one of the labels that showed an interest in the Studio Electrophonique demo, Virgin Records.
Another band to make early recordings in Ken's house was Vice Versa, who would later morph into ABC. As well as the budding pop groups, Ken catered for Hawaiian guitar groups, folk acts, ranting political singers - and anyone else who was prepared to pay £15 to record there.
'Don't soil the eiderdown'
"I think his wife tolerated his hobby," Taylor explains. "But there were certain rules about, if the bands came in, they had to take their shoes off. They weren't allowed to use the toilet upstairs. I think Jarvis said there was polythene across the bed so they couldn't soil the eiderdown.
"It was a bizarre mix of a cutting-edge studio and a suburban house. One of the bands said that at four o'clock every afternoon, whatever stage of recording they were at, it stopped when his wife came in with a cup of tea for Ken and his heart pills."
Ware, too, discovered that domestic routines took priority.
"We got to the end of the first day and we were really hitting our stride," he says. "It got to about six o'clock and Mrs Patten came in and said, 'Ken, your dinner's on the table'. He said, 'Oh, I'm sorry lads, we're going to have to stop now'.
"We were in the middle of something really profound and heavy," he says with a laugh. "But, 'Your dinner's on the table, it won't wait'."
Behind the ordinary façade of an RAF veteran and panel beater, Ken was an eccentric British technological tinkerer, the documentary shows.
He went water-skiing with a speedboat he built himself (and which exploded, injuring his daughter). He recorded his own radio-style sci-fi sketches, and made silent comedy routines with a cine film club.
"The things that we found out, it did seem like he was a kind of Wallace and Gromit or Caractacus Potts type," says Taylor.
"He had this outwardly quite normal and dull existence, a quite suburban existence, yet he had these bizarre hobbies. The music was just one of them."
Taylor himself is following Ken's DIY ethos. He is an English teacher and filmed the documentary with an iPad and cheap plug-in mic, before getting some funding to edit it professionally.
He approached people like Cocker, Ware and actor Sean Bean - who grew up on the same Ballifield estate as Ken - with little expectation that they would agree to take part. They all said yes.
Taylor had made one film before, about a working men's club football team, also on his iPad and without funding or much idea of whether anyone would want to watch it.
"No-one's going to come and commission you to make a film in Sheffield if you're an unknown film-maker," he says. "So we just got on with it, really. We took Ken's lead."