As audiences return to Glastonbury and other festivals, will they cope?
By Mark Savage
BBC Music Correspondent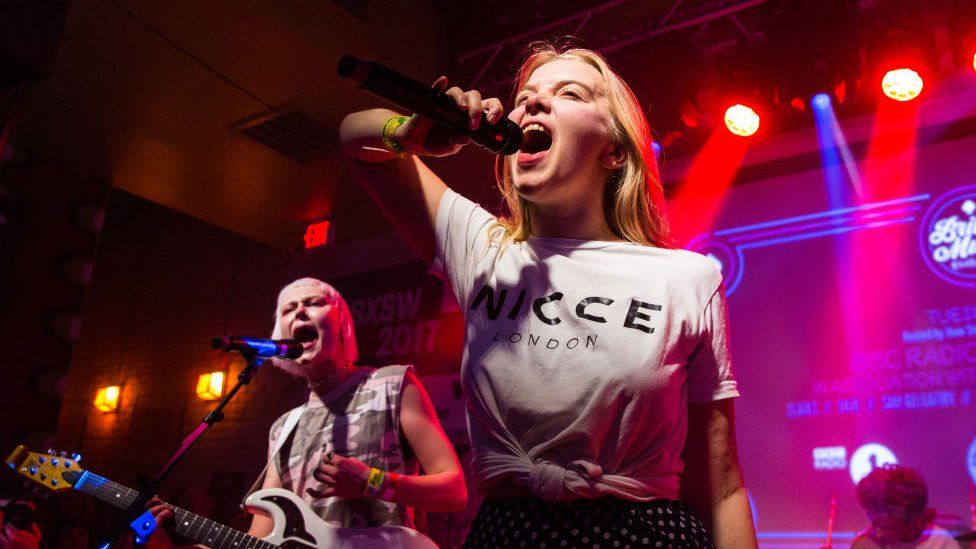 Last summer, as I watched punk-pop band Dream Wife fling themselves around a stage at the Latitude festival, a mosh pit formed around me.
In normal times, I'd have jumped right into it. Arms would have flailed, heads would have been banged, chaos would have ensured.
On this occasion, I slowly backed away and re-attached my mask.
Latitude was one of the first festivals to be designated a government pilot event as lockdown restrictions eased. It was allowed to go ahead on the condition that everyone had a negative Covid test or proof of a vaccine.
There was an expectation that people would catch the virus. Scientists were deliberately studying the rate of transmission to see what sort of threat festivals posed to the wider population.
Observing the audience, there was a definite split between the moshers and the maskers. Later in the year, I spoke to a crowd safety expert who had witnessed the same phenomenon: some concertgoers were unleashing two years of pent-up energy, but others were anxious about being back in a large crowd.
For the first time in his career, he said, he couldn't predict how an audience would behave.
US singer Maggie Rogers says she saw that dichotomy up close at California's Coachella festival this April.
"Coachella was funny," she says. "Just from being in the crowd, it like felt like nobody remembered how to be together.
"On the first day I ran into two friends - one was on so much molly [ecstasy] they couldn't talk and the other one was having a panic attack from being around people. And I was somewhere in the middle. I didn't really know what to do. "
So, as festival season rolls around again, will some fans still find themselves overwhelmed?
As well as providing a map for the festival's quieter spots, they also shared advice on how to escape a crowd quickly and safely.
"Don't try and go towards the back, instead head to the sides - you'll find that you are out of the crowd much more quickly," they said. "If you feel squeezed in a crowd, turning sideways to the direction of pressure could help you feel more comfortable."
Mental health charity MIND also advises festivalgoers to identify a "safe space" they can retreat to, and stresses the value of being mindful in the midst of madness.
"When you're rushing from stage to stage, or back to the tent for a quick outfit change, take a moment to think about how you're doing," they suggest.
"Try not to put pressure on yourself to do everything or feel a certain way. And focus on having the festival experience that works for you."
For anyone who does feel overwhelmed, most festivals have first aid and wellbeing areas. Mental health charity The Samaritans even has a festival branch that has been attending everything from concerts to biker events for 49 years.
"There's bound to be anxiety amongst people coming back into a massive arena, where there's up to 200,000 people," says Dave Xerri, who'll be manning the Samaritans tent at Glastonbury this weekend.
"So if you've got stuff going on already, and then you have to deal with that extra bit of anxiety, that overwhelming feeling, it can sort of push you over the edge."
He says this year's festival could be particularly affected, because people have been holding onto their tickets for the best part of three years.
"You buy your tickets so far in advance, and you pay a fortune for them, so if you've got a bereavement the week before Glastonbury you're probably still going to go. And if you've got a relationship break-up a couple of weeks before Reading and Leeds, you're still going to go.
"But sometimes those problems just don't go away."
Xerri expects that more than 1,000 people will talk to the Samaritans at Glastonbury, and they'll all receive the same one-to-one attention.
"We allow them to talk about their feelings what's making them overwhelmed, and we're working with all the other mental health charities that are here, as well as festival welfare. So once we've checked in with people, we can signpost them to other places that can help."
Not everyone will experience that level of apprehension, of course.
People are also less concerned about catching Covid at outdoor events - with about 13% saying the risk is high or very high, compared with 39% for indoor events.
But 20% of people still say they are avoiding concerts and festivals because of Covid, and that figure is much higher for older people and those with disabilities.
Foals frontman Yannis Philippakis thinks the anxiety will fade as more people attend shows this summer.
"When we first started playing again I sensed that, for a lot of people, they'd not been to a show since pre-pandemic," he says of their live comeback. "So there was a slight timidity or figuring-it-out for the first couple of tracks.
"But once it clicked, the show elevated. There was a relief and a release, on top of the atmosphere of a normal show - an added sense of being overjoyed at listening to loud, live music that's making your body rattle."
"People are ready to get out there," agrees Donald DJ Johnson of Texan soul-funk bad Khruangbin, who will play Glastonbury's Park Stage on Friday night.
"I think musicians and concert-goers will look back at this period of time as a renaissance - of people coming back with a different and a deeper appreciation of the things that we all love and kind of took for granted for in the past.
"It's a different feeling, going into Glastonbury knowing everything's set up and ready to go and nothing's gonna stop us.