Lightyear: Toy Story spin-off film divides critics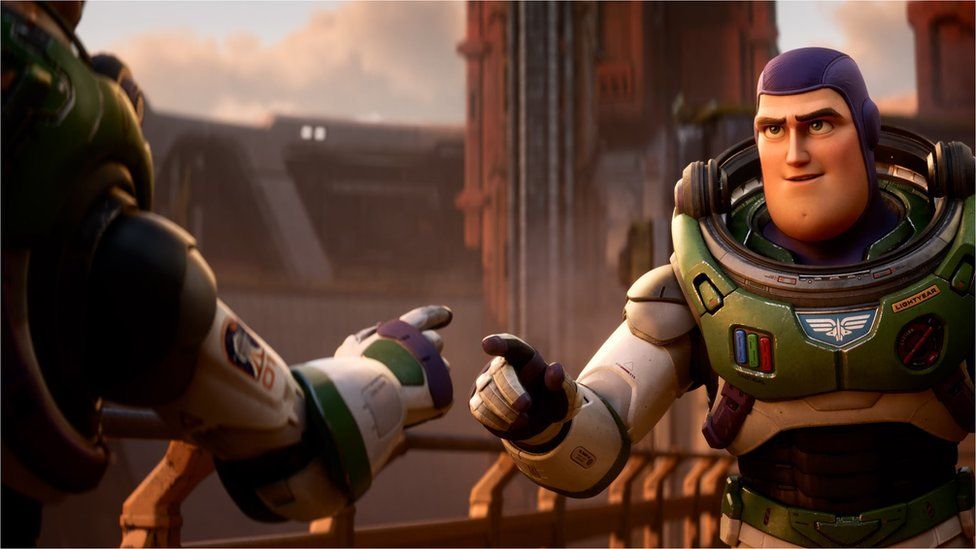 Lightyear, a new spin-off from Pixar's Toy Story franchise, has received mixed reviews from critics.
The movie, which is an origin story for Buzz Lightyear, features the voices of Keke Palmer, Taika Waititi and Chris Evans as the titular space ranger.
Some critics praised the film, with the Guardian describing it as a "cracking origin story" in a four-star review.
But the Telegraph said the film was "woefully half-baked" - and awarded it just one star.
Lightyear is effectively a Toy Story prequel, with viewers given the necessary context via a title card at the beginning of the film.
It reads: "In 1995, a boy called Andy got a Buzz Lightyear toy for his birthday. It was from his favourite movie. This is that movie."
The film then sees Buzz, together with a gang of aspiring space rangers, try to find a way back home after becoming marooned on a hostile planet millions of light-years from Earth.
The concept differs from Toy Story in that it tells the story of the original Buzz Lightyear character, as opposed to the Tim Allen-voiced toy version which featured alongside Woody and Mr Potato Head in Pixar's film series.
"It might not precisely be up there with the very creamiest of the Pixar crop but it reminds you why we loved Pixar in the first place: wit, fun, storytelling and heart."
"The problem with Pixar's latest feature isn't just that it's the animation house's dullest, dreariest, most spiritually empty to date. It's that it fails even on its own painstakingly contrived open-goal terms."
"There is a bland, vaguely [Cars spin-off] 'Planes' feeling here that smacks of a straight-to-video spin-off," he said. "Buzz, himself, is a bit of a bore, too."
In a three-star review, Empire's Sophie Butcher said: "There's certainly some enjoyment to be had here, but the film is weighed down by genericness and loyalty to the existing IP."
Butcher said she felt the film "comes up short against fully original, specific-yet-universal Pixar output like Turning Red, Coco or Inside Out.
"Though the underlying themes of teamwork, family and leadership are nicely played, they're also fairly surface-level - never quite reaching the heights of infinity, nor beyond."
"It's a generic sci-fi spin-off, with the space ranger protagonist Buzz Lightyear now voiced by Captain America himself, Chris Evans, with none of the sly self-awareness that the original star Tim Allen brought to the gig," he wrote.
"Bear in mind that this is a Pixar film, so of course the animation is hard to fault, and of course it has some ambitious philosophical concepts," he wrote. "But considering how proud the studio is of its engaging characters and machine-tooled storytelling, it's amazing that Lightyear has such an obviously sloppy screenplay.
"The story is thin, repetitive, and almost entirely dependent on the heroes being clumsy."
But there was a warmer reaction Deadline's Valery Complex, who wrote: "The animation is gorgeous and hyper-realistic. Children will go nuts for this expansive three-dimensional world featuring one of the most beloved and well-known Disney heroes."
According to the Hollywood Reporter's David Rooney, the "textured visuals are often breathtaking, pulsing with luminous colour, and the detailed character work is delightful, matched by strong contributions from the voice actors".
The censorship is thought to be because the film contains a same-sex kiss between two supporting characters, but not every country has explicitly confirmed that is the reason.
The UAE's Media Regulatory Office said only that the film was in "violation of the country's media content standards".
In the UK, the film is released on Friday, and is the latest in a long line of summer blockbusters including Top Gun: Maverick, Jurassic World Dominion and Elvis.
Concluding his review, Bradshaw said: "Now surely we need Pixar to give us a heart-rending Revolutionary-Road-style drama about the early married life of Mr and Mrs Potato Head."