Foals on feral nights out, becoming a trio and filming in Kyiv
By Mark Savage
BBC Music Correspondent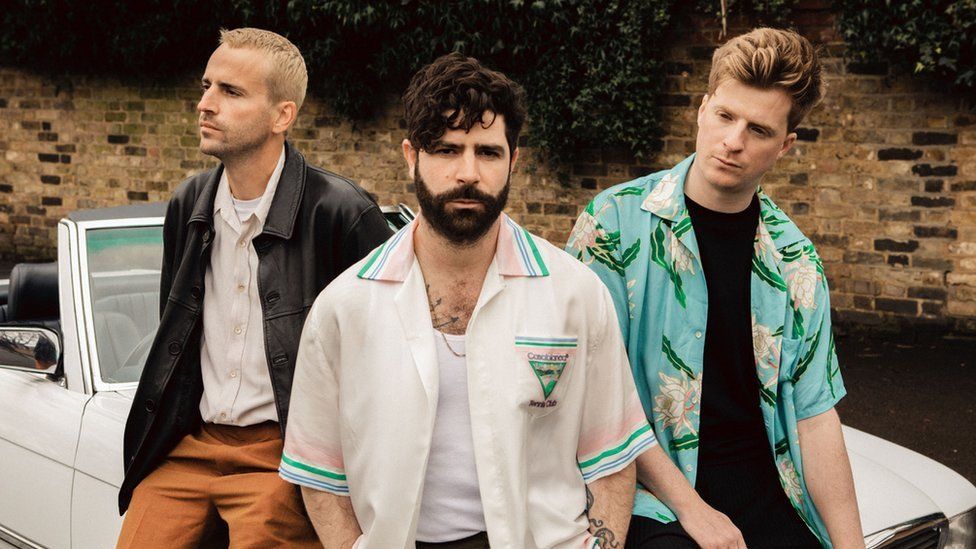 Foals' reputation as a live band precedes them.
Fierce, intense and teetering towards self-inflicted injury, their shows frequently end with frontman Yannis Philippakis climbing the rigging, invading the moshpit and punching the microphone to his chest.
Named the UK's best live act by readers of NME and Q magazine (RIP), the band suffered through the pandemic more than most.
"Music exists with people, in reality," says Philippakis. "That's where, as a musician, you get all of your reciprocal energy.
"To me, there's nothing deep about doing something on Twitter or YouTube. I want to feel a physical human connection, and that's done face to face, in a room, playing music."
When the group finally returned to the stage this year, the relief was palpable. But it took a minute for the band and their audience to calibrate.
"I sensed that, for a lot of people, they'd not been to a show since pre-pandemic, so there was a slight timidity or figuring-it-out for the first couple of tracks.
"But once it clicked, the show elevated. There was a relief and a release, on top of the atmosphere of a normal show."
Foals are about to kick off a summer of festivals, with headline slots at Latitude and Glastonbury's Other Stage. And with perfect timing, they've just recorded the most festival-ready album of their career.
Life Is Yours is an effervescent palate-cleanser after the two-part Everything Not Saved Will Be Lost project in 2019. Where those records dealt with crumbling political systems and climate catastrophe, their new music embraces the joyous possibilities of life, "lost in the sugar rush" and "running through open doors" after lockdown.
The tracks include Looking High, a love letter to the band's early days, when they moved from Oxford to a Peckham squat they dubbed Squallyoaks, playing "feral" house parties and scraping to make ends meet.
Philippakis, whose lyrics more typically dwell on techno-fear and human nature, says the nostalgia was forced upon him.
"I like to write when I'm travelling, or when I'm out and about in pubs, in direct contact with the world," he says. "Obviously, when everything went quiet, I wasn't getting any of that... but I didn't want to write a dark, introverted pandemic record.
"So what was left for me was to try and access places in the past and use the songs as a kind of transporter - looking back to our early 20s and random nights out and the start of the band."
Even so, he says, Looking High's sepia-toned memories shift from a major to a minor key, "because those clubs are all closed down now and our friends have moved out of Oxford".
You can remember the past, but you can't relive it.
That's especially true for Foals who, since 2018, have lost two of their founding members.
Bassist Walter Gervers was first to leave, stepping away to start a family. Keyboard player Edwin Congreave followed last year, partly to pursue a postgraduate degree in economics at Cambridge University, but also because he'd grown uncomfortable with the environmental impact of the band's touring schedule.
Becoming a trio changed the band's dynamic. In the studio, they ditched the dense orchestrations of Everything Not Saved Will Be Lost and cooked up a series of sunny, kinetic disco-house grooves.
"We experimented with lots of percussion, different drum kits," says Philippakis. "Really paying deep attention to any kind of rhythmic nuance and making sure the groove was absolutely solid.
"Sometimes we would take days before we'd record anything other than the drums."
On one song, drummer Jack Bevan even played his part extra fast so they could slow down the recording and give the beat more oomph.
This is Foals' "most light-footed record", says Philippakis, something he puts down to the guerrilla-style recording sessions, which saw the band drop into studios for two or three days at a time instead of sweating out the album in a prolonged slog.
"It kept the perfectionist streak at bay," he laughs. "We weren't agonising over things. We just were getting on with it."
"We worried that we'd be releasing the record into some sort of digital void, so we're really excited," reflects Philippakis. "It's there to meet the summer, which is exactly how we wanted it."
One song that's already become a live highlight is the recent single 2am, a synth-driven floor-stomper about losing yourself to the night.
"That one was written in the depths [of lockdown] when I was really pining for some sociability," says the singer. "It's a song about craving a messy night, in all of its messiness, where you make decisions at 2am that lead you to somewhere you didn't expect."
For the video, they contacted director Tanu Muiño, best known for the bounteous visuals of songs like Lil Nas X's Montero (Call Me By Your Name) and Cardi B's Up.
The clip opens with Philippakis out drinking, before he's dragged into a bizarre dreamscape of labyrinths and inescapable rooms.
Muiño built the sets in a warehouse in her home country, Ukraine, just as tanks and troops were beginning to gather on the border at the start of 2022. The band were aware of the rising tensions, but decided to fly to Kyiv anyway, after speaking to the crew.
"No-one really thought there would actually be a conflict. The vibe was that it was sabre rattling," Philippakis recalls.
"The day was quite joyous. The video itself is really fun, and we went out afterwards in Kyiv and had a big night.
"When you contrast that with what's going on now, and how all of that youth and optimism has been brutalised and truncated and people are having to leave... it's just horrific."
The singer has a long history with the country, which he first visited in his teens to trace his ancestry.
"Most people were going to Thailand on gap years and I went to Ukraine," he recalls. "It was all very closed off. I went to the steps in Odessa where they shot Battleship Potemkin, which is a famous landmark, and there were no tourists.
"But as we went there more with the band, it was clear how much it was opening up and becoming more progressive. It felt happier and more optimistic... and seeing how all of that can just be stopped within 100 days, that's the bit that really shocks me."
He's still in touch with Muiño and the crew, many of whom have fled to the UK. He hopes to get some of them to the Foals shows over the summer. Glastonbury will be a particular highlight.
"To be playing that stage after the festival's been away for three years, and after all of the frustration and the lack of music in that time, is really special.
"And for us to be providing the soundtrack for people coming together at that festival on that first night... I mean, it's gonna be electric."
And post-pandemic, does Philippakis have any reservations about throwing himself into the audience?
"I haven't crowd-surfed, but I have been in the crowd and getting up to some mad stuff," he says.
"I think it's fine now. I feel like last summer was different. Now it's time."