Lizzo changes derogatory lyric after backlash
By Mark Savage
BBC Music Correspondent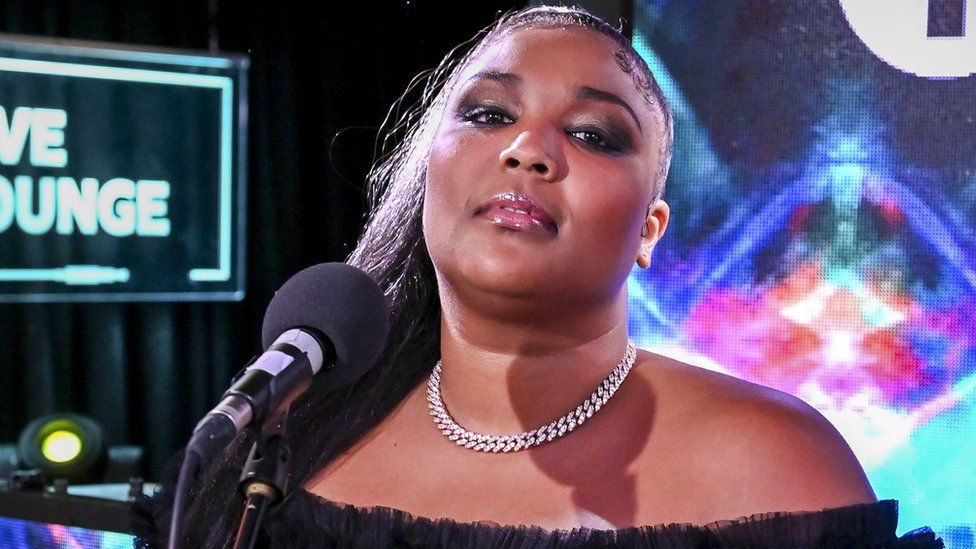 Pop star Lizzo has changed the lyrics to her latest song after fans complained it used an ableist slur.
Grrrls, which was released last week, originally contained a derogatory term for a form of cerebral palsy known as spastic diplegia, in the first verse.
Fans said they were "shocked" and "disappointed", and asked her to re-record the song with alternative words.
The star took the criticism to heart and released a new version omitting the "harmful word" on Monday night.
"Let me make one thing clear: I never want to promote derogatory language," she wrote in a statement posted to social media.
"As a fat black woman in America, I've had many hurtful words used against me so I understand the power words can have (whether intentionally or in my case, unintentionally)."
The hastily reworked version of Grrrls now includes the lyric "hold me back" in place of the original. Lizzo said the change was "the result of me listening and taking action".
"As an influential artist I'm dedicated to being part of the change I've been waiting to see in the world."
The new version has already replaced the original on streaming services including Apple Music, Spotify and YouTube, the BBC has confirmed.
Over the weekend, fans criticised the singer for her choice of lyrics, pointing out that the offensive term had often been used to attack people with disabilities.
"Cerebral palsy is literally classified as spastic diplegic cerebral palsy, which basically means that I have spasticity, or tightness, in my legs specifically," she told the BBC.
"It's something I can't control and it makes my life quite difficult and painful. Seeing that word used to suggest someone has lost control or had an emotional outburst is really weird because that's not at all what it's like; and that's not at all what my life as a disabled person is."
Diviney posted a message on Twitter after Lizzo changed the lyric, describing her as a "real true ally".
I'm going to cry 😭 Thank you so much for hearing us Lizzo and for understanding that this was only ever meant gently and being open to learning, it honestly means the world ❤️. You're a real true ally https://t.co/RbQCbAwpR6

— Hannah Diviney (@hannah_diviney) June 13, 2022
Other disability advocates praised the singer for her actions.
"Proud of Lizzo for listening to the disabled community and amending her song," wrote Calum Stephen. "Everyone makes mistakes - what is important is how we respond to them.
"She could've said and done nothing, or gaslit the disabled community and vanished, but she didn't. This should be the precedent."
"This is the Lizzo I know and love," added screenwriter Daneka Etchells. "True accountability and allyship here. Thank you for listening and just recognising our hurt and anguish."
Author Malorie Blackman also applauded the singer's response, saying: "We're all only human and we all sometimes get things wrong.
"It's how we handle the resultant criticism and move forward that helps to define us."
Good for Lizzo. 👏🏿👏🏿🙌🏿

We're all only human and we all sometimes get things wrong. It's how we handle the resultant criticism and move forward that helps to define us.https://t.co/rrEASBV8vI

— Malorie Blackman is away. (@malorieblackman) June 14, 2022
You may also be interested in: