Fans ask Lizzo to remove song over offensive lyric
By Mark Savage
BBC Music Correspondent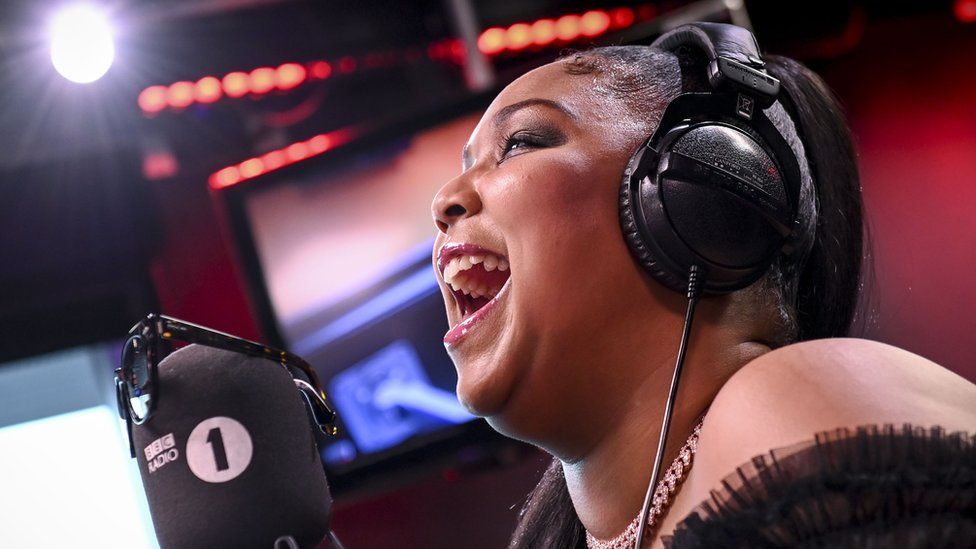 Fans are asking US singer Lizzo to delete and re-record her new single, Grrrls, to remove an ableist slur from the lyrics.
The song was released on Friday 10 June, and almost immediately received criticism from disability advocates.
Lizzo uses a derogatory term for a form of cerebral palsy known as spastic diplegia in the first verse.
"It's absolutely shocking, It really made me flinch," says talent agent Abbie Hills, who has cerebral palsy.
"Why you would choose that word when there's so many other options? It's just completely wrong."
On social media, other fans have said there is "no excuse" for using the "derogatory and harmful" slur.
@lizzo pls change ur new song to take out the ablesist slur. It is not too late to humbly listen and remove a word that is derogatory and harmful and painful. there is no feminism that excludes disabled folks so pls

— mich ✨ (@mismatchedmich) June 11, 2022
I'm disappointed in @lizzo for using the word "sp@z" in her new song "Grrrls". There's no excuse for using an ableist insult in a song in 2022. As someone who champions women, plus size people and others whom society treats poorly, Lizzo preaches inclusivity and should do better.

— Callum Stephen (He/Him) (@AutisticCallum_) June 11, 2022
it doesn't matter if lizzo knew the ableist connotations of the word sp*z, it is still problematic. so many people will sing this song and integrate the word into their day to day language.

— Ru 🌸 cripfluencer ✨ (@chr0nicallycute) June 11, 2022
But although people are upset by the lyric, there's an unusual element of compassion in the online discourse.
"I don't want to cause any harm and I don't want to cancel her, as is the common reaction on the internet," says Hannah Diviney, a writer and disability advocate in Sydney, Australia. "I just want her to learn gently."
"I've seen a few comments about cancelling Lizzo and that's not what we want," added model Shelby Lynch, who has spinal muscular atrophy, on Twitter. "We want to educate her and have the word challenged."
I've seen a few comments across the internet talking about "Cancelling Lizzo" and that's not what we want - we want to educate her and have the word changed

— Shelby 🖤 (@Shelbykinsxo) June 12, 2022
The BBC has asked Lizzo's record label for a response, but has yet to receive a reply.
Some fans have pointed out that the insult used in Grrrls has a different connotation in the US - where it is often used to mean "freaking out" or "going crazy" (although those terms can themselves be insensitive to people with mental health conditions).
But Hills stresses that, regardless of its usage, the slur still originated as a term of abuse for people with cerebral palsy - a brain condition that affects movement and co-ordination.
"Cerebral palsy isn't just a UK disability," she says. "There are so many people with it, particularly in America. Even famous actors like RJ Mitte from Breaking Bad, who is a huge sensation over there and does so much work for disability rights.
"I bet, for him and people within our community, this is just such an insult from someone who is meant to be a diverse voice."
This feeling of disappointment is a common theme amongst Lizzo's critics.
The Grammy-winning singer is a passionate advocate for the plus-size, queer and black communities. Her biggest songs, including Good As Hell and About Damn Time, typically celebrate body positivity and good mental health.
By using an outdated insult, targeted at another marginalised group, many feel she has let herself down.
"I don't understand how you can be selective with diversity, says Hills. "This happens so often. Why does disability get left off the 'checklist'."
"And how could [this term] slip through the net of the writers, her studio team, the producers, Lizzo's entourage. the label? It just doesn't make sense."
Adds Diviney: "For her to unintentionally use that word, or still be in a place where that word is considered OK is really upsetting, because she's a pioneer of inclusion and acceptance in the music industry.
"So if we can get her to stop doing that, that would be great."
"Cerebral palsy is literally classified as spastic diplegic cerebral palsy, which basically means that like I have spasticity, or tightness, in my legs specifically," she says,
"It's something I can't control and it makes my life quite difficult and painful. Seeing that word used to suggest someone has lost control or had an emotional outburst is really weird because that's not at all what it's like; and that's not at all what my life as the disabled person is."
Although Lizzo has yet to acknowledge the criticisms, Diviney is hopeful she will respond with sensitivity.
"I feel like it would be pretty easy to go in and rework the song," she says. "Maybe throw in a different phrase, or communicate the context of what she's trying to say, in a less offensive way."
This is what many people would like to hear. Fans across social media are clamouring for Lizzo to re-upload Grrrls to streaming sites like Spotify and YouTube with new lyrics.
It's certainly possible. Lady Gaga erased and replaced R Kelly from her duet Do What U Want since his sex trafficking crimes came to light; while Michael Jackson re-recorded his single They Don't Care About Us to remove an anti-Jewish slur word.
But Hills says Lizzo might not be able to undo the damage her song has already caused.
"I've seen it all over Tik Tok. I've seen kids dancing to it, which for me is the biggest problem because she's got this status with teenagers who don't know the word, and don't know the associations it has.
"So when they hear it on Tik Tok, they're going to dance around, screaming at the top of their lungs and that is a problem because they are the next generation."