Neighbours cast say farewell on TV soap's last day of filming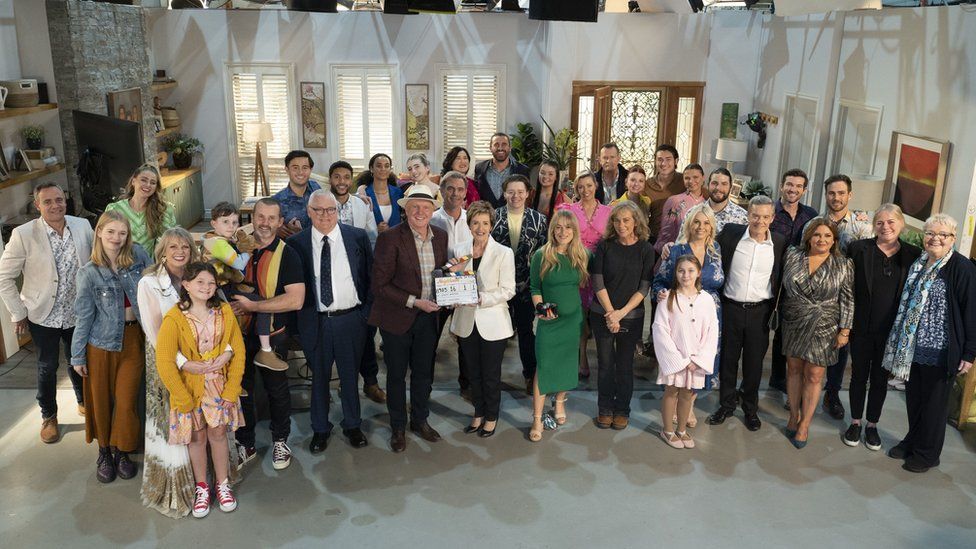 Long-running Australian TV soap opera Neighbours has filmed its final scene, with former stars of the show including Kylie Minogue, Jason Donovan and Guy Pearce returning to say goodbye.
Stefan Dennis, who has played Paul Robinson since the show started in 1985, called the last day "melancholy".
Minogue, who played Charlene Robinson from 1986 to 1988, recently told Australia's Today Extra that returning was "lovely and emotional".
The show filmed nearly 9,000 episodes.
The final slice of life from Ramsay Street, in the fictional Melbourne suburb of Erinsborough, is due to be broadcast on 1 August.
Minogue, who left acting to become a globally successful singer, said: "Driving into Ramsay Street was quite something... Firstly where's all that time gone? Secondly, everything looks exactly the same. Thirdly, Scott, Charlene, Jane, Harold, it all just came flooding back."
Donovan, who played Charlene's boyfriend then husband Scott Robinson, has also gone on to have a successful music and stage career.
He said the show "changed how a lot of people viewed Australians" and joked that it kept his family in "business for a while", having also starred his father Terence and daughter Jemma.
"I'm proud to have been part of that, and it launched my career and I'm very excited to to be part of the final episode," he added.
Guy Pearce, who went on to be a successful Hollywood actor, recently said it was "lovely to be back".
Dennis told Australian breakfast programme Studio 10: "I sort of closed the studio door behind me on my very last scene, my very last dialogue scene and... I suddenly surprised myself by getting incredibly emotional.
"I just kept to myself and went to my dressing room... so I'm keeping a very low profile today. I think I'll just be an absolute mess if I sort of hang around too long."
The show also helped launch the careers of Hollywood stars including Margot Robbie, Liam Hemsworth and Russell Crowe as well as singers Natalie Imbruglia, Delta Goodrem and Holly Valance.
'Fulfilling, joyous finale'
The final episode will also feature cast members from the early era of the show including Peter O'Brien, who appeared in the first programme as Shane Ramsay; as well as Ian Smith, who played Harold Bishop; Mark Little, who played Joe Mangel; and Paul Keane, who played Des Clarke.
The show's executive producer Jason Herbison told the BBC that in recent months, since the news of the show ending was revealed, audiences have "come out and given us a big group hug".
Speaking about how the series would finish, he said: "I was really keen to have an ending that would be fulfilling, joyous and would be very Neighbours - it would feel satisfying in terms of where the characters and the storylines are."
He added that the show had lasted so long because "it's in people's hearts".
Australian TV historian Andrew Mercado told BBC One's Breakfast that when the programme was first made, producers had "no idea that it was going to become so popular in the UK and then travel the world the way that it did". The show has been sold to more than 60 countries.
"It got to the point where Hollywood realised that if you were an actor that had been trained on Neighbours, you were actually really, really good at your craft," he said, adding that when the soap started it was an "all-white, heteronormative cast".
"It's brilliant that it leaves the airwaves as a multicultural show, and a show that has diversity in it," he added.
Earlier this year, Channel 5 announced it was dropping the show from its schedules. That decision left producers with a funding gap because the British network was a key broadcast partner in the series.
Laura Jayne Tyler, editor of Inside Soap Magazine, told the BBC the show had endured for so long because of "all those long-standing characters that we've carried through since the 80s and the 90s".
She said: "You've got the likes of Carl and Susan and Toady. But the point is Neighbours has kept up with the times. We've got those rich family dramas, but we've also got a same-sex couple's desire to have a baby [and] transgender character Mackenzie.
"So it just goes to show that it's really kept up with the times over the years and I think that's why people have stayed with it."