Maggie Rogers: 'I'm not afraid to take up space any more'
By Mark Savage
BBC Music Correspondent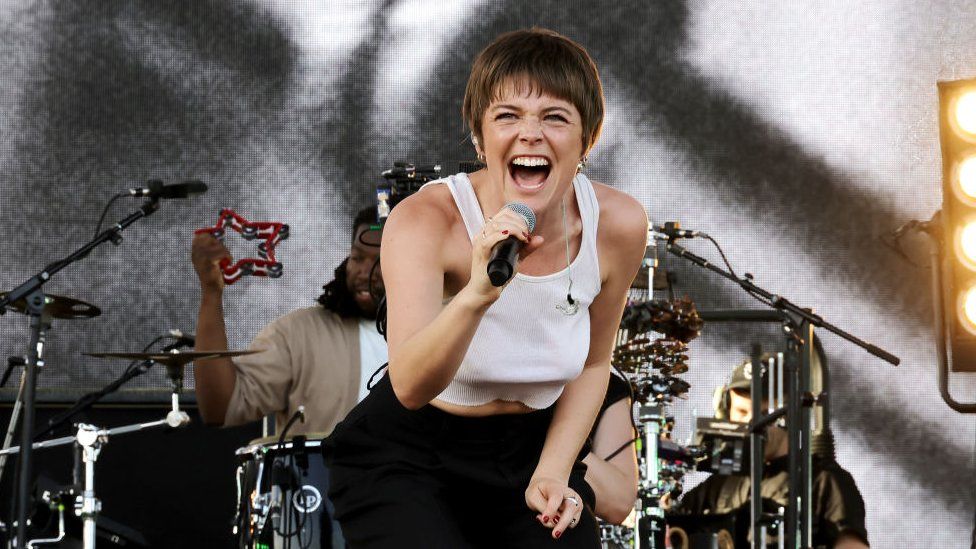 When thousands of people watched Maggie Rogers play the Coachella festival in April, few of them will have known the performance was part of her post-graduate coursework.
The show fulfilled a public presentation element of her masters degree in religion and public life at Harvard Divinity School, a subject she was compelled to explore after experiencing "mind-blowing spiritual ecstasy" during her shows.
"When you're on stage, there's a lot of energy being sent directly towards you," she says. "Over the last year, I've really thought a lot about what that means.
"What is your ethical responsibility to the audience? How do I help people feel a connection to something bigger than themselves - me included? How do you bring people together at a time when we've never been more divided?"
At Coachella, she opened her set with Give A Little, a song about the emotional transaction between audiences and performers. As she sang, she threw off her sunglasses, symbolically breaking the barrier between the stage and the crowd.
"I brought everything I was learning into the details of that performance," she told her university website. "From the way I collaboratively worked to design the stage layout, the stage production, the set list, the clothing, the way we came off the stage, the way we rehearsed.
"At the end of the day, creativity and spirituality - it's about the process."
Rogers graduated last week, and found the degree had replenished her creative spirit after a bumpy entry into the music business.
But the lyrics were undoubtedly the product of an introvert gasping for air.
"Tried to slow it all down/Crying in the bathroom, had to figure it out," she sang on Light On. "With everyone around me saying, 'You must be so happy now.'"
By the time she finished touring in the winter of 2019, Rogers was "super burned out and it was making me hate music".
"It's really complicated when your humanity is the product you are hypothetically selling as a musician," she says. "It was making me really sad because music has always been the most sacred thing to me. I needed to find a way to protect that."
So she moved back to her parents' house in Maine and "cut off the rest of the world" to focus on "reading and resting and walking along the jagged cliffs". It was then that she enrolled at Harvard.
"It was really nice to enter that environment," she says. "I was surrounded by people who were just so diverse and so smart - monks, priests, people who were taking vows of service. I lived in a little apartment and I rode my bike to school and I steamed broccoli on a Tuesday and went to the bar with all the college students."
Crucially, escaping the pressures of fame allowed her to recalibrate her priorities.
"If I wanted to now, I could go be a professor, or I could work in a bookshop - and knowing that this other life exists makes me choose music actively, every time. It's not just something I got swept up into, like, 'I went viral and here I am.'"
Which is how Rogers ended up recording, mixing and mastering an entire album while she pursued her degree. Called Surrender (a title it shares with her thesis) it's an absolute beast of a record, full of propulsive, pounding drums and glowing, rootsy indie-pop.
She jokingly calls it "a full pandemic record". Each of the 12 songs were written between April 2020 and November 2021 as she attempted to escape the gravitational pull of lockdown anxiety.
"I was just feeling so numb all the time - but I kept having these massive, mouth-watering fantasies of a tent at Glastonbury, where someone was playing really heavy drums, and I could feel the bass in my collarbones and someone spilled a beer on my shoes.
"My solution was to create that fantasy for me to escape into, of a world post-pandemic, where I would get to play those songs and have that beer spilled on my shoes."
Lyrically and sonically, the album is constantly shaking itself awake with a visceral urgency that Rogers' earlier material sometimes lacked.
"Something really came out of me on this record," she says. "I think I'm just not afraid to take up space any more."
On the urgent and thrilling Shatter, she pushes her vocals to breaking point, the melody fracturing in her throat as she vaults a churning guitar riff.
"I that wrote in June of 2021, when everybody thought the pandemic was over and New York City was just, like, a mess in the best way," she says.
"It was feral, but I also remember the feeling, that summer, of faking fun. Everybody knowing they were supposed to have a great time but not being totally ready to let go.
"So that song is about feeling, 'I have to get out of this body', because I was so frustrated at the world opening up and not knowing what to do with it."
Rogers says the album is, in many ways, about her relationship with New York. But there's a parallel thread of romance... a story of unrequited love that slowly became very requited indeed.
"I told you I loved you when we were just friends," she sings on That's Where I Am. "You kept me waiting and I hated you then."
Things step up a gear on Want Want, a sinuous declaration of lust and desire; accompanied by a video in which Rogers dances with wild abandon in a New York karaoke bar.
The sensuality of the lyric and her performance are things she'd have shied away from in the past.
"I came up in a pre-MeToo environment and I really was afraid of being sexualised and being degraded publicly," she says. "So I really squashed my sense of sexuality in order to protect myself."
Even so, she was heckled by a man shouting "take your top off" during a gig in Austin, Texas. When she issued a statement calling out his "degrading" behaviour, it became a talking point on Fox News. Rogers immediately started receiving death threats.
In the aftermath, "I was so afraid of the threat that my body, as a woman, posed to me and posed to my safety and posed to people taking me seriously," Rogers says.
"But when I landed in the pandemic, I felt like I had betrayed myself. So now, I want to be as awake to the world as I can be."
That's not always easy, especially while women's rights are under attack in the US.
"I don't even know how to talk about it," she says. "The whole thing is just devastating. But here's what I will say: I don't think that my experience, of being angry and frustrated, is singular.
"So I believe my job is to be brave enough to feel as much as I can, so I can translate that into something that can unite people.
"I have a lot of faith that music has an ability to heal."